Hi, I have been producing and providing the GSXR Brake Caliper Adapter Brackets to the SV community for the past year, and this topic was broached last spring with me by some of the Stromtrooper members, who posted up on this forum, wondering if they could bolt the same kit onto the DL650 and DL1000 Vstrom models.
These kits have been sold into many countries around the world, as the riding community is very global. $65 with $10 Flat Rate Shipping, to your door, anywhere in the USA.
I have been quietly working on releasing the versions for the DL650 and DL1000, in between other projects, since then. Email me at
[email protected]
and I will look after you right away,
Like all my parts, and products they are high quality in manufacture, and in finish.
I am attaching a sample of what they look like as a kit, and how they are mounted, Anodized Black finish,, and them mounted on the Vstrom. They Look and Work Great,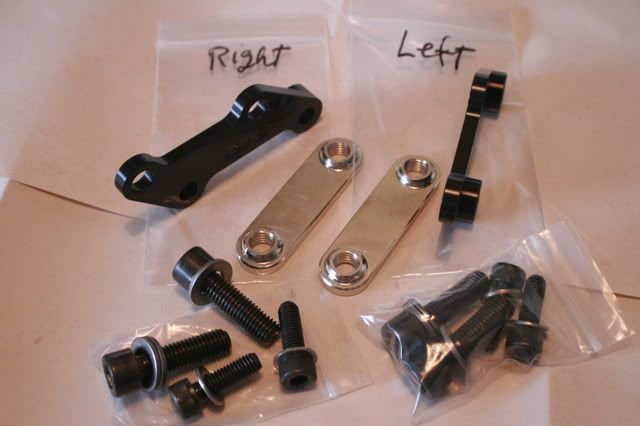 Mock up showing how to mount bracket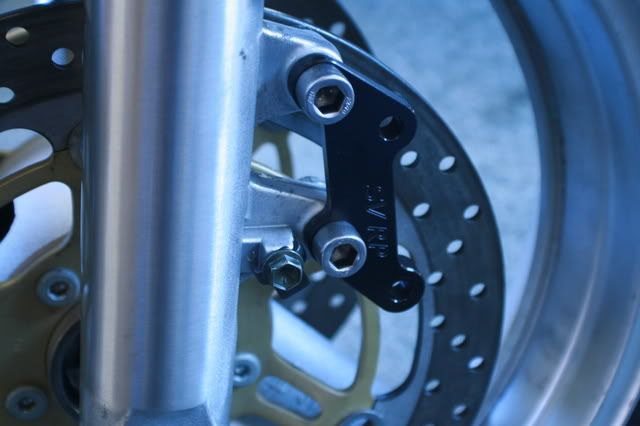 Mounted with the Tokico Calipers on the Vstrom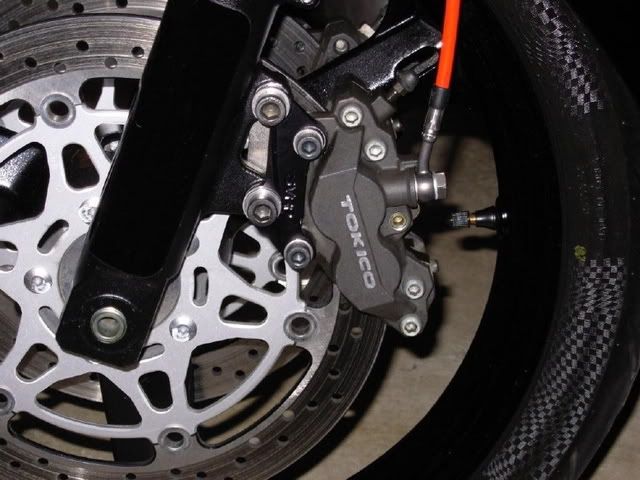 The SV Racing Parts, Vstrom Brake Caliper Adapter Brackets, are done in Anodized Black, and include black mounting hardware.
The steel back plate, for the 10mm bolts to secure the adapter brackets to the forks, is plated in nickel to resist corrosion.
No boring or drilling is required,
The GSXR 600 2001 - 2003, the GSXR 750 2000 - 2003, and all model years SV1000, Tokico Brake Calipers simply bolt right up. Super easy install.
I have run 200 of these Brake Caliper Adapter Brackets on the first run so they will be readily available to anyone who wants to upgrade their brakes.
I actually use this set up with the stock front Master Cylinder, on my SV650 Race Bike, and the change in the stopping power is awesome.
They provide better stopping power and far better feel and control of the brakes. Better everywhere including gravel and dirt off road conditions,
This Brake Caliper Upgrade works very well with or without changing the OEM front brake master cylinder.
Galfer SS Brake Lines, and upgraded master cylinders just make it even better,
I have the Galfer SS Brake Lines in Black to match your other cables and controls in stock, as well as the superb Galfer HH Sintered Brake Pads for the Calipers in stock, and ready to ship. The Brake Lines are $89.95 and the Brake Pads are $35 per set.
I highly recommend that you change out the brake pads on any used set of calipers you get, simply because you have no idea where and how they were stored, or what someone else may have spilled or sprayed on them in the name of cleaning.
I carry the correct superb Galfer HH Sintered Front Brake Pads, $35 per caliper set, so $70 total, for pads you know you can trust is cheap insurance, and they are awesome in stopping power, last, and do not fade as you ride. You will like these.
The Brake Caliper Adapter Brackets, and the requisite mounting hardware are $65 with $10 Flat Rate Shipping, to your door, anywhere in the USA.
Any questions about your own bike, or shipping to wherever, etc, Email me directly at
[email protected]
and I will look after you right away.
Enjoy the ride, and best regards,
Blair