Discussion Starter
•
#1
•
A few wks ago Stromette's 05 DL1k had it's 10k mi service done. Since the bike will eclipse 14k this wkend I figured I better get this report done. :wink: One of my good friends is also the best mechanic around and despite being on a respite of sorts from work I was able to persuade him to help me w/the Strom (Jim, you ROCK!). This is the most complex work I have ever been involved in if that tells you anything.... yup, Stromette could head a club for the mechanically declined!
You might want to keep that in mind here. That I'm even writing a report on service is a first!
Here's the Strom ready for work: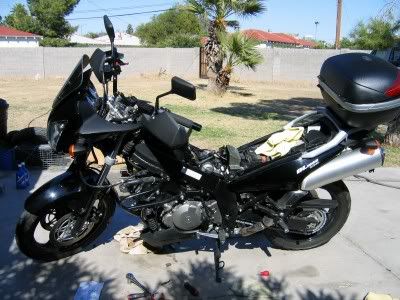 Aside from what is suggested for the 10k maintenance schedule we had to address the Strom's slow oil leak. Nothing major but Stromette doesn't like leaks of any kind. :!: Rather than have the work done under warranty at a stealership by a bunch of kids who couldn't care less, I decided to wait so not only Jim could do it but that I could watch and learn. The leak was coming from the Cam Chain Tensioner (for those of you w/Haynes manuals it's pictured on pg 2*26). We replaced the gasket (part #12837-24A10) and that has solved the problem. Here's a pic w/the CCT removed:
For the scheduled stuff we did TBS, TPS, changed spark plugs, & put in a K&N air filter. As for the spark plugs, let me say that Jim was surprised how loose cylinder #2 plug was upon removal.. so check your plugs! Both plugs were worn (though not in bad condition) and the air fuel mixture looked perfect (least that what Jim said when looking at them, I just said they looked like spark plugs). We changed to the Iridium plugs and did so now since my travel schedule will have me on the road when they most likely will require changing.
As for the air filter even I said it looked kinda crappy. I run K&N in all my bikes and like being able to recharge the filters whenever/wherever. Since I put on significant miles it's a cost saver as well.
Ok, the valves. This sums up the valves in one word: TIGHT!! Though it is not recommended that valves are checked until 14k Jim highly suggested we check them and I'm very glad we did. We had to replace 6 out of 8 as they were out of spec tight. If you are the techy geeky type and would really like the actual spec numbers from before and after PM me and I will send them to you. I would HIGHLY encourage you to check your valves at 10k mi given my experience and what I have subsequent info I've found re this issue.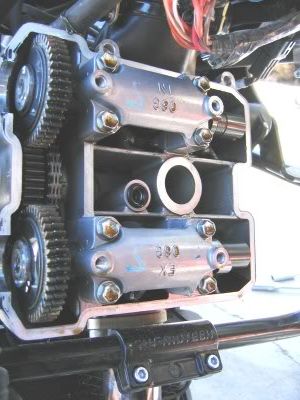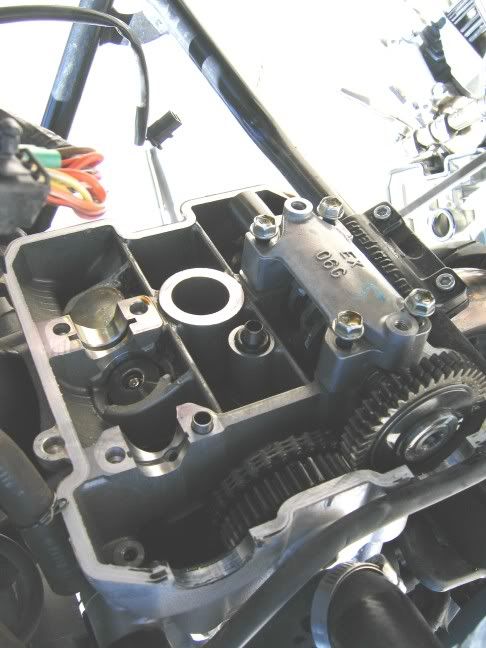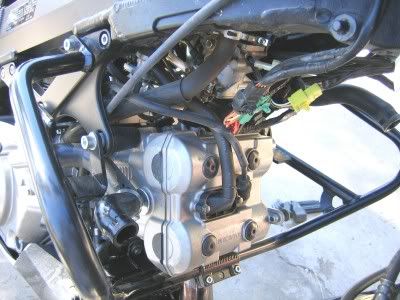 The TPS... Jim put the bike in dealer mode and I then understood the whole 2ndary map thing. He adjusted it to 1450/1500 and I test rode it a t that setting for a day. The change exacerbated the 3500 stumble hiccup vibration and since ironically that is exactly where I do the majority of my riding I had him change it back. If I was going to be doing mostly in town/city slower driving there is no doubt I'd prefer the TPS adjustment.
Re the TBS (Throttle Body Sync)... 5" of mercury off, the Left was higher. Here's pics (supposed to be a b/f and after but the 1st didn't come out too well):
We also hooked up the vac tubing extensions so future TBS-ing will be an absolute breeze. I fogot to take pics of those.
After the service the bike ran MUCH smoother; that's the only way I know how to explain it. Seemed like it was really working against itself b/f. Being a mechanical moron I can't tell you why it's running better (new plugs, filter, sync, or combination, etc) but it's definitely a big improvement. It's also worth mentioning that my gas mileage increased. I was avg 41-42 and I've get 44-45 now (with all factors being equally compared-speed, wind, etc). I bought the bike new in mid-Nov 05 and this is the best mileage thus far in all 13.5k I've put on.
Big thanks to Jim for his great work as always on my bikes and mostly for his patience in teaching and answering all my goofy questions. I can ride the snot out of a bike but when it comes to wrenching I've always deferred to others. Thanks, Jim, for helping me change that so as to increase my confidence and independence.
Stromette
p.s. MK, here's your pic: