Discussion Starter
·
#1
·
Spidi's X-One boots
are a comfortable all-around design with an aggressive style that wrap your feet in a highly protective case of leather and armor. Each boot's outer shell is constructed with bovine leather that is reinforced around the ankles with a hard polyurethane shell. A hard slider is also used to cover the lateral malleolus on each foot. The toes too, are looked after in a similar manner with an integrated replaceable steel toe slider for those that corner low. To keep shifter pegs from digging through the tops of the toes, a shift pad is also part of the toe protection areas.
Several aspects of the boots are targeted at providing maximum comfort in what is essentially high-top shoe design for motorcycle riders. Perforated leather can be found aside of the area where the arch of the foot can be expected to reside. More perforations are located at the top outer side of each boot as well. And the hard plastic heel cups have screens built into them which helps pull stale air from within the boot out to the atmosphere. In an effort to keep engine heat away from the feet, Spidi engineers were clever in that they did not place any vents on the inner-facing side of the boot. To keep air moving around within, a very effective three-dimensional mesh liner is employed. Your feet won't feel clammy, even on a hot summer's day when you're cruising in a pair of Spidi X-One boots!
Getting into and out of the boots is simple with an inner-facing zipper and you'll find the inside a very comfortable place to put your feet. Despite the armor features mentioned above, these boots will make your feet feel equally at home when wandering the city streets as they flex naturally as you move. Clearly, Spidi wanted to provide the casual rider with all-around comfort on, or off the bike.
Available in US sizes 8 – 13, call Mike at 866.931.6644 x 804 for more information. You can also send a note to FORUM at RIDERSDISCOUNT dot COM with SPIDI X1 BOOTS in the subject line and be sure to let us know what size you need so we can get back to you right away.
Spidi XPD X-One riding boots.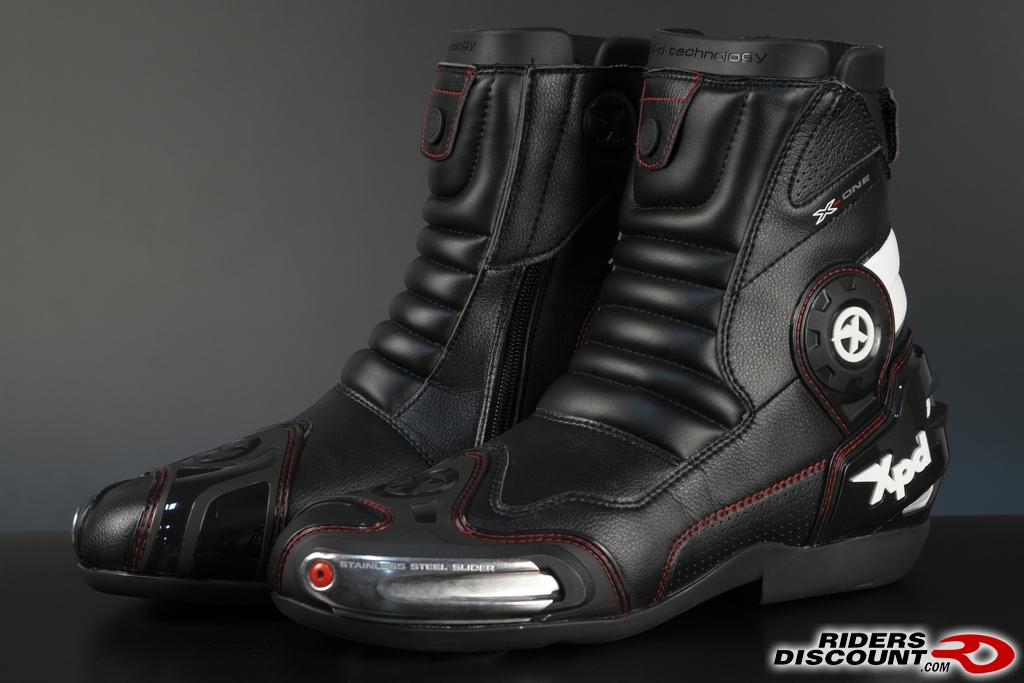 A look from the top of the boot reveals the 3D mesh liner. This mesh improves air circulation within the boot by providing a space between the foot and the outer shell for air to move about.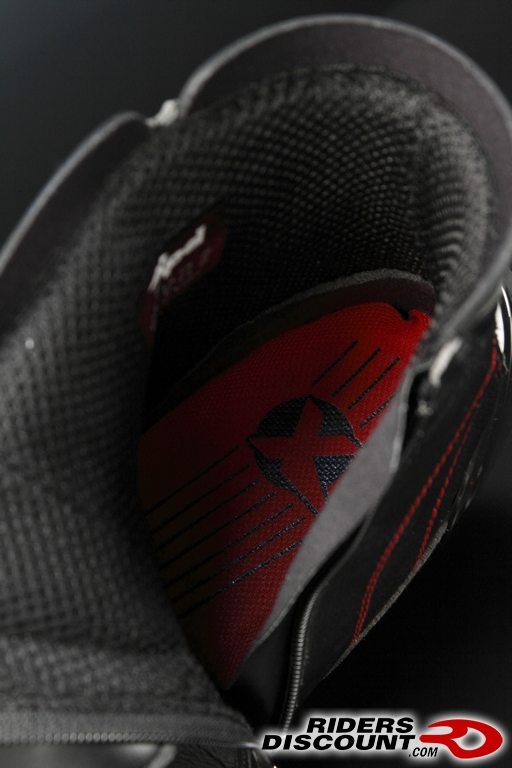 The XPD sole is also ventilated and features dual-density padding for improved comfort.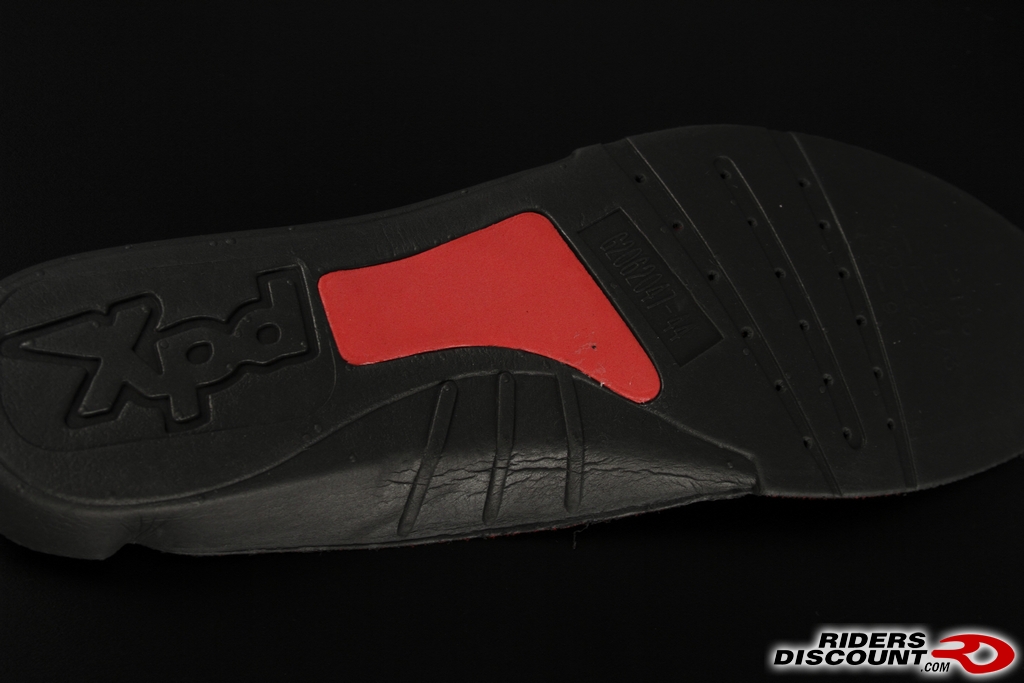 Stainless steel toe sliders are an integral part of the toe box as is the shifter pad.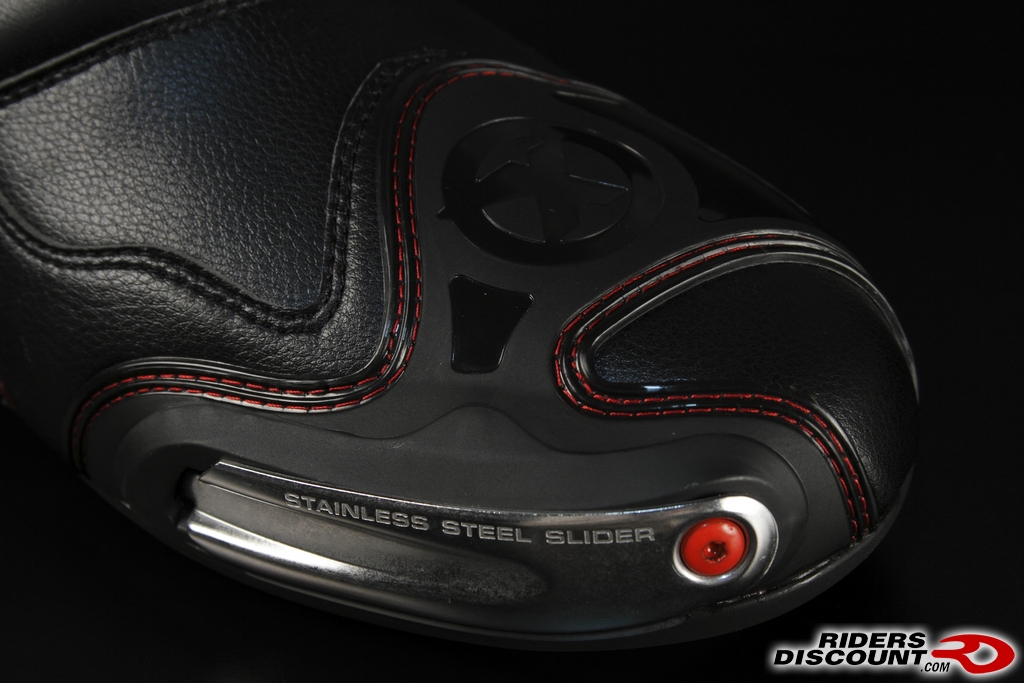 Vulcanized rubber is used to create the soles which have a grippy, but long-wearing design that should provide plenty of traction in wet or dry conditions.