Getting out for the annual Fall ride with the wife. We decided on the North Georgia Mountains for our ride destination.
Leaving our home in Travelers Rest, SC we traveled across the upstate foothills through Pickens and Oconee Counties (filled with mountains, foothills and lakes) before crossing into Georgia.
Old bridge in Pickens County SC built in 1920.
Crossing into Georgia we stayed on the backroads getting over to Unicoi State park (just south of the Bavarian Village of Helen). After passing through Unicoi we headed up the Russell-Brasstown Scenic Highway until intersecting with the famous Hwy. 129. From there it was north to Blairsville and west to our accommodations for the next 2 nights.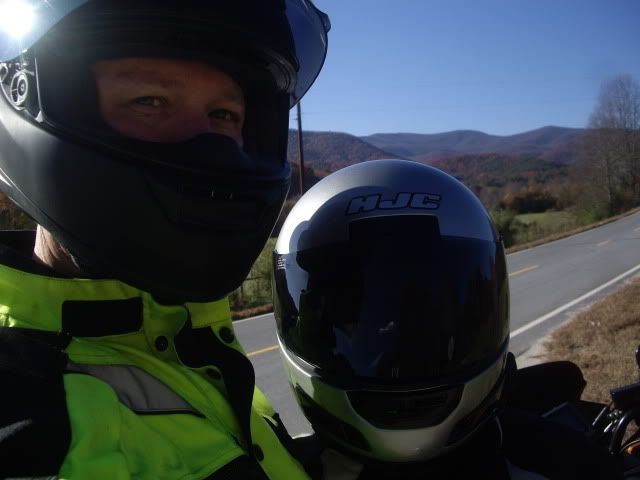 Heading west on Scenic Hwy 197
North Georgia's Scenic Highway 197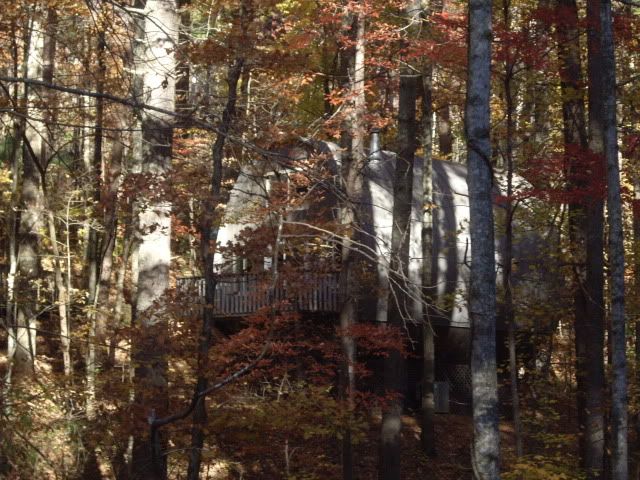 Round Cabins and Lake at Unicoi State Park
Stopping for a scenic stretch break on the Richard B. Russell Scenic Hwy. 348
We had reservations at the Lodge at Copperhead for a steal of $69.00 per night for a King Suite in the lodge.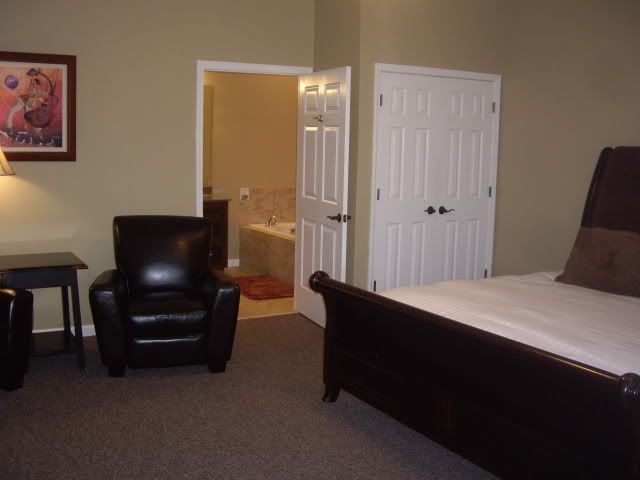 A quick shot of our room with a large shower and whirlpool tub!
Covered parking for the bike just outside of our room.
This place is great, lodge rooms, cabins, covered parking for the bike, onsite restaurant (we had the Two for Tuesday special which included salads, appetizer, entrees and dessert), bar with darts and pool table etc.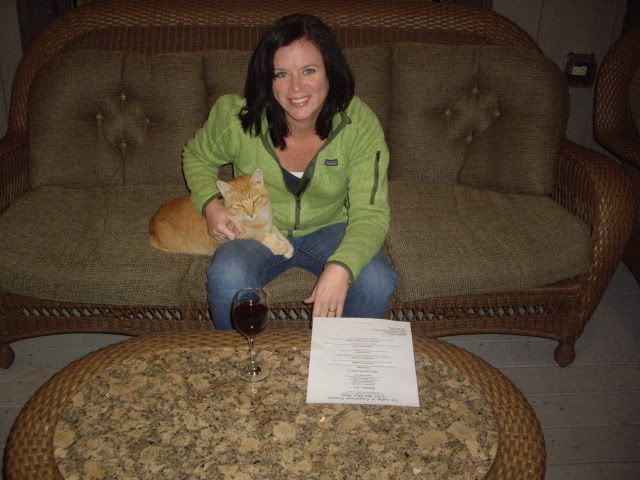 My wife found a new friend out on the deck of the lodge.
This place was definitely designed for bikers but is now open to anyone. Check out the website for more info. Definitely a place to return to solo or for a group ride.
Mountain Cabin Resort & Lodge in North Georgia Mountains | The Lodge @ Copperhead
The next day was a little cooler with more clouds. We rode into town for a quick breakfast on the historic Blairsville town square.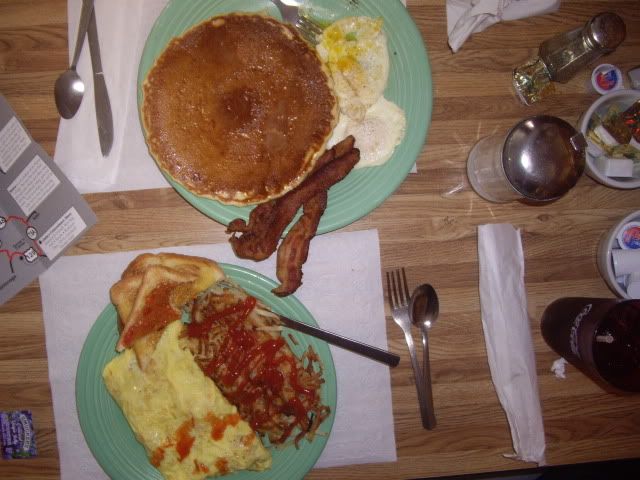 After consuming way too much food, we spent some time exploring the Track Rock Valley southeast of Blairsville looking for Native America petroglyphs.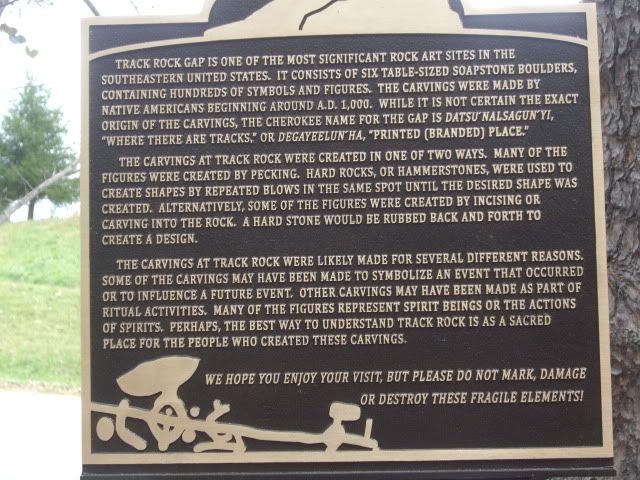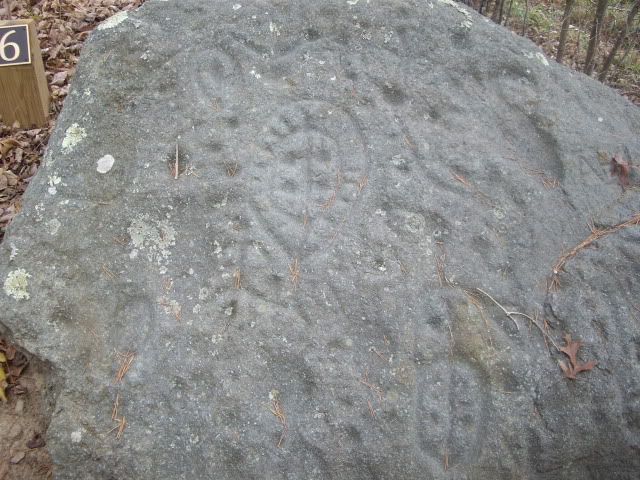 Finding the Track Rocks was a little challenging. Now it was time to head to Brasstown Bald the highest point in GA. My crazy Zumo was trying to send me up a dead end trail going straight up the mountain.
After unsuccessfully trailblazing a new route up Brasstown Bald, we had to backtrack and rely on the analogue GPS for directions. Arriving at the top of the mountain you have to park and take a shuttle to the observation deck / museum. Our shuttle driver told us that some GPS units still try to direct people up the old wagon road that was once used to access the top of the mountain. (Thanks Garmin...) Unfortunately an approaching weather front was moving in and visibility was not very good and the temps began to drop.
Top of Georgia's highest mountain, Brasstown Bald.
Returning to the bike, we were off and continued west on Hwy. 180 crossing over Hwy. 129. This part of 180 is known as Wolf Pen Gap Road. We encountered a light mist which slowed our pace for the rest of the day. We arrived at the intersection of Hwy. 180 and Hwy. 60 in Suches and turned north for a few more miles of twisties before turning east on Skeenah Gap Road and heading back to the Lodge for the evening.
Thursday we woke to cloudy skies and much cooler temps. After bundling up and packing the bike we headed east on Blue Ridge Hwy then turning onto some secondary roads that intersected with Hwy 129 south. We headed south over Blood Mtn. at Neels Gap.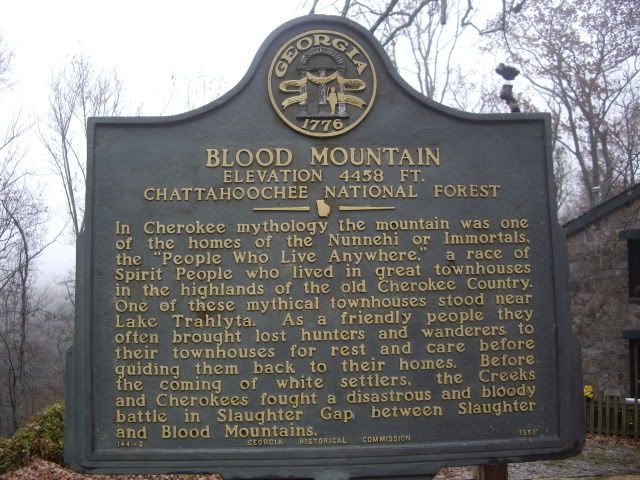 Windy, misty and temps in the 30's! :thumbup:
It was windy and cold!!! We had a quick stop at the outfitters store (which the Appalachian Trail passes through) and we were back on the bike twisting our way down the mountain towards Cleveland, GA. (home of the Cabbage Patch Dolls). We had brunch at the Huddle House and then headed east to Toccoa, GA. We crossed over the Tugaloo River on Hwy. 123. This river marks the boundary between GA/SC and at this particular spot there is also the site of a Cherokee Indian Village. The village mound was explored and excavated before the river was flooded to form Lake Hartwell. The mound is still visible especially when the water is low.
Tugaloo River at the very beginning of Lake Hartwell. Looking west into GA.
Crossing back into SC we headed east through Westminster, Sceneca (home to the Oconee Nuclear Plant) and the small town of Pickens before arriving home.
Map Detailing Most of the Georgia Mountain Ride
We had a great Fall ride with all types of roads, temps and colors! Hope you enjoyed my first ride report.