Discussion Starter
•
#1
•
Hello fellow Stromtroopers! Long time lurker, first time poster here -- and I have a story to tell!
Little background: I recently procured the '05 Wee Strom (in red, the fastest color). It's my 9th bike; I have about 2000 miles on it personally and use it as my long-distance bike. I've been farkling it for a trip this spring. I also own a Triumph Street triple which I use locally and on the track...
Anyway, was on my way into work this morning, fully geared up to include the heated gear. Was almost to the end of my 20 mile commute when I came upon what turned out to be about a 6' wide ice-patch across the two-lane road. The roads SHOULDA been clear as we haven't had any precip, else I wouldn't have chanced a ride :furious:... I saw it, and prepared myself to go through it -- was doing in the neighborhood of 40-50mph, just accelerating off of a stop light. I was in some heavyish traffic, three cars in front and several behind me. Realizing I had no choice but to go over it and no where else to go, I made sure the bike was upright (the road was slightly curving), stopped accelerating, relaxed and made contact...
UNFORTUNATELY, the front wheel almost immediately broke to the left, and then back to the right; not quite a tank slapper as I still had some positive control, but it may as well have been... Oscillated about 5 times in all. I had just about managed to get it fully under control, when the rear end started fish-tailing; the plot thickens... I didn't have a foot on the rear brake, so when I managed to get the front end pointed back down the road, the rear was sliding out to the right; you can guess what happened next. The rear wheel regained traction and I was thrown high, hit, slid and rolled about 150 yards. My poor Strom slapped down hard on her right side and slid across into the left lane, about the same distance. :headbang:
I was wearing a full-face shoei RF-1000, Firstgear Kilimanjaro Jacket, Joe Rocket Ballistic Pants, and combat boots. I also had a set of gerbings heated Leather Gauntlets and a heated liner on under the jacket. Needless to say, the helmet is destroyed, sacrificing itself to save my noggin. The pants took the brunt of the crash; lots of melted nylon and rips. The jacket must be made of some new-fangled super nylon; it's a little scraped up but aside from some torn stitching is in great shape. The gloves are pretty rashed up; dunno if they are repairable. As for me, after a quick assessment of my person, I stood up and walked out and, with the help of some very nice strangers, got the strom up and out of the road. I have a little rash on my right hand (glove departed at some point), and I'm a pretty sore in the hip and shoulder... virtually NO other marks... Yep, I'm VERY lucky.
As for the bike, I have some work to do, and could use a little advice. The damage is all along the right side; foot peg is destroyed (hangar is salvageable however), and the passenger perch is heavily damaged and tweaked. The mid-fairing took the brunt of the crash, gathered a lot of rash, and broke a couple of tabs. Mirror took a little damage, bar end got torn to heck, the brake handle broke (HA!), and the flush mount turn signal was destroyed. Aside from that, a few plastic tabs and bits came tumbling out after I pulled the fairing off; but I couldn't readily ID where they all came form. From what I can tell, all of the screws still have a place to live.
Here are the two areas I'm concerned with: the forward portion of the fuel tank was dented in; you can see in the pic some of the paint is chipping off; I could not find any tears in the skin however; thoughts on it's durability?
Second, the right lower fork tube has a little rash along the bottom corner, under the pinch bolt. Everything appears straight; should I be concerned with anything in this neighborhood? Also, I haven't yet procured a Fork Brace... I wonder if that and a damper would've helped me out (my guess is yes)...
Here are some pics for your analysis and viewing pleasure.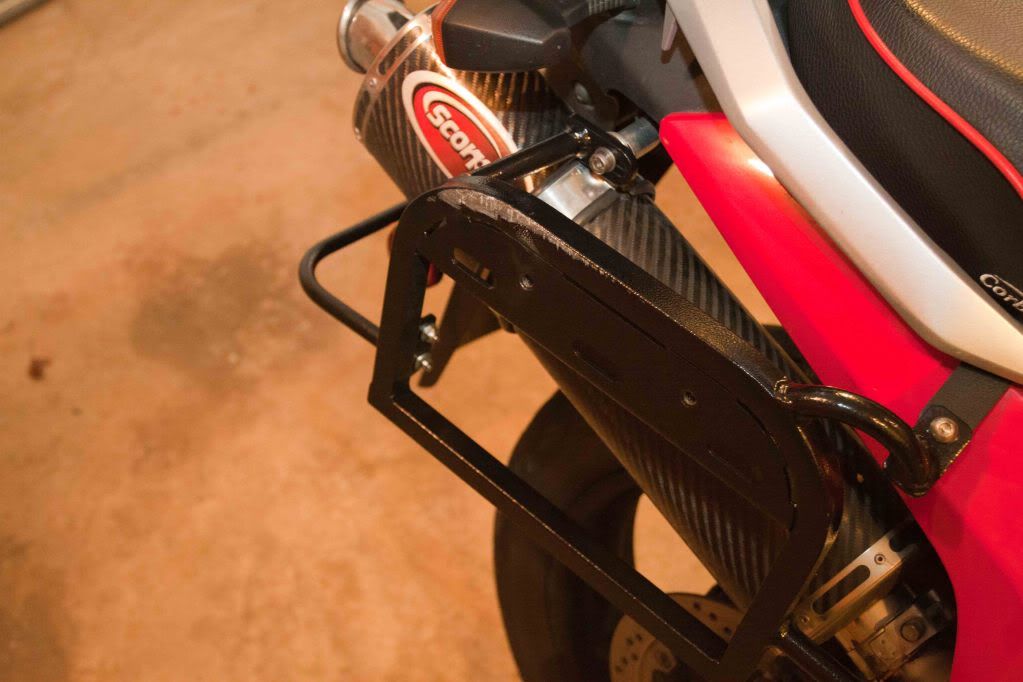 That's a Happy Trails SU rack; thing is built like a brick house, lemme tell ya...
Honestly, I think my pride is hurt worse than the Strom...
BTW, if you've never been in a crash, this is how I experienced it (inner monologue):
Rear tire's sliding out, uh oh... *SCREECH KACHUNK* And now I'm airborne... I hope that cutey in the M3 behind me is on her A-game... Here comes the asphalt... *BAM*, man I'm glad I had a full face helmet on... Look the sky! Ground! Sky! Ground! Sky! Hey, where'd my right glove go?! Better tuck that hand in... Sky! Wow I'm tumbling fast, wonder when I'll stop? Grass?! OK... I'm stopped... <-- that's about the first two seconds; and I swear every one of those thoughts went through me head... :bom_rolleyes4:
So, glad to be here and able to post this for you guys! Feel free to mock me now :thumbup: