Well My apartment lease is terminated, I sold my car, and I'm leaving for deployment on the 22nd. Might as well hit the road I figure! Enjoy the beautiful west coast while I can XD
I just bought a used DL1000 that needs some...... well okay, Lots of love. It replaced a 96 BMW R1100RT in quite good condition, The beemer just wasnt me. I must say I LOVE the Vee. I enjoy being able to do whatever I want to it with out having to buff it with wax a few times just for touching it.
The Vee isnt as good around corners, is top heavy, louder, and more ugly (in a sexy way) But something about it just draws me to it. Maybe its the thousands of options for it. or that it can do just about everything. Its great!
Okay! That aside. Today I am packing up the last of my apartment. I mean leaving tomorrow night I believe to start my trip. I'm an Avid personal photographer running with a older Nikon D70s that I just love. Better body then the new small ones that feel.... weak. I also have a Go Pro HD mounted to the front of the strom to take images every 1 minuet on the trip. I'll be posting all the images from the Go Pro and my Nikon on a photobucket account I made for this. The GoPro HD Images will be formed into a time lapse video when I'm back home.
Soooo I'm taking my trip south by way of Hwy-101. If anyone has some great spots I should be sure to hit Let me know! specially when it comes places to pitch a tent, maybe free hike in spots! I wont be getting silly hotel rooms, I have a tent, sleeping bag and camp what nots to enjoy the great outdoors for a week. I figure 3 days going south and 3 days back north. maybe 4 south and 2 back.
Oh, heres a image of my DL1000 with 83,000 miles on her clock. The clutch needs a basket replacement soon. But it will do just fine on this trip. I'll change that myself when I get back in a year.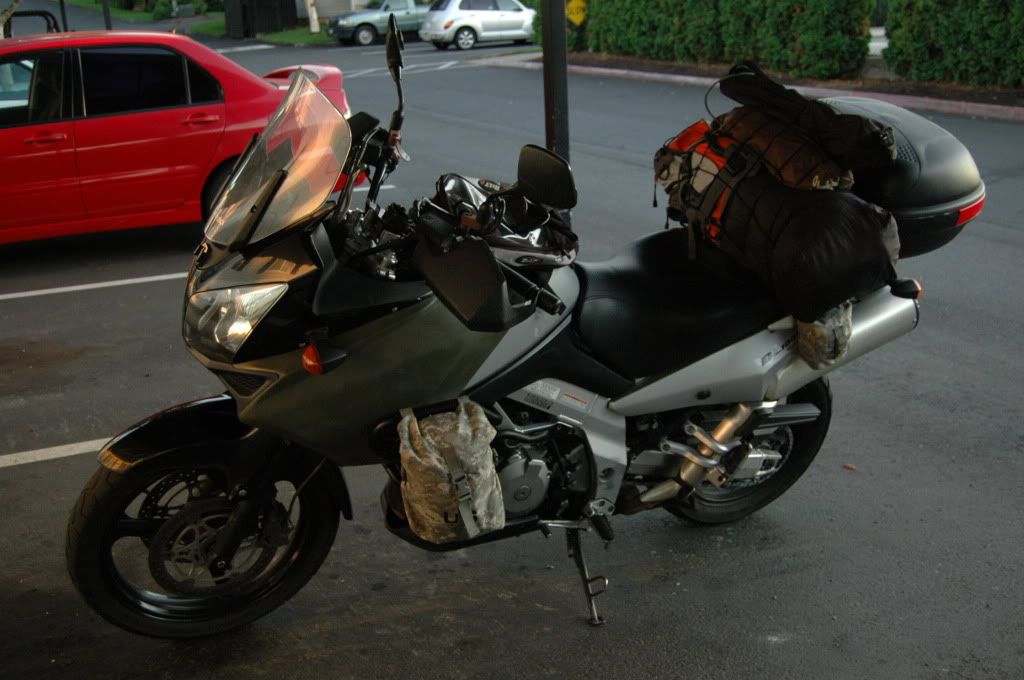 (missing my touring windscreen and Gerber Axe that will be on the side of the bike)
So yea, Anyone know any good things to do, see or where I can stay for cheap or free for tenting!
THANKS!