Well, cross that one off the list.
I have been lurking around here for sometime researching the Wee/Vee as my next possible bike. I'm 46 years old, 6'3, 250lbs. My experience with bikes has been mostly offroad. I had a Kawasaki 440 LTD when I was in college and had a blast on it until a near head on miss with an RV ended my desire to ride on the road. Several years ago, the itch returned. I purchased a 2007 Yamaha FZ1 after spending months researching it. I was not able to ride one before I bought it. I absolutely loved the looks of the bike, but just never felt comfortable riding it. I thought that it was just that I hadn't ridden in years and that it would build up with experience. I felt fine riding in under 65 mph, but above that, I just never comfortable. I was so tense, it hurt. I sold the bike after 6 months.
I rented a Suzuki DRZ400SM. More of the dirt style bike that I am used to. Had a blast. I told the guy that I was riding with (he had a KTM690), that I had more fun in the last 6 hours riding it that I did in the 6 months riding the FZ1. I bought one about two months later. Still own it and plan to keep it, but I just want something to take me further out of town. I really like the looks of the BMW F800GS, but not the price. That brought me here.
Based on everything that I have read, I was leaning toward the Wee. There is a place here in town that rents a Vee, so that was a close as it was going to get. The rental was a 2002 with about 56K on the clock. It came with a Suzuki storage box on the back which was the perfect size for a small duffel bag with a few changes of clothes, etc. I signed the papers around 10:30 am and headed out.
I have a 38" inseam and could easily put both feet on the ground. As I rolled to my first stoplight, it was obvious that the bike is top heavy. I headed out to the freeway and jumped on. Right away, I felt better than I did on the FZ1. I think that was because of the extra wind protection and more upright seating position. I jumped over to the car pool lane and headed out of town. I jumped on hwy 74 and headed toward Wickenburg. This is a two lane road that I ridden many times on the FZ1. Soon enough, I encountered my first semi. The wind blast always rocked me pretty hard on the FZ1. On the Vee, I hardly noticed it. Impressed so far. Once I got into Wickenburg, I rode around town a little bit. The gear box was very "clanky". I also was a little set back by the perceived "lack of" acceleration. On the FZ1, I was nervous to even hiccup for fear that I would flip the bike over. This felt like my DRZ just with longer shift points. Disappointed there.
Back on the road and start of my uphill ride through Yarnell and Prescott. Lot's of twisties. I found my self needed to shift in lower gears more than expected to get through the 20-25mph turns. Second gear seemed to low and third seem as though it would bog. Not sure if this is how the Vee is or a sign of things to come. As I rolled into Sedona, I hit a stop light that I was rolling in a little fast on. I down shifted once, but concentrated on stopping instead. Once stopped, I shifted down into first. When the light turned green, I let off the clutch and the bike just started shuttering violently. I squeezed the clutch back in made sure I was in 1st and tried again. Same thing. I rolled the bike over to the side of the road. I tried to shift through all the gears and same thing. Starting to worry, I decided to put it in 2nd and try. I was able to get moving. I then downshifted into first and rolled to a stop. This time no problem.
Made it up to Flagstaff. There I rode around town some and then decided to give it it's first offroad test. I headed out on a small stretch of road that started out graded and then gets a little rutted and rocky. My first impression while riding about 35mph was how well it absorbed the wash board. Once I got into the ruts, it became obvious that I was riding an elephant. I lost the front end in some sand and almost laid it down. Ok, not so good offroad. The next day, I met a friend and we decided to ride around some. I had the same thing happen at a stop light that happened in Sedona. Twice. I found later that if I rolled to a stop in 1st, I wouldn't have the problem. However, if I rolled to a stop in 2nd or 3rd, and then tried to down shift into 1st, sometimes it would work, sometimes not. I am sure this has something to do with this bike and not the Vee's in general. However, I still thought the gear case was overly clanky.
Headed south through Mormon Lake, Strawberry, Payson. Again, the bike did very well at highway speeds and I felt very comfortable. My next adventure was a 22 mile stretch of unpaved road on the Apache Trail. This road has extremely washboard switchbacks. The Vee totally sucked going through these. 1st gear was needed to get through these sections. The washboard bounced the bike all over the place. The front end slipped out on me in a few places that I wasn't expecting. Once I was back on pavement, I almost stopped to kiss it. Rode back down through Tortilla flats. I ride these regularly on my DRZ and have a total blast. The Vee did ok, but if I could have swapped with the DRZ, I would have in a heartbeat.
Overall, I had a good time. I have crossed the Vee off my list of potential bikes however. Knowing that I probably won't be able to ride a Wee, I'm not sure if I am going to continue leaning this way. I did average about 44 MPG on the trip which was better than I expected. I can totally see owning a Vee for long distance, high speed travel solo or 2 up. Off road, pass.
Here's a few pics:
At the rental location...
Found this guy near Yarnell...
Just outside of Yarnell...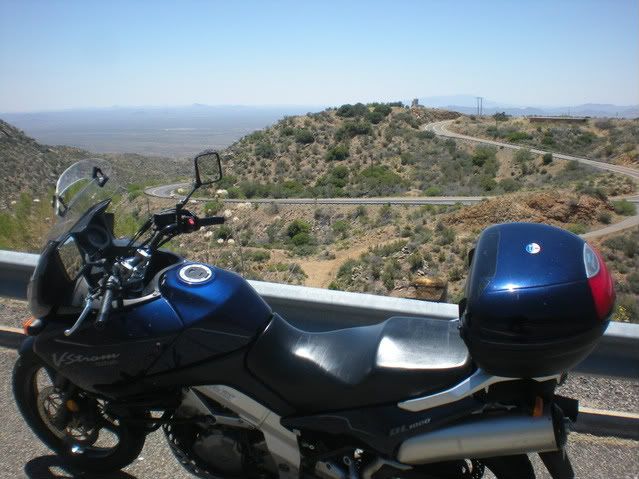 Whiskey Row, Prescott...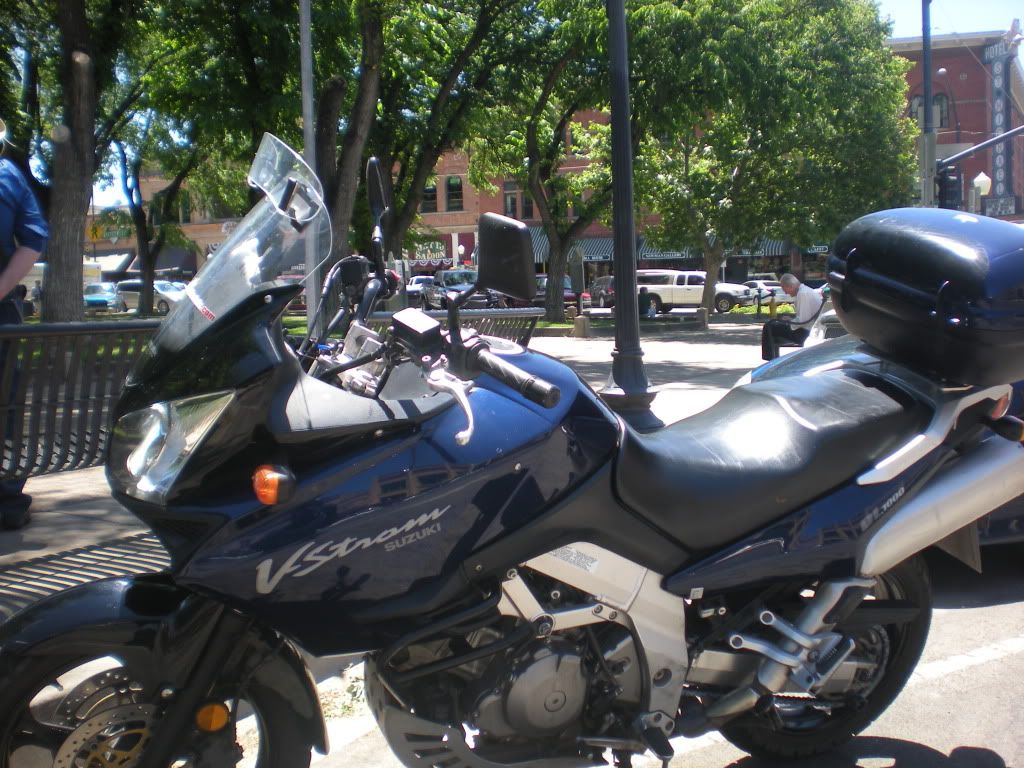 Walnut Canyon Road, Flagstaff...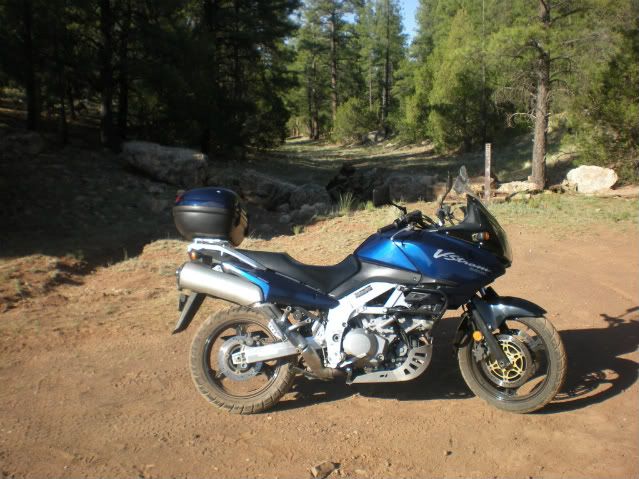 Apache trail (the good part)...