Discussion Starter
·
#1
·
Many of us know the feeling of riding all day at the track and throwing our smelly, sweaty gear into our gear bags and going home, only to open the bag at the next track greeted by the foul stench of a gym locker. This new PEET product that Riders Discount is offering will help eliminate that problem by using its patented DryPort technology. The PEET dryer utilizes convected air through its four air chambers to gently dry your gear. The PEET PowerSports Dryer operates silently and safely by using a whisper quiet fan with no danger of the device getting hot. The draw is approximately the same wattage as an incandescent light bulb, meaning it can easily and safely run at the track in your trailer overnight. The PEET PowerSports Dryer comes with a
25 year warranty
.
The PEET PowerSports Dryer enables your expensive gear to last longer. Between long sweaty days at the track and unexpected rainy conditions, your boots, helmets and gloves are regularly soaked. PEET dries gear naturally so it doesn't damage your gear, and also removes fungus and mildew that causes deterioration. It's as simple as mounting your gear on the PEET DryPorts at the end of the day. The next time you use it, wetness is gone along with odor-causing bacteria. Your gear is dry and fresh, ready for the next time you ride. For anyone who has experienced an early spring or late fall track event, you know how cold it can be on the first session out. With the PEET PowerSports Dryer, you can be perfectly warm to start your session by throwing your gloves, boots or helmet on the dryer when you unpack before the rider's meeting and have it warm and ready to go by the time first call is announced.
The PEET PowerSports Dryer is not yet available on our website. To order one, be sure to contact MIKE at866-931-6644 ext. 804. You can also email us for more information, send your questions to FORUM at RIDERSDISCOUNT dot COM with PEET PowerSports Dryer in the subject line and we'll get back to you right away.
Included with your PEET Dryer is the base unit, four boot DryPorts as well as two glove and helmet DryPort attachments.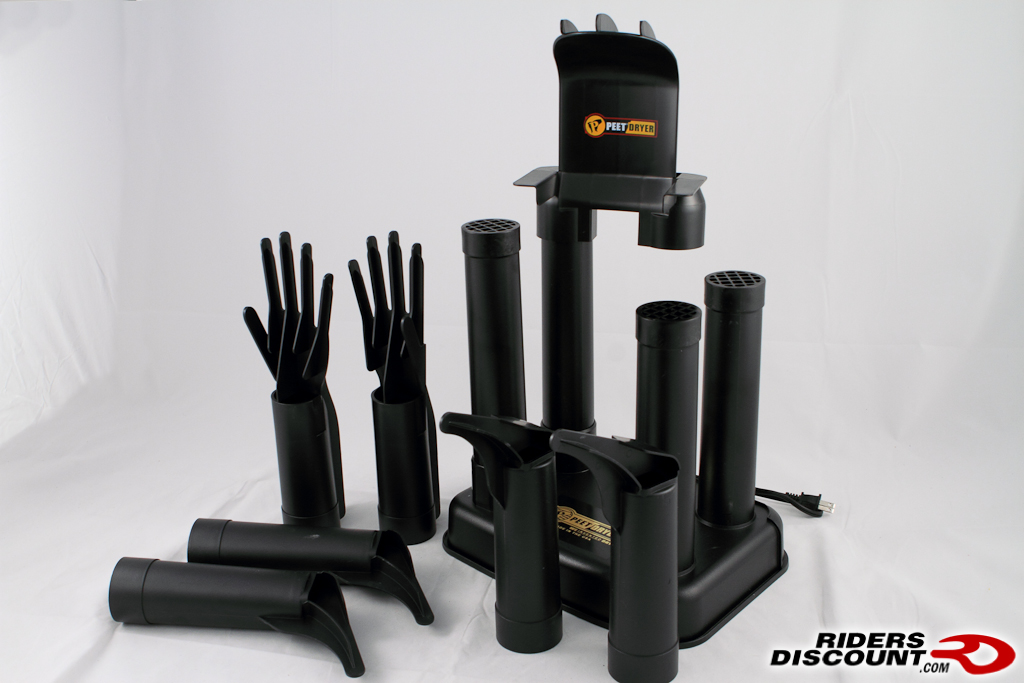 Safe to use with all types of riding gear.