Well my new job has turned me into a weekend warrior so I decided to trailer my motorcycle down to Florida for a weekend of camping with the wife and the dogs.
We camped at Gamble Rogers state park which in right on the Beach. It's located about 20 miles North of Daytona and 20 miles South of Saint Augustine.
Here is a picture of the campground and our site.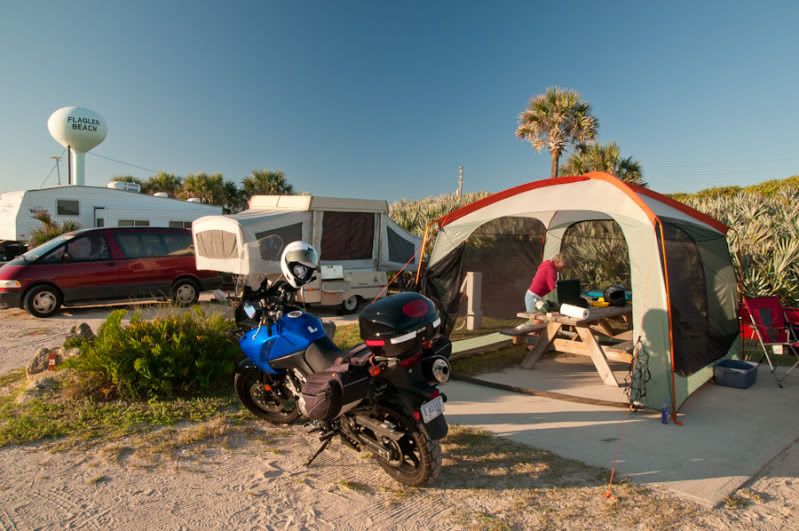 Forgot the bed so we had to make a run to target...
The ride I had planned would bring us inland to the Ocala National Forest. There are numerous natural springs in Northern Florida and we wanted to explore some of them. So we packed the fins and Snorkels and headed off.
Here is the loop....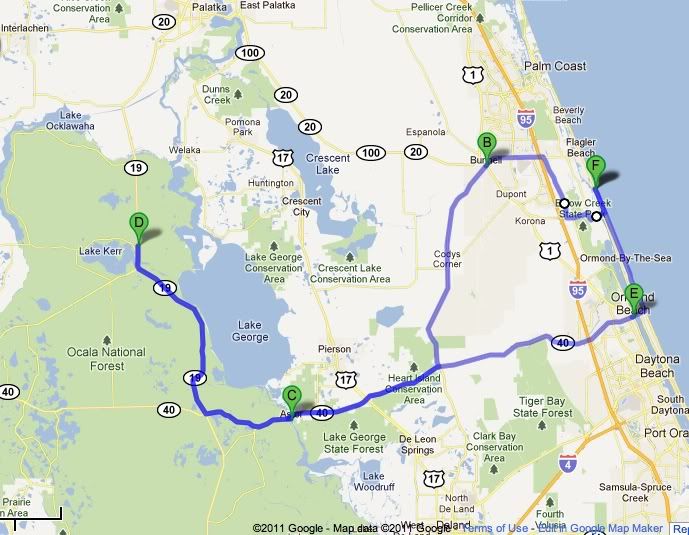 The ride starts off with a bang. Right behind the campsite is a road called the Walter Boarman Loop. The road is just stunning, it's narrow, full of twists and turns and is surrounded by marshes and tidal pools. This area reminds me of old Florida.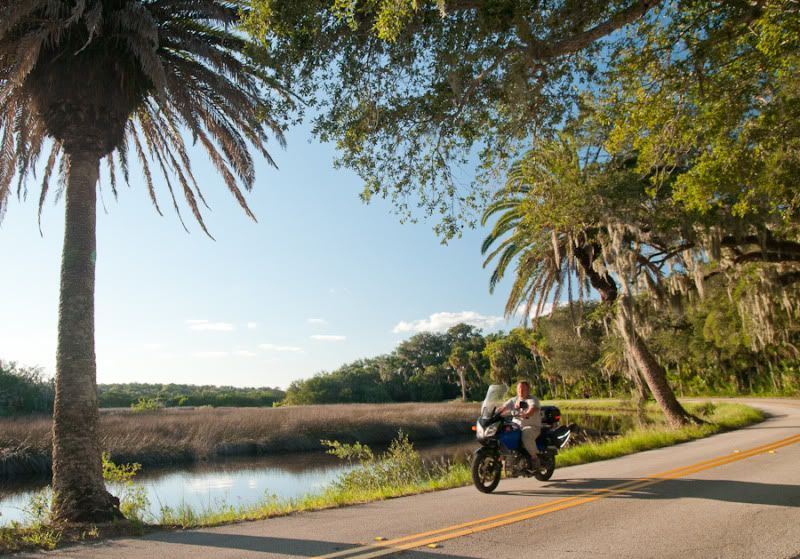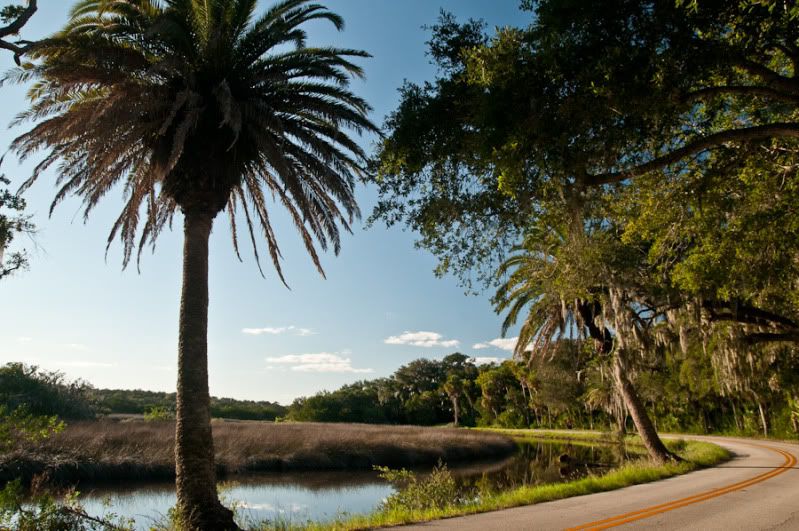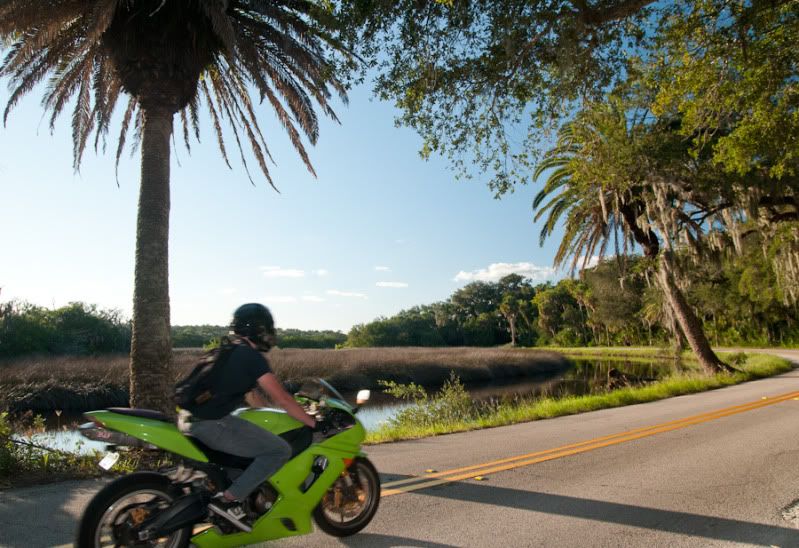 After the loop we pulled off and explored a bit of the Bulow Plantation. This was a working sugar plantation and is now a State park.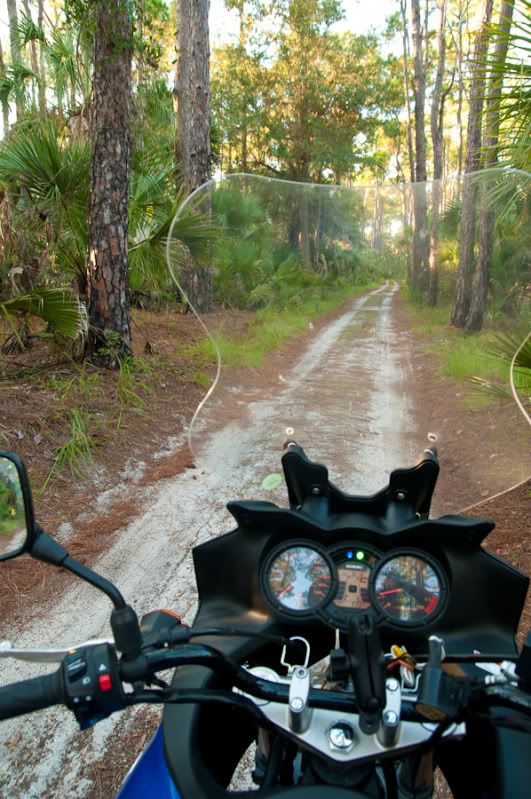 After some Sandy trail riding in Bulow we continued down us 100 and through the small town of Bunnell. Not much to see here although there is a decent place to get a Hot dog called the Hot Diggity Dogs.
From Bunnell we turned off the 100 and headed SW on route 11. I gotta apologies because I have no pics of this part of the trip. The roads were pool table smooth, and covered in a dense tree canopy...all I could do was ride. Eventually the 11 interesects route 40 were we turned due west. Route 40 was more smooth perfect roads and it brings you through Barberville Florida which has a pretty cool cool education center that shows you how pioneers lived in Florida in the early days. Pretty interesting stuff and a popular spot for school groups. Ten miles down the road from Barberville you Cross the St Johns river at the town of Astor. They river water is almost black here. There is a nice draw Bridge next to the Marina and plenty of Alligators milling around the sailboats. Here is a cool mural that I saw painted next to the bridge.
From Astor we continued to head West until we hit the US 19 and headed North. So I'll say again no pics of this stretch....the road was perfect, smooth, curvy, and hills! Yes real hills in Florida. It was a short ride ip the 19 until we hit our first stop which was Silver Glen Springs. We unpacked the snorkels and dived it. The water was crystal clear and full of fish, due to the brackish nature of the water we saw stingrays and Blue crabs as well.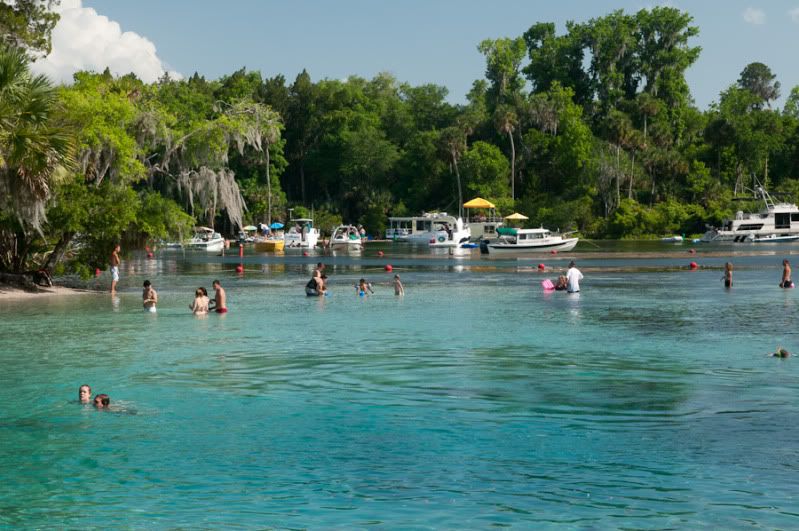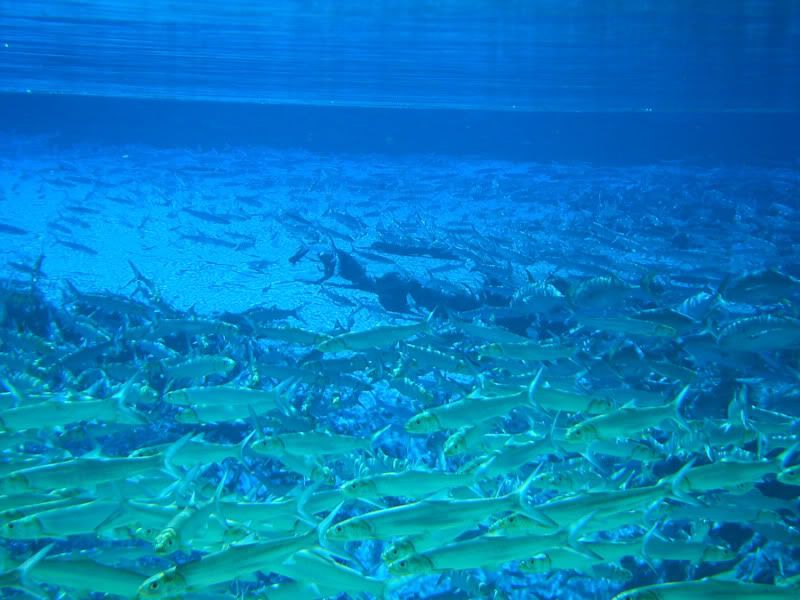 After about an hour of swimming we packed up again and headed north for Salt Springs which was 15 miles up the road.
This spring has a great campground and is another great one for Snorkelling.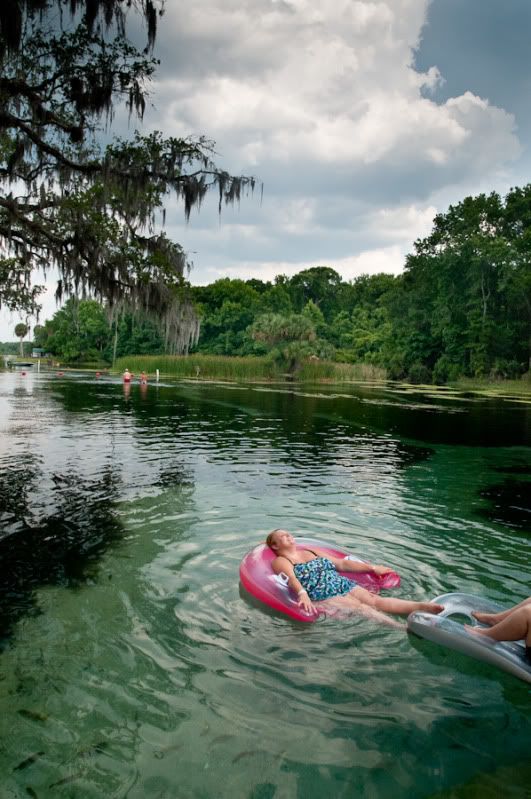 We had out packed lunch at Salt Springs then headed back for the coast. This time we took the 40 straight through to Ormond Beach then took AIA south back to Flagler beach where we sat on a bench and watched the surfers.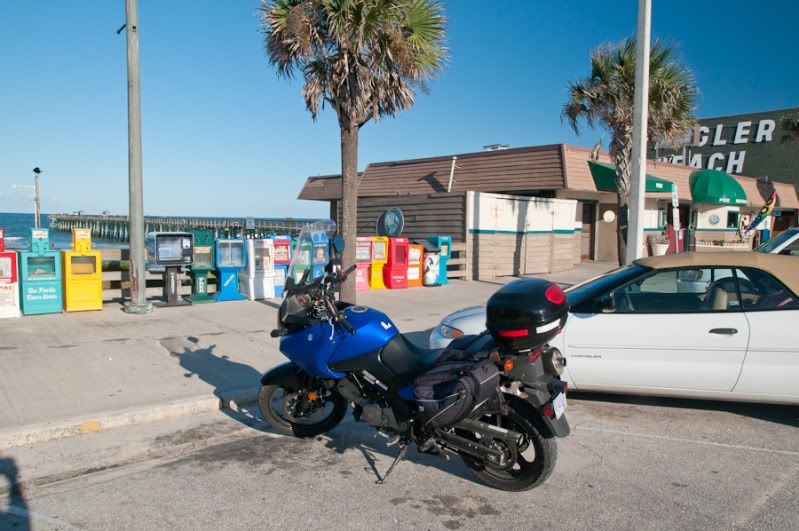 Well It was a great loop. Just 140 miles but it really shows you a lot of Florida. I highly recommend this trip if ou have the time.