:thumbup: Hi Everyone, In order to satisfy my own need and desire for a light weight, Highly Robust Skid Plate I ended up turning to my World Class Enduro Racing Rider Friends and asking where to go.
They pointed me to Scorpion Racing, Enduro Race Skid Plate Suppliers, and the quest began; The owner is an anal Engineer who likes it to be right and work.
I now have our SV Racing Parts, Skid Plates Finished and In Stock, Ready to ship. Remember, I ship worldwide every day so no problem wherever you want it shipped.
These are Highly Robust Skid Plates, only 7.2 lbs in weight, Double Welded from inside of joints as well as outside of joints for extra strength, And Powder Coat Finished in a 20 Year Wear Rated material. This material is being used on off road vehicle Skid Plates and tubular style running boards very successfully without marking or chipping.
Our Skid Plate will definitely support the weight of the bike,
BTW: we use the Same Anodizing and Powder Coating facility as Pazzo levers, well known for quality of finish; And once again, These are 20 Year Rated Finish Coats on our Skid Plates so you know they are going to last.
Cost Including Skid Plate Mounting Bracket and Complete upgraded Mounting Hardware Kit is $199.99 all in with $30 Flat Rate Shipping to your door anywhere in the USA,
Gloss Finish if you want a look to match the finish on your Crash bars or other black parts on the bike like the rear passenger peg mounts for example, Very factory like look on this finish. I think it will great if you have a Silver Frame,
I have one of these left in stock after the pre-sales,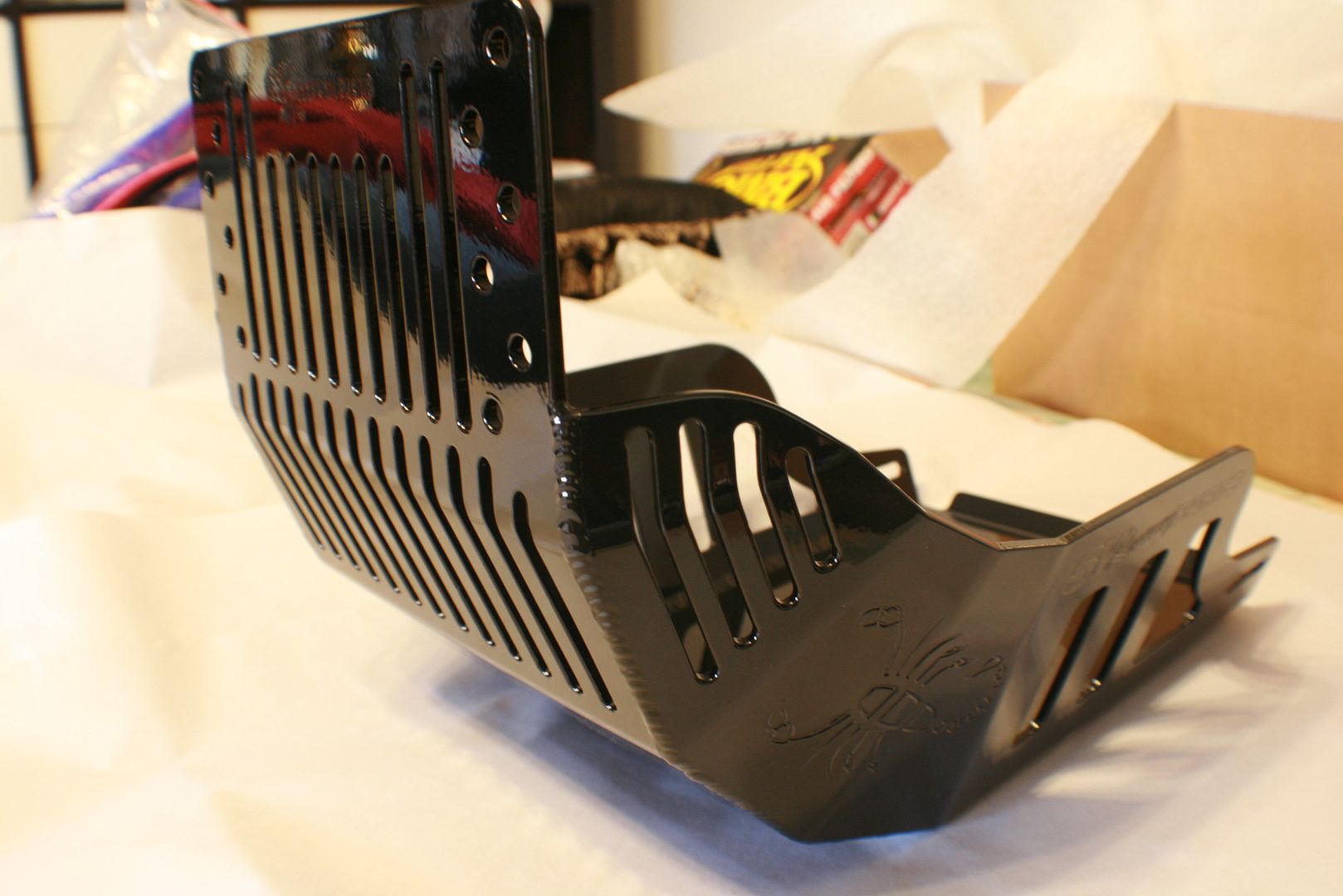 I also have the Mat Style of Black Finish in stock, 3 sets only left of these DL650 Skid Plates, Perfect match to the Suzuki Black Frame.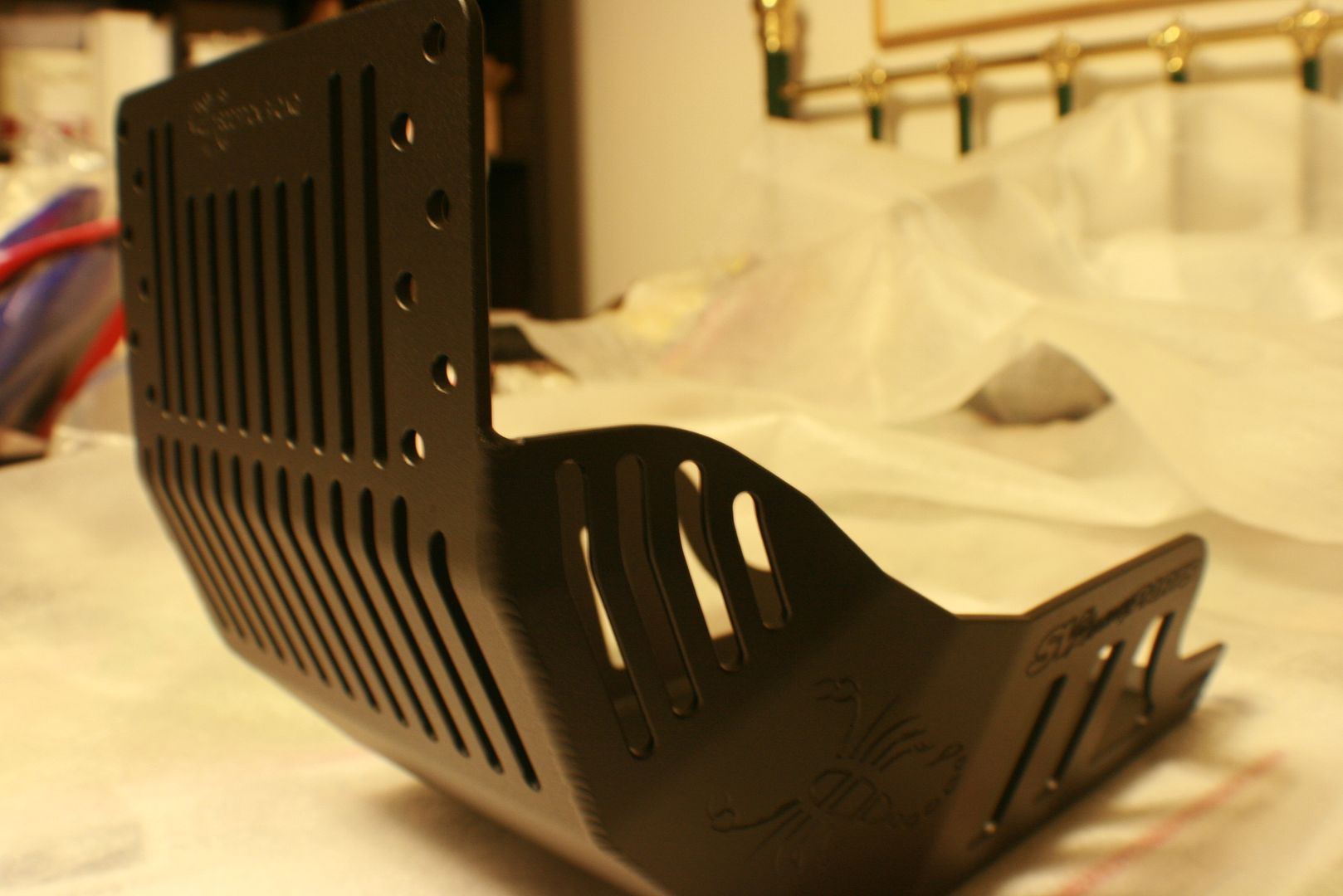 This Mat Finish is the closest I have ever seen to a perfect match to the Black Suzuki Frame and is so subtle and smooth in texture you need to see it to fully appreciate how good it really is. AAA rating from me for excellence.
The Last of the Radiator and Oil Cooler Guards left are being bolted onto the Demo bike for photos with the Skid Plate tomorrow, They are already sold out until Mid-January now, but are being listed at $79.95 as a two piece package.
The Oil Cooler Guard is $32.95; Powder Coated in the Mat Finish and the Radiator Guard is $54.95; Powder Coated in the Mat Finish, as stand alone prices,
These are for the 2004 - 2011 DL650 Vstrom.
Suzuki was kind enough to allow us direct access to fit and measure the 2012 DL650 and the 2012 DL1000 Models so we know that our Skid Plates are bolt on easy to install.
We are in production on the 2012 Models right now and will have them released for shipping the end of the first week of January when the Mat Finish Powder Coating is done,
When ordering Specify your DL650 or DL1000 Model Year to be sure to get the right SV Racing Parts, Scorpion Racing Skid Plate for your bike,
If you want to order in Silver that is also possible, Silver is an Anodized Finish, Satin Mat like, very much like the Silver Frame Colors,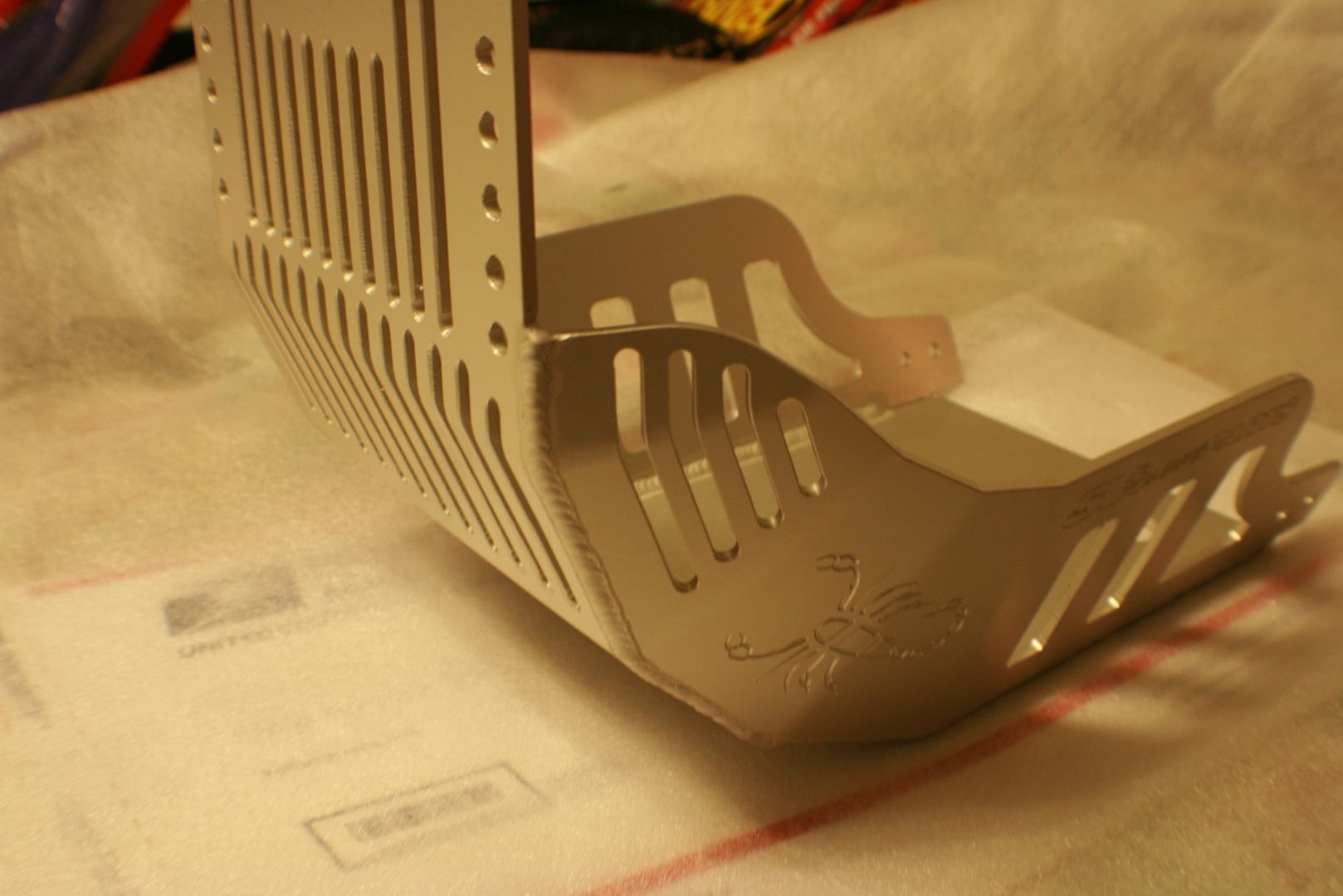 I am taking pre-orders on 2012 Models right now, so feel free to Email me Directly at
[email protected]
for the Skid Plates for the New 2012 DL650 and DL1000 Models and be first to receive the Skid Plates,
The Radiator Guards for the 2012 DL650 and the Oil Cooler and Radiator Guards for All Models DL1000 will be released with Skid Plate for these Models at the end of the first week of January. Price will all be the same as for 2004 - 2011 DL650 Models,
Visit me anytime at
SVRacingParts.com
Enjoy the ride, and best regards,
Blair