Discussion Starter
·
#1
·
Thats right. It was plural for a reason.....
A bit o backstory, I'm 44 and have been on or around bikes for the past 40 years. Been riding a Speed Triple for the past few years until last fall when slightly low oil and the longest wheelie I've ever done conspired to spin a rod bearing. :furious: Even as it got progressively worse and I knew it was about to get expensive she still let me down nice and gently.
In 2009 I rode it out to LA and met up with some of my TheSpeedTriple.com brethren to ride back east to the foothills of King NC to attend an annual event called the ECR. I had the time of my life. I don't think I've went 100% balls out since. I discovered a different reason to ride on that trip. Here's a short video a friend made of that trip.
Monument Valley, Utah on Vimeo
When we got to NC my wife was waiting for me with her '99 Monster 900S. Not wanting the trip to end I talked her into continuing on the Atlantic to make it an official coast to coast trip. Those 3 days and the meandering trip back to Fredericksburg had her hooked too.
Not sure if any of you have ever experienced PTD (post trip depression) but I've found the only way to survive it is to start planning the next one. That turned into 6 weeks 12K miles and more stupid grins than we can count. Same guy made this little treat.
Rocky Mountain Rally '11 - Volume 1 on Vimeo
So after that epic trip we go for a weekend trip and Speedy let go 10 min from my Dads house. Nice and gentle. I'll fix it one day but I doubt I'd cross the states on it again so I started shopping.
The wife who now rides a SV 1000 threw a leg over it and seemed to like it. :jawdrop: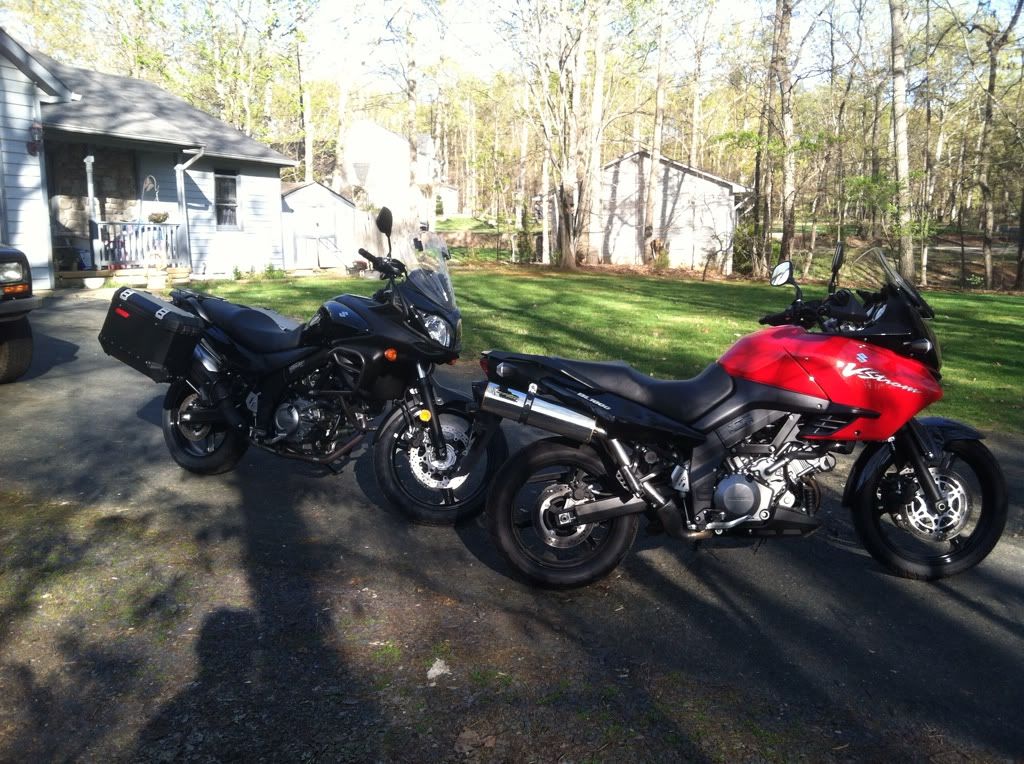 Then that showed up. :yikes: WTH when I went to the dealer they didn't have any Adventure models.
If you look close you can see the 2 brothers slip ons on the 1K I also added a PCV and dropped the forks in the triple tree about 1/2" the 650 has a 3/4 2brothers exhaust on the way. :hurray: