Discussion Starter
•
#1
•
Sorry for the length.
I'm done for now.
It's not ideal but a start and after going through this excercise I already have many changes I want to make. The front oil cooler guard was the most hurried as the weather is nice so I rushed to get the bike back in service. I was going to use a heavier gage stainless steel screen in the place of this which would have made the whole grill visually nicer. But.....
FWIW in my projects, function is more important than looks/beauty. Obviously
Design goal: Protection of engine cases and oil system from rocks, sticks etc. I've encounter problems previously with both. Stick wise I don't think anything will get through now as this is one of my biggest worries out in the woods.
Originally I was going to re-locate the oil cooler vertically and higher on the left side of the engine. I scraped that and put more design into the full protection system.
No provisions were made for oil/filter changing. It comes off pretty easy for now, and I usually do some cleaning and inspection when this gets done anyways. I may in the future add this feature.
If I were to make more I would go up in tubing size and wall thickness, bend it and make and cut patterns for the pan.
Specifics:
Psuedo/simple crash bar tubing is "double barrel" stainless steel .75"OD x 20 gage(.035") wall. I used this because I got it at a really good price. The thin wall was the reason I doubled it up. It's very stiff esp with it all boxed together and tied to the plate and the narrow front profile is clean aerodynamicly. It's also suprisingly light weight. Frame mount plates are aprox .10" and all other brackets reinforcements etc are either 16 or 18 gage.
The Plate is 3003 .125" aluminum. Again this was chosen for its price and availability as I actually had to pay for this stuff. I may reinforce it if needed and also might make a fittted lift plate for maintenance etc. Their is a cut out for the flattened exhaust crossover tube underneath to keep ground clearance as high as possible.
Tankified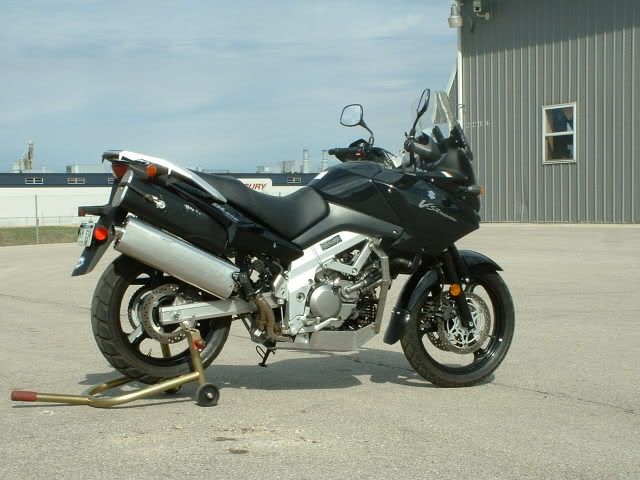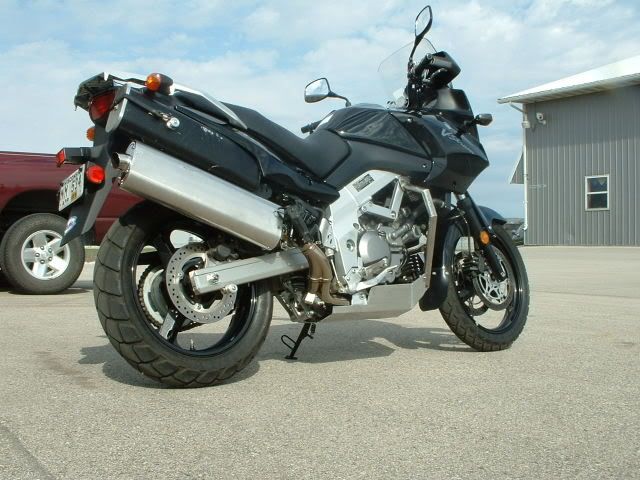 My second annual spring project is done!!
Time to ride.