Discussion Starter
•
#1
•
Well, folks...I joined about a year ago after getting my K7 Vee but have never posted before today. I browsed a bit, but got distracted and ended up forgetting I'd even signed up. I've been working on my Vee for several months now trying to get it to handle the way I wanted it to and I think I'm finally done. Yesterday, a friend of mine reminded me I'd signed up here and suggested I post my results, so without further ado...my K7 Vee:
The basics:
2007 Suzuki DL1000, purchased used in May 2012. Came with Givi engine guards, Givi side cases, adjustable windscreen, grip heaters and a center stand. It also had two train horns installed, as well as a two battery tender connections, one of which is used to power a 3-cigarette lighter outlet contained in the tank bag.
The day I picked it up: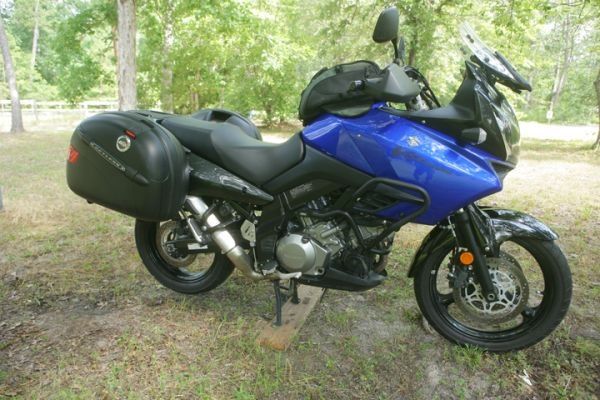 In a nutshell, I turned it into a Triumph Tiger with a Suzuki motor.
The changes:
Paint, body work and 0.05-over springs by H.O.P. Designs.
RaceTech revalve and suspension adjustment by MU.
17" front wheel conversion. Wheel is off an '03 GSXR600.
Rear wheel widened to accept a 180/55 instead of the stock 150/70 pizza cutter. Widening done by Sandy Kosman (SKWheel) in California.
Powder coating by ScooterTrash.
Stock front brake calipers replaced with Nissin 4-piston calipers from a CBR600RR. Adapter brackets purchased from
SVRacingParts.com
. EBC HH-Sintered pads installed.
ProTaper Carmichael bars with 1" risers.
Bar end mirrors.
-2 front sprocket with Speedo DRD to compensate for gear change and difference in rear tire size.
Michelin Pilot Power 3's front and rear.