Discussion Starter
•
#1
•
Mityvac Brake Bleeder kits are indispensible tools in the garage whether you're just bleeding brake lines or installing a completely new master cylinder. Not only do they make removing old brake fluid from any system easier, they also reduce the mess that's often a consequence of this type of work so you can clean up quickly and avoid damage to painted bodywork as well. We have two options available: the classic Mityvac kit that's hand powered and compact or the Mini Fluid Extractor kit which is especially handy if you don't have anyone else around to help or you're working on particularly large jobs.
Brake bleeder tools are not yet available on our website, call TJ at 866.931.6644 ext 817 to get any of these useful motorcycle tools shipped to you fast. You can also email us, send those for FORUM at RIDERSDISCOUNT dot COM with MITYVAC BRAKE FLUID KIT in the subject line and please be sure to specify which version you need and we'll get back to you right away.
Portable and easy to use, the Mini Fluid Extractor is the vacuum brake bleeder tool familiar to many do-it-yourself types. It comes with everything you need to bleed the brakes (or clutch line) on just about anything.
The kit includes:
Pump
4.5 oz reservoir with storage cap
Hoses
Rubber nipple adaptors
User manual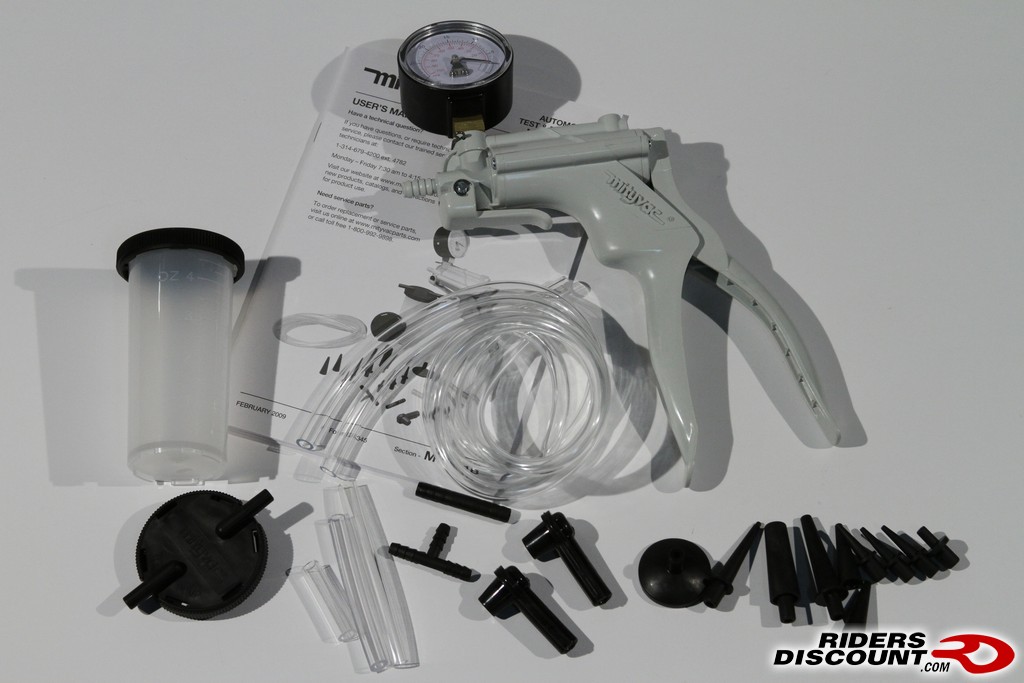 For anyone with a compressor in the garage, the Mityvac Fluid Extraction kit is a logical choice. Hand-pumps work well, but sometimes they can feel like a three-handed operation. Not with this kit! Simply plug into an airline, attach the hose to the bleed valve on your motorcycle (or car, for that matter!) open the throttle-able suction, set the Mityvac Mini on the ground and go to work. No pumping required. This is an excellent tool for routine brake fluid maintenance.
This is the very same vacuum bleeder we have in our shop because it's effective and reliable.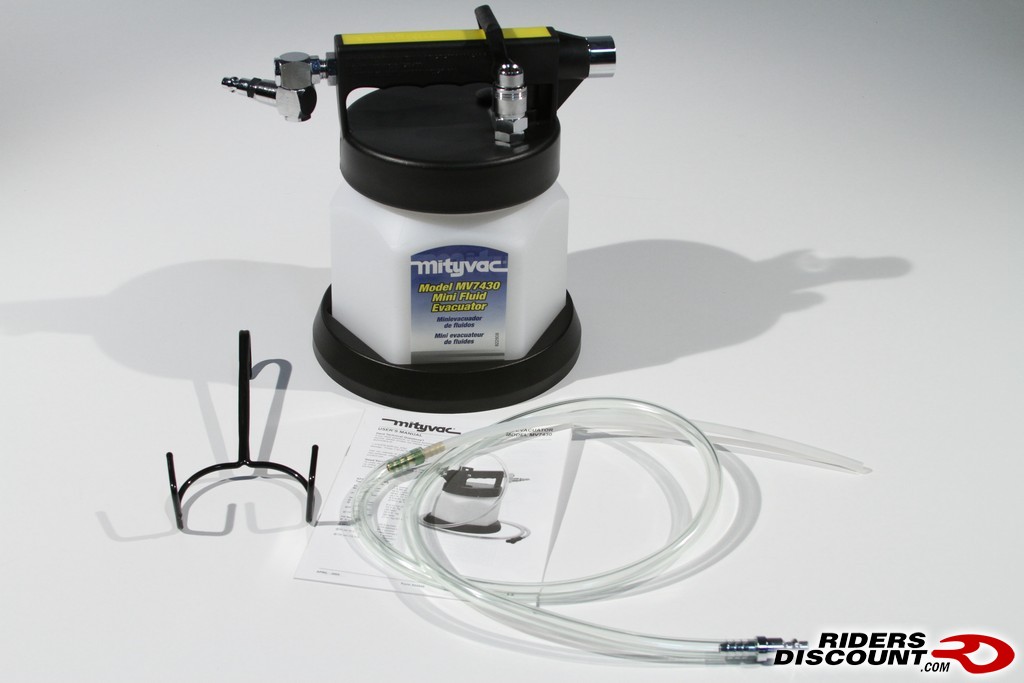 Comes with a .25" quick-connect adaptor already installed. The swivel mount makes it easy to place the vacuum anywhere without the compressor hose pushing it away.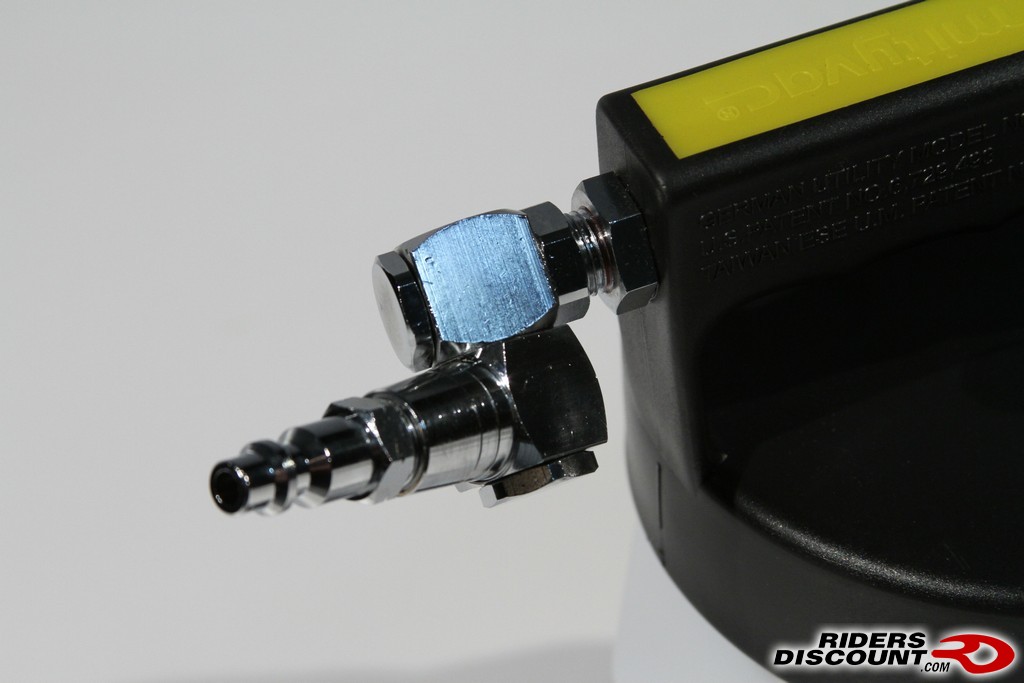 Throttle system is easy to use. Just set the amount of vacuum you want, put down the tank (or hang it with the included hanger) and go to work.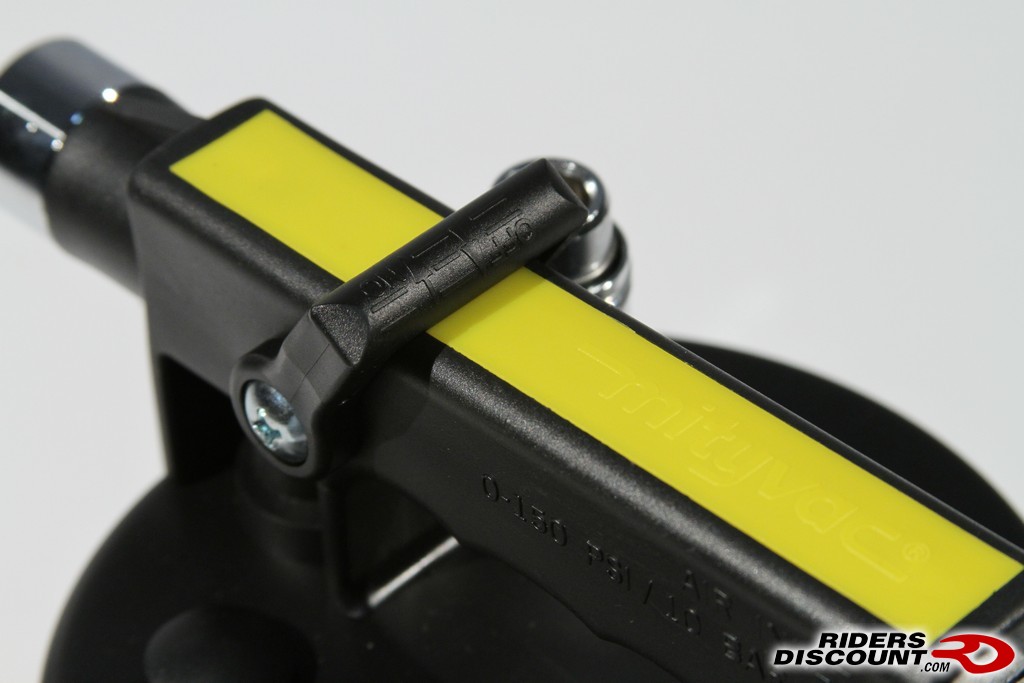 Unlike smaller hand-pump kits, the 1.8L capacity of the Mityvac should be more than enough for a complete brake fluid exchange on your motorcycle. There's also an over-flow check valve that prevents over-filling of the tank so you can avoid spilling brake fluid in the garage.