Discussion Starter
•
#1
•
I'm guessing you know where this is heading already.
A couple of months ago I traded my SMT and Dr650 for the new Aprilia Tuono. I soon named it "Back smasher". It's a great bike for it's intended purpose but for touring? Forget it.
So a few weeks ago I bought the wee as we do a few trips a year.
I really love it. It's an 09 with some good farkles and without doubt the most comfy bike I've ever ridden.
Two weeks ago the wee made it's debut to the group we normally ride with.
The weekend was a 1400km round trip to Armidale and a run up and back of the Oxley Highway. The Aussies will know the Oxley as one of Aus great riding roads.
My Wife and I were the first to arrive at the initial meeting point with the others not far away.
The first of the rest was a couple on the street fighter. I saw Karen on the back clapping her hands with her head going back and forth. She was in fits of laughter.
The rest soon arrived and the wee got some similar reactions.
Within seconds of their arrival, one of the women had named the wee "Migaloo" which was met with more laughter. I insisted I just called it
"The Wee" but the woman were having none of it. I took my lumps like a man and set off for what aws a great weekend.
My Wife and I went 2 up along the oxley, as did another couple on a Hayabusa. We swapped bikes for a while. I didn't like the Busa at all.
It is what it is but not for me.
The other couple had nothing but praise for the Wee albeit a little down on the Busa's power. Comfy, relaxed, easy to ride, good wind protection etc.
All the things I'm coming to love about the bike.
I've only ridden it twice but I'm sure I won't be selling it any time soon.
The good thing about getting older is I don't have to be cool any more.
I can buy what I like and have a "White whale" of a time.
URL=http://s28.photobucket.com/albums/c227/JohnGillies/?action=view&current=019.jpg]
[/URL]
URL=http://s28.photobucket.com/albums/c227/JohnGillies/?action=view&current=031.jpg]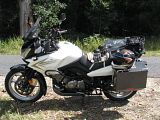 [/URL]
URL=http://s28.photobucket.com/albums/c227/JohnGillies/?action=view&current=120.jpg]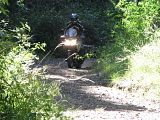 [/URL]