Discussion Starter
•
#1
•
Hi Everyone, Akrapovic MSRP moved from $899.99 to $949.99 in January. That $50 increase was added directly to the dealer cost.
As a result, the former Stromtrooper Pricing at $724.99 is not going to be able to be replicated again once these Two units left in stock are sold,
Contact me Directly by Email if you would like one and go ahead and order Online Directly at
SV Racing Parts | Your source for the best SV and VSTROM motorcycle parts
I will not adjust the website until these two Akrapovic are sold to Stromtroopers at the former $724.99 pricing, The $25 Flat Rate Shipping still applies as well.
Akrapovic is Awesome and I will be happy to provide and share my Custom Made, on the Factory Pro Dyno, Map for our bikes for use with the Akrapovic.
This will save you hundreds of dollars in getting your bikes tuning dialled in. Stromtroopers worldwide have used and been very happy with my Custom Map and their Akrapovic.
Here is a sound clip of the Akrapovic on our bikes,
09]09 v-strom akrapovic exhaust - YouTube
v-strom akrapovic exhaust - YouTube
I just located this chart from Akrapovic on the bolt on improvement of the Pipe on our stock bikes,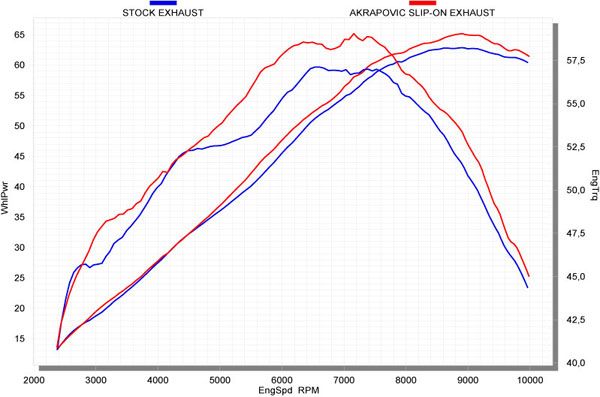 I can tell you that with the Power Commander and my SV Racing Parts, Custom Map for the Akrapovic to get you going; You will get you a very pleasant bump up in smooth power and performance from the Akrapovic Exhaust as well,
Let me know whenever you are ready, I will get you looked after right away,
Enjoy the ride, and best regards,
Blair