Hmmmph....got the Pioneer Rayz ...slick packaging and software.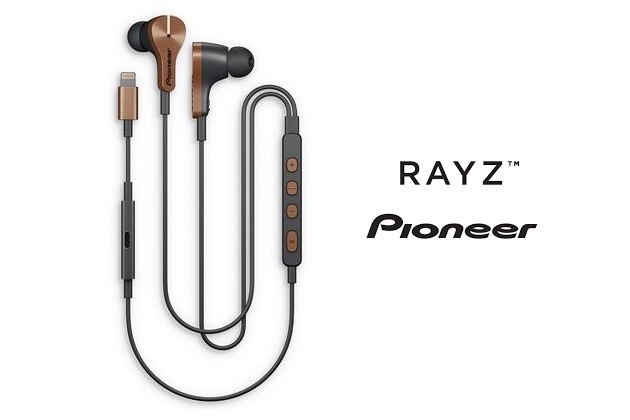 Very low profile. Excellent set up for charging phone and listening to the earphones ....cord is not generous length but well made...cord to button set is a tad tight for a FF helmet but I don't use the buttons much anyways.
Sound is good and plenty of headroom for volume.
Very well integrated with iPhone.
Noise cancelling is obvious tho it alters the eq a bit. Can't really assess until on the bike but real world feed back from owners who have the Bose as well is very encouraging.
comments from other users/riders
Pioneer Rayz vs Audio Technica QuietPoint 33 vs Bose QC20 noise cancelling earphones | Adventure Rider
The main difference between the Rayz and the Rayz Plus model is the integrated charging port that is built into the Rayz Plus model; this lets you charge your iPhone, iPad or iPod at the same time you have the Rayz Plus earphones plugged in - it's the only Lightning powered earphone that lets you talk/listen and charge at the same time
Just under $200 - no need for
Update: so I found the noise cancelling works almost as well as the Bose with auto calibration. I had to try a couple of different ear pieces to find ones that fit my ears well. I was hoping they were slimmer than the Bose, but they fit about the same in my helmet's (Shoei RF900) ear cutout area. Popping was less frequent than as the QC20's, virtually nonexistent below 60mph and very minimal between 60-85 on an FZ-07 with a medium windscreen.

Pioneer's noise cancellation gets it's power from the phone so no separate battery to worry so that's a plus. It auto pauses music when you take out both buds and can auto mute when you're not speaking when on a call and un mutes automatically when you speak again. App allows customization of the on-cord Smartbutton to toggle between auto calibration, playpause, and your music app.

Audio sound quality is on par with the Bose and there's an EQ in the app to fine tune it but I just left it set to flat. Smart features with good ANC and a low price makes these hp's a good consideration for MC riding.

Pros:
• No batterypack
• About 1/2 Bose's price
• Auto calibration, auto mute, auto pause
• Smartphone app & Smart button

Cons:
• ANC only works when plugged in
• Earbuds almost same thickness as Bose
Buttons on the cord were a little hard to differentiate with gloves on but in all, it's definitely worth a look if you're in the market for a good ANC under your lid.
Uses Comply tips as well so know I will get a good seal - I suspect Westone tips will fit as well. I trust Pioneer build quality.
The fact I can charge the phone and use the earphones at the same time is the deciding factor for me.
••••
just after I got them
Initially was not impressed but then realized I need to calibrate the noise cancelling with the helmet on and in motion.

It's easy to reset and recalibrate and more impressed now.
There still low frequency air noise but the higher frequency stuff is damped right out and much easier to listen to Audible.

Only tried it at 90- 110 kph and very satsified plus it's realllllllly low profile. Will try at slab speed soon.
•••
last couple of days
Put the Pioneer Rayz through the paces at 140 indicated and I could not hear the audio book with the noise cancelling off and was easily clear to hear with it on. 110-120 indicated seems the sweet spot as the ambient noise changes hardly at all between 60 and 120 ....after that it starts to creep in.

It does not go away entirely but if you think of the burble of an open window in a car at 100 kph ...that's what the noise cancelling drops it down to. Lower frequencies are still present but anything in the midrange is gone. Voice is clear on Audible.
Was a truly enjoyable 250 km today.
recommended
...very low profile, very clever charging system so no batteries needed like other NR sets, must be calibrated at speed. Easy to recalibrate and the on/off button for the NR makes the effect very noticable.
Easy to use controls tho you have to position is at your neck correctly to used them with gloves...increase/decrease volume and NR/On/Off plus sound stop.