This is a Great way to add value and prevent knocking a hole in your expensive radiator! The Guard is available from Cox Racing.
http://www.coxracingroup.com/
It comes in two colors. Titanium and black. For some reason titanium is $5.00 cheaper. $64.95.
http://shopping.netsuite.com/s.nl/c.ACCT110029/sc.2/category.80/.f
This is a EZ install!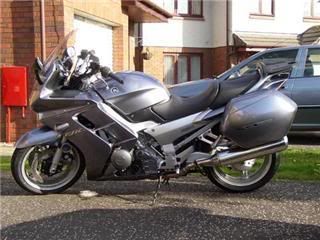 You want to AVOID THIS!
Ok the 'kit' if you want to call it that comes with the guard, some self adhesive weatherstrip bits and 2 Zip-ties...
BEFORE pic...
This pic is of the 'back-side of the guard. It mounts with the lower radiator bolt and two Zip ties, on top. Note the weatherstrip bits used to 'hold off the guard from the radiator.
The installed guard. The installation takes 15 minutes tops.
I now have installed Guards on 4 bikes. 3 Yamaha's and the Wee.
Ive never encountered a cooling problem with these guards.