·
Official Stromtrooper.com Sponsor
Veskimo cooling systems have been out for years. You might wonder why a chilled water cooling system for motorcycle riders isn't common knowledge or at least a more common topic.
The kit they offer is simply not going to work on a typical touring bike! Those that spent the money on their cooling vest, then either of the two reservoirs, probably don't use them after a few tries. Current price for a vest and their larger reservoir is $460. Claims of up to 8 hours cooling are misleading. They recommend frozen blocks of ice to extend cooling duration. That is very true, frozen blocks last a lot longer. But you cannot find handy frozen blocks of ice to fit their cooler on a trip.
I have been using this system for two summers now. Not willing to spend well over $200 for what looked like a small lunch cooler, I built my own. About twice the size of their larger cooler. I bought a few 12v dc water fountain pumps off ebay. I bought a bait well timer off ebay. Veskimo will sell you the fittings that go through the thin plastic walls of these type coolers, as well as the hose. I bought their extension hose and cut it to fit. If you wanted to try this, not using the expensive timers can be avoided with a simple on/off switch. That will actually work quite well. As the project evolved, even with the much larger cooler, I was not getting the duration of cooling I wanted. My final version is shown here. Ozark Trails 30 can cooler from Wally World. $19. Actually not as tall, but is wider than the other one I tried. This makes it easy to put gear under, or on top of it for trips.
I can go a full tank of fuel now and still have adequate cooling. It will hold a 20 lb bag of ice. Depending on temps and how long you have ridden, sometimes 10 lb bags are plenty to add. This is the game changer and what makes this hybrid setup worth using. Just about anywhere you stop for fuel has bags of ice!
How well does it actually work? If you have ever put on an evaporative vest you know that "ice cold" feeling when you first put it on. This hybrid system is very similar, but it stays that way for hours. You know that feeling of riding in heat, you get a bit lethargic, maybe not as alert as you should be. Certainly not comfortable. The heat can drain your energy and enthusiasm! This system works so well I use it when temps are in the mid 80's as it just makes you feel like it is cool out. Is it like A/C in a car? No, but you don't ever get that " I have to get out of this gear before I pass out" feeling. On a recent trip I ran for hours with the temps between 102-105 degrees. I was quite comfortable, never feeling like I wanted a break from the heat. The best testament I can give to how it works is this: coming up 285 in New Mexico the temp gauge was ready 102-103. Fresh blacktop. Traffic stopped.....I was stopped there on fresh asphalt for nearly 1/2 hour. I turned the bike engine off and left the cooling system running. Full gear/helmet. I realized that I was just fine and not getting too hot! Under ANY other condition I would have had to pull off and take off gear to prevent heat exhaustion. If you wear full gear, you know the feeling.
Here is the current cooler/pump setup.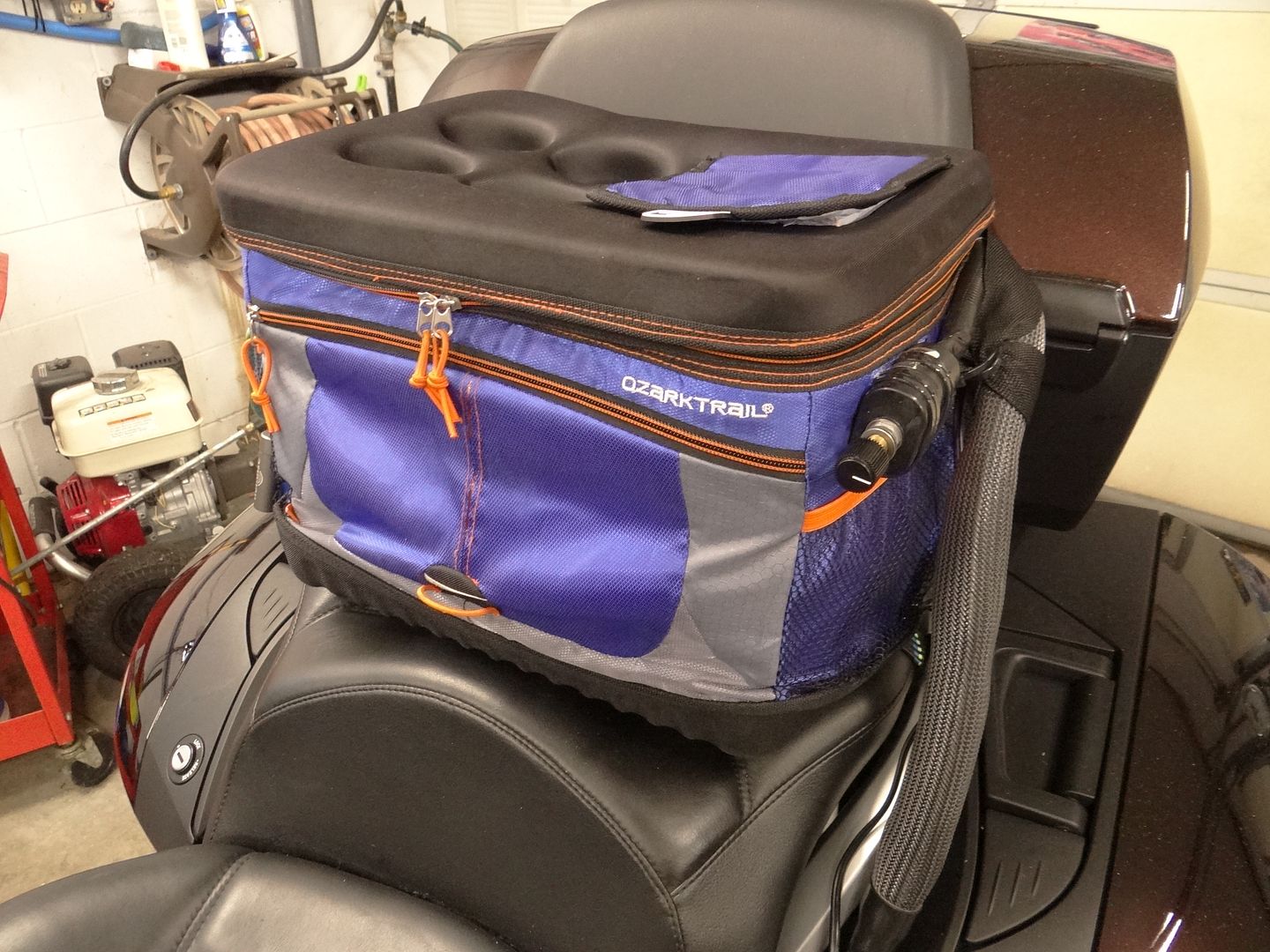 I use my Gerbings gear power outlet for power: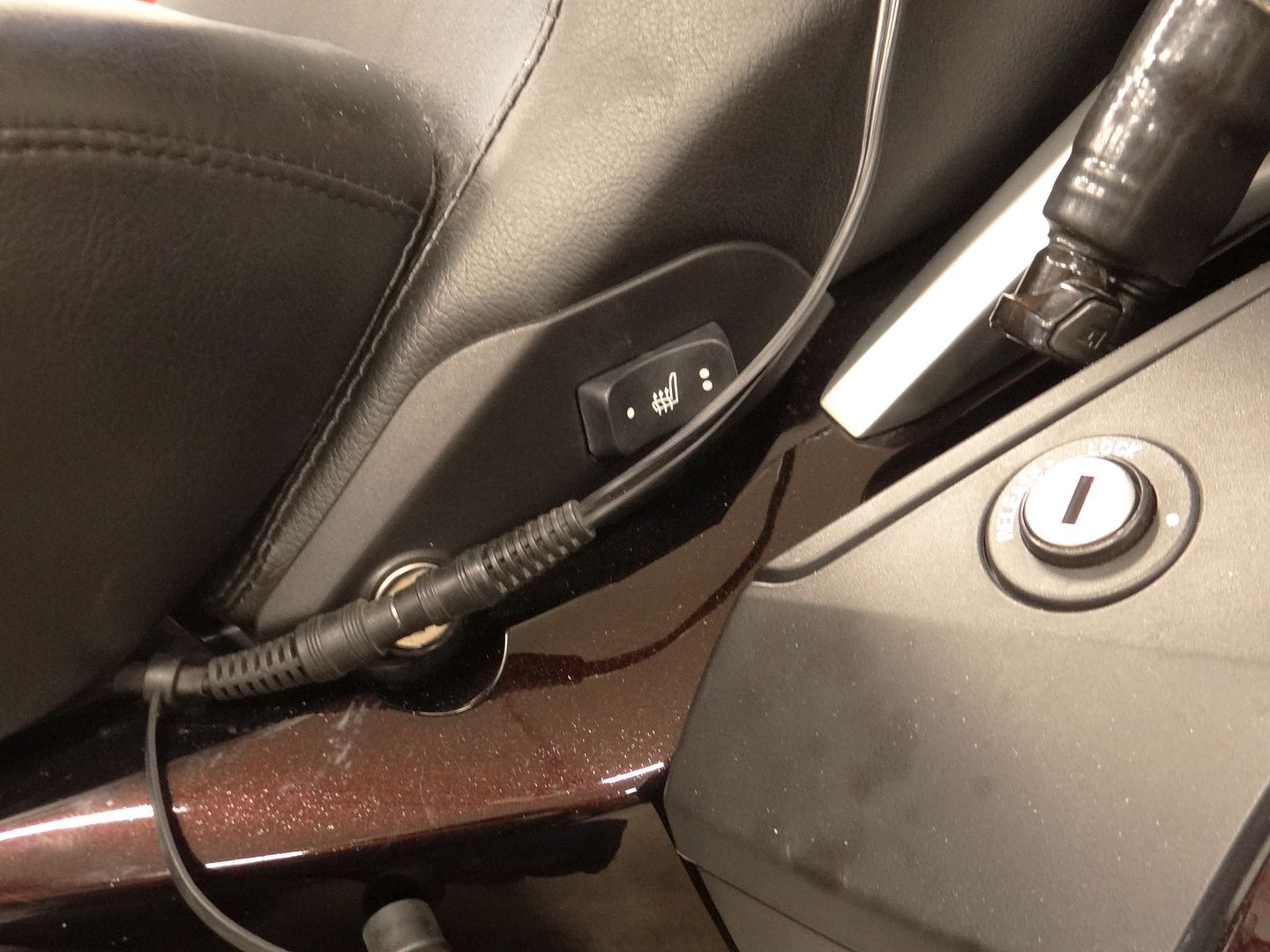 I put three wire ties through the cooler outer blanket on both sides and use a RokStrap to hold it in place.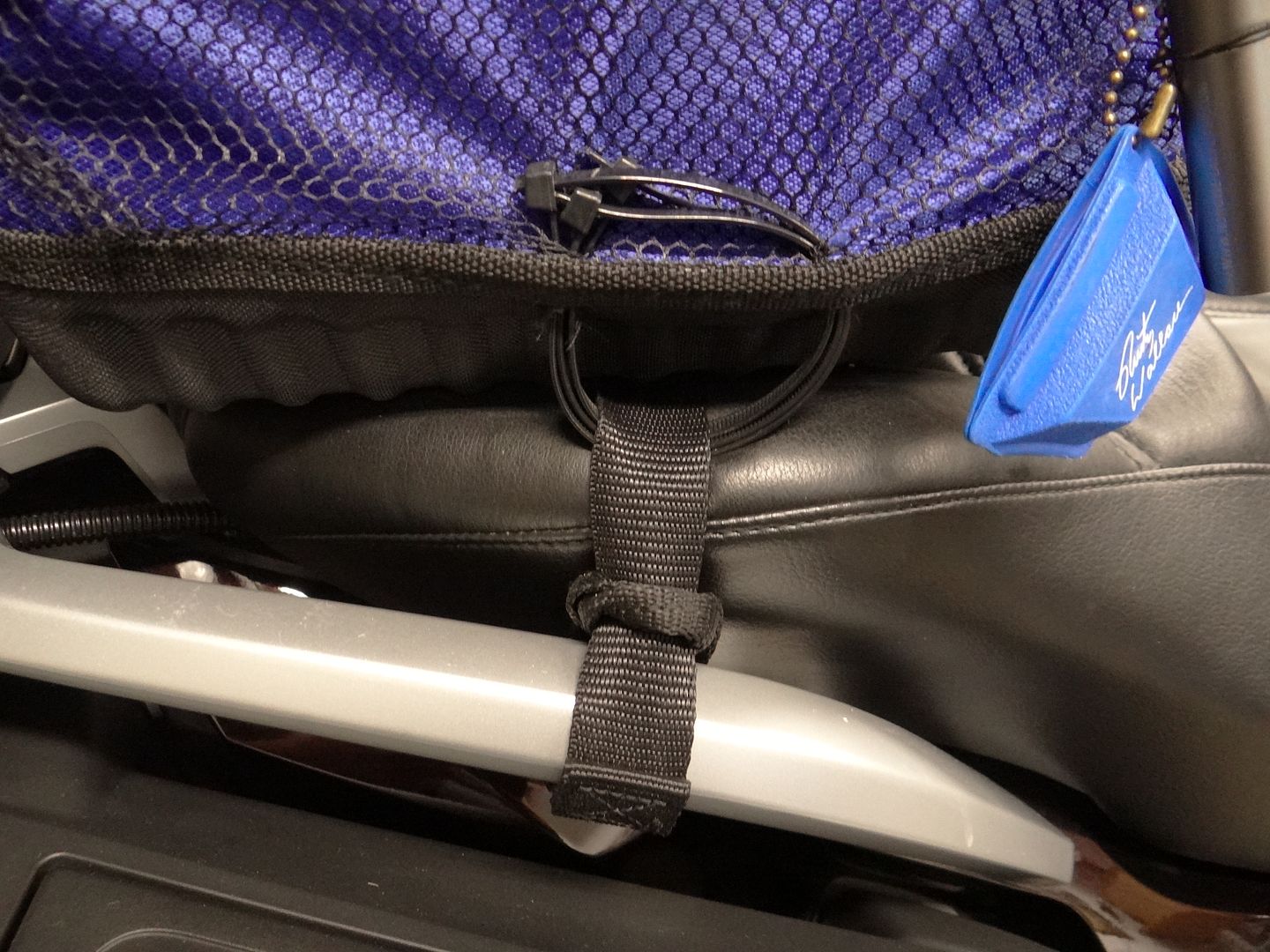 I cut a slit in the outer cover to run the hose and power.
Using the handy wire ties I mounted the bait well timer where I can easily reach back and adjust timing.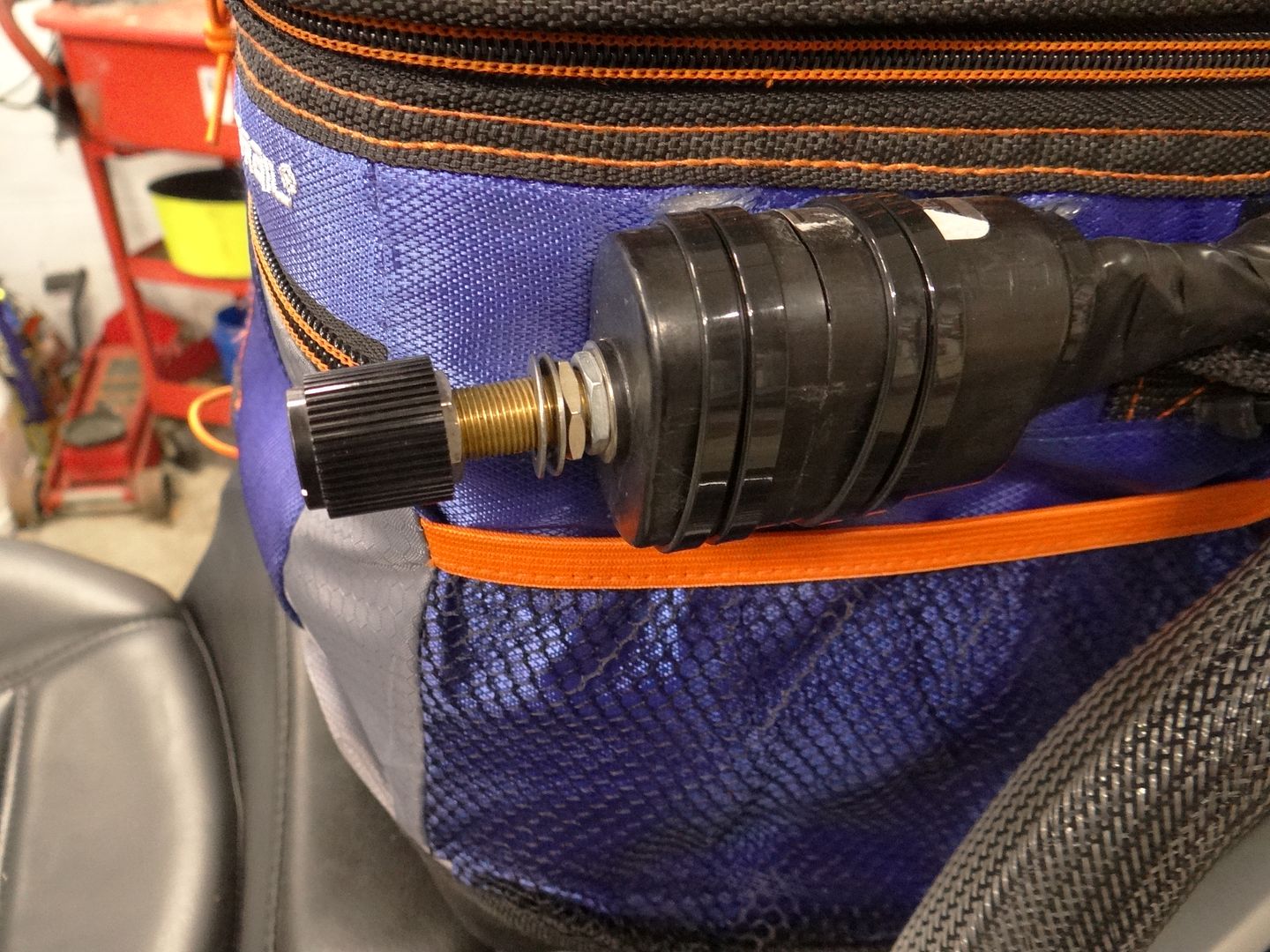 This is where the fittings are in the top/rear of the cooler.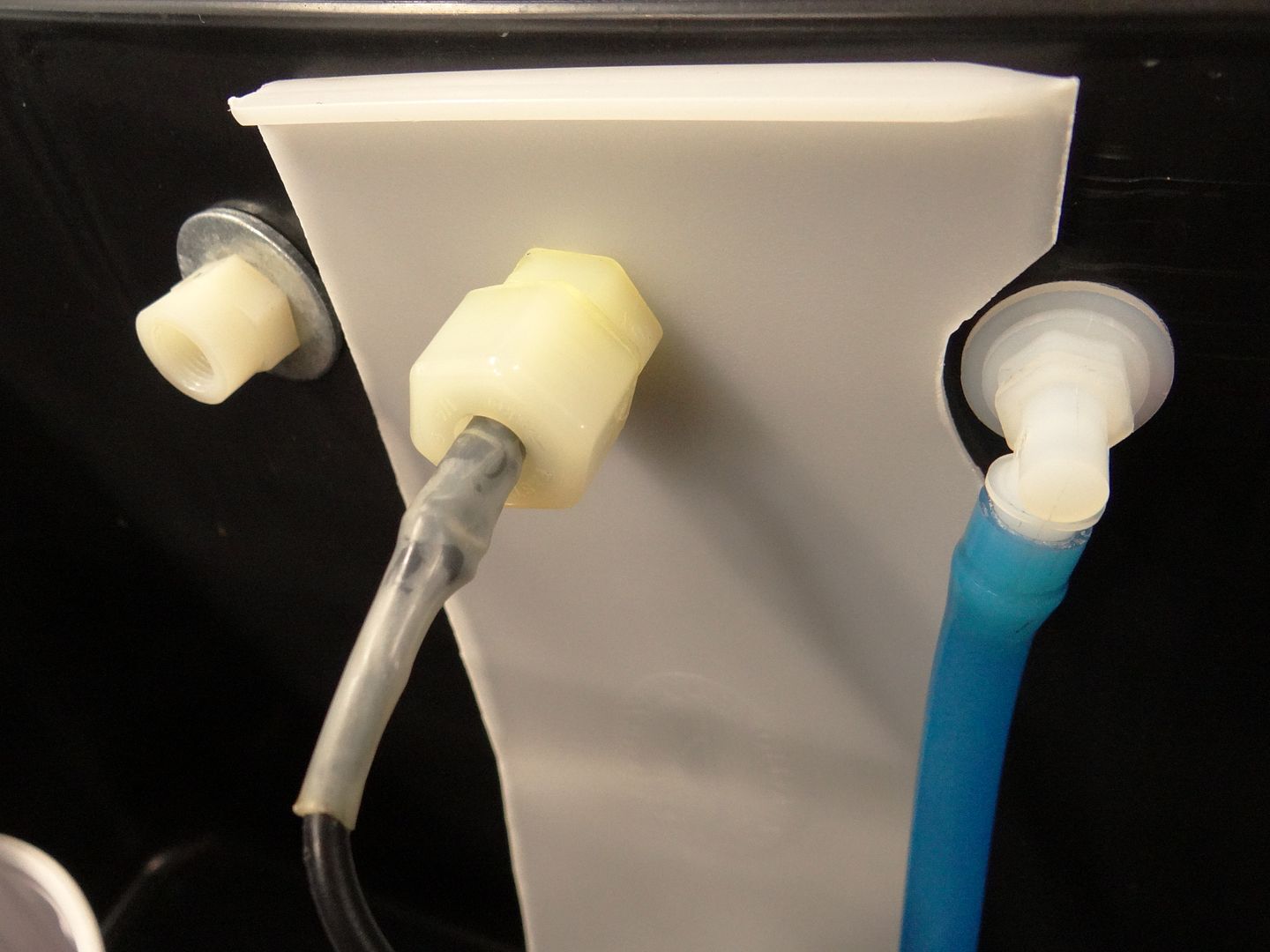 I mounted the pump to a piece of plastic so there would be no holes below those for the hose inlets. I fabricated a sump cover to keep ice chunks from getting to the pump inlet.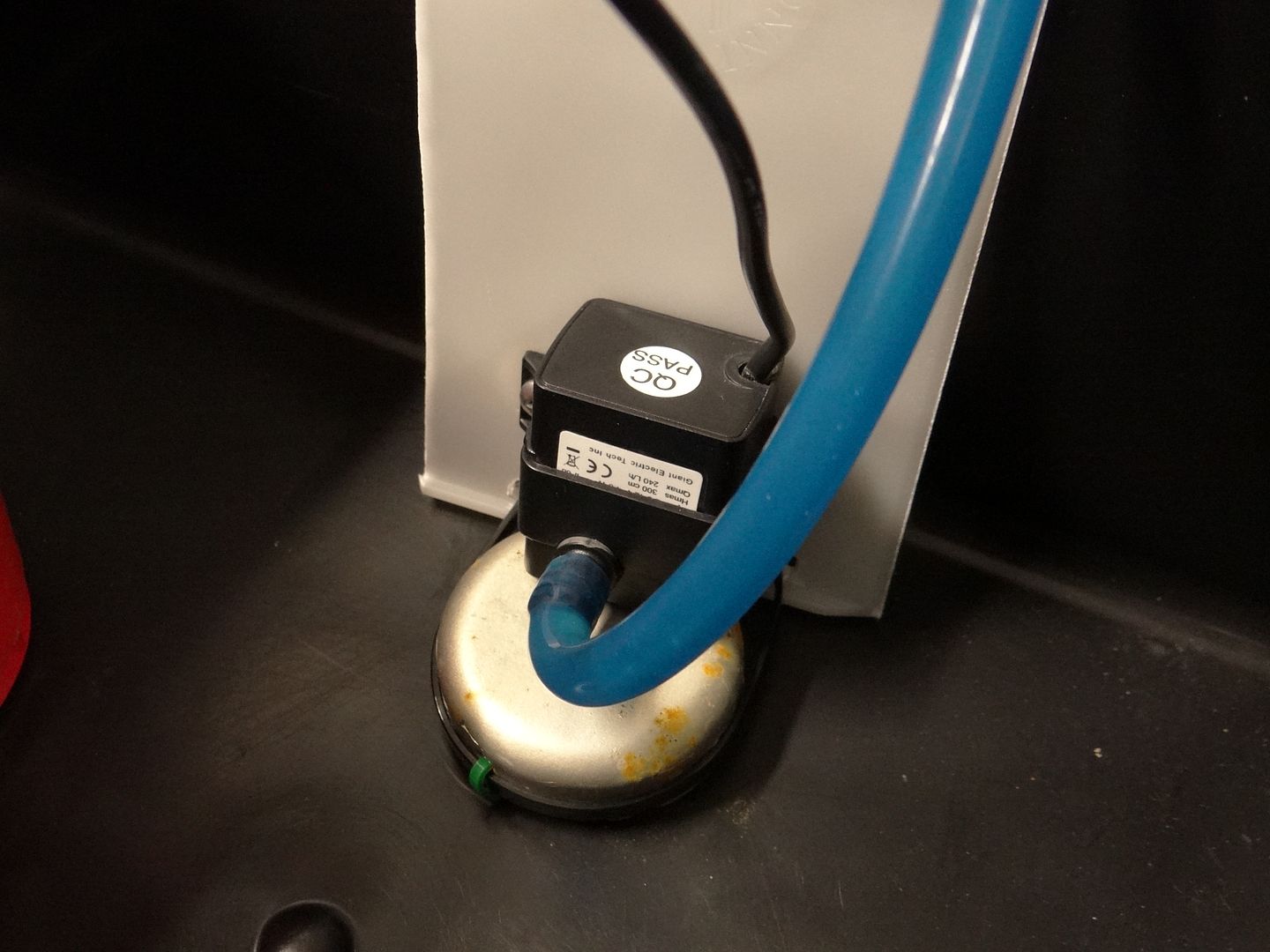 This cooler has a small velcro secured closure in the top. You just don't know how good a bottle of water, ice cold, tastes/feels at a rest stop! You can see the plastic cup I leave in there to dip water out before I refill with ice.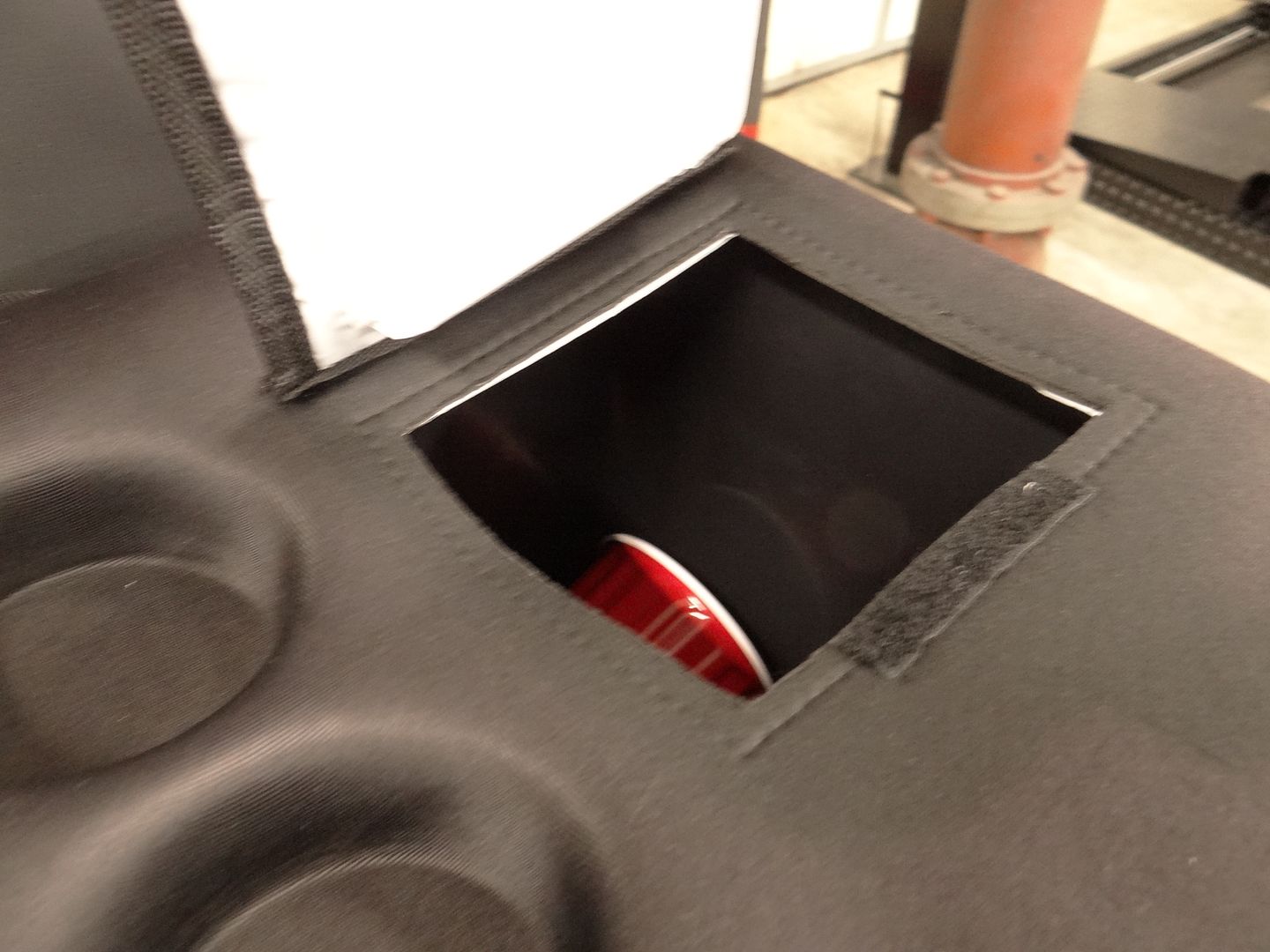 Front view of the mesh Veskimo vest. You can see the tubes running through it.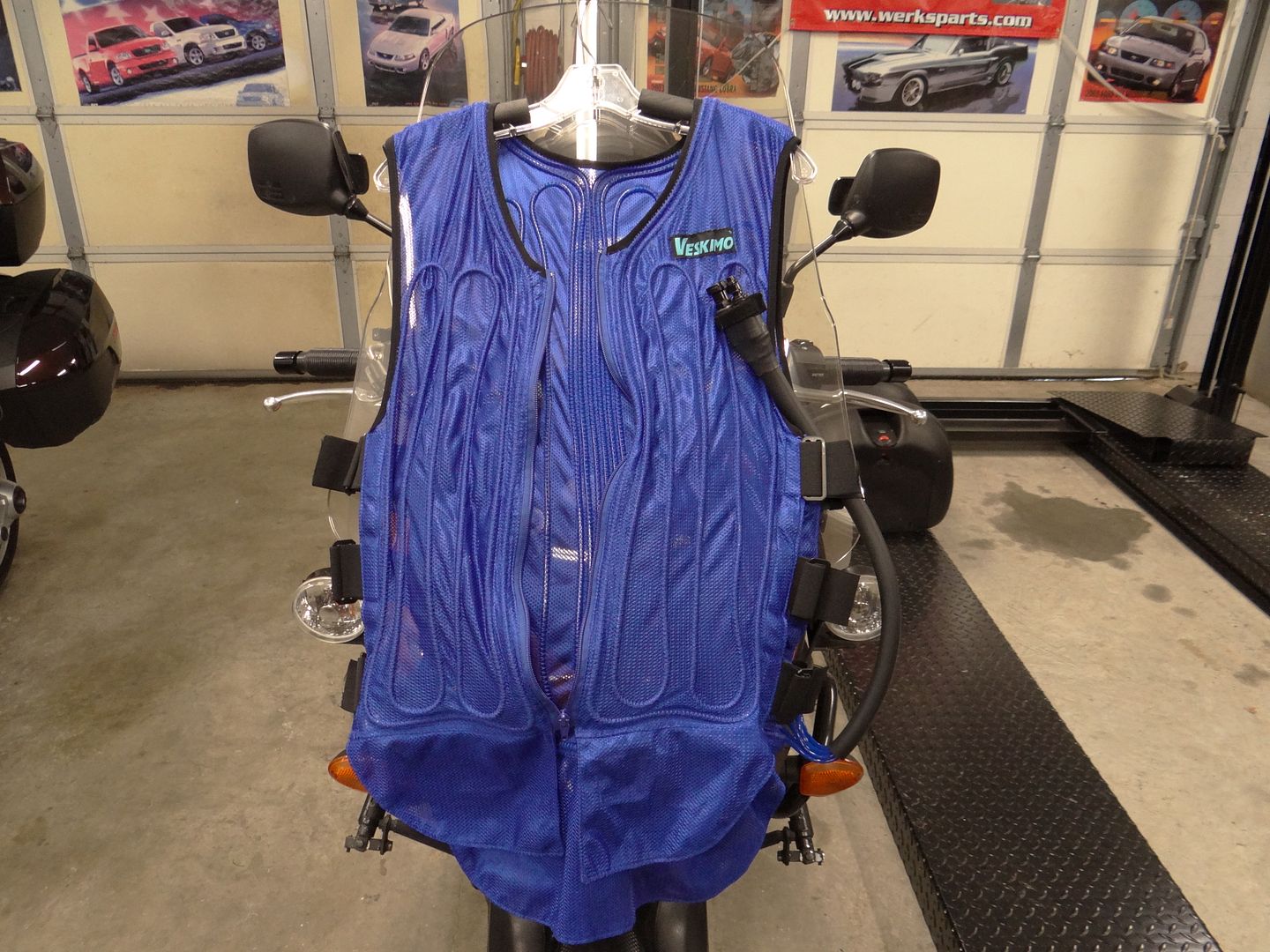 Rear view of vest: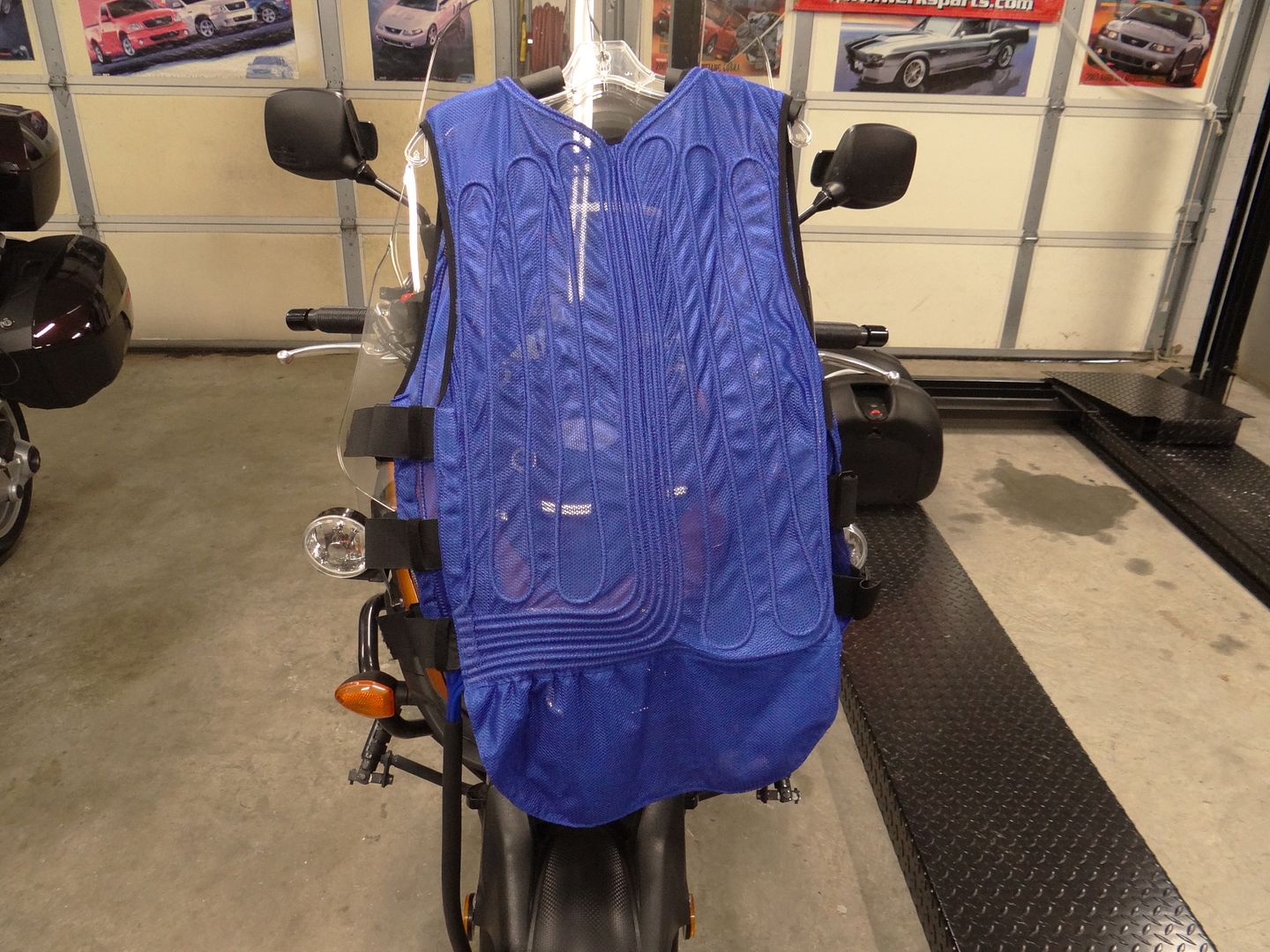 This is a pic of the vest hose hooked to the cooling system hose. The quick disconnects are very easy to use. You do have to remember you have the hose connected when dismounting. I usually just disconnect it first.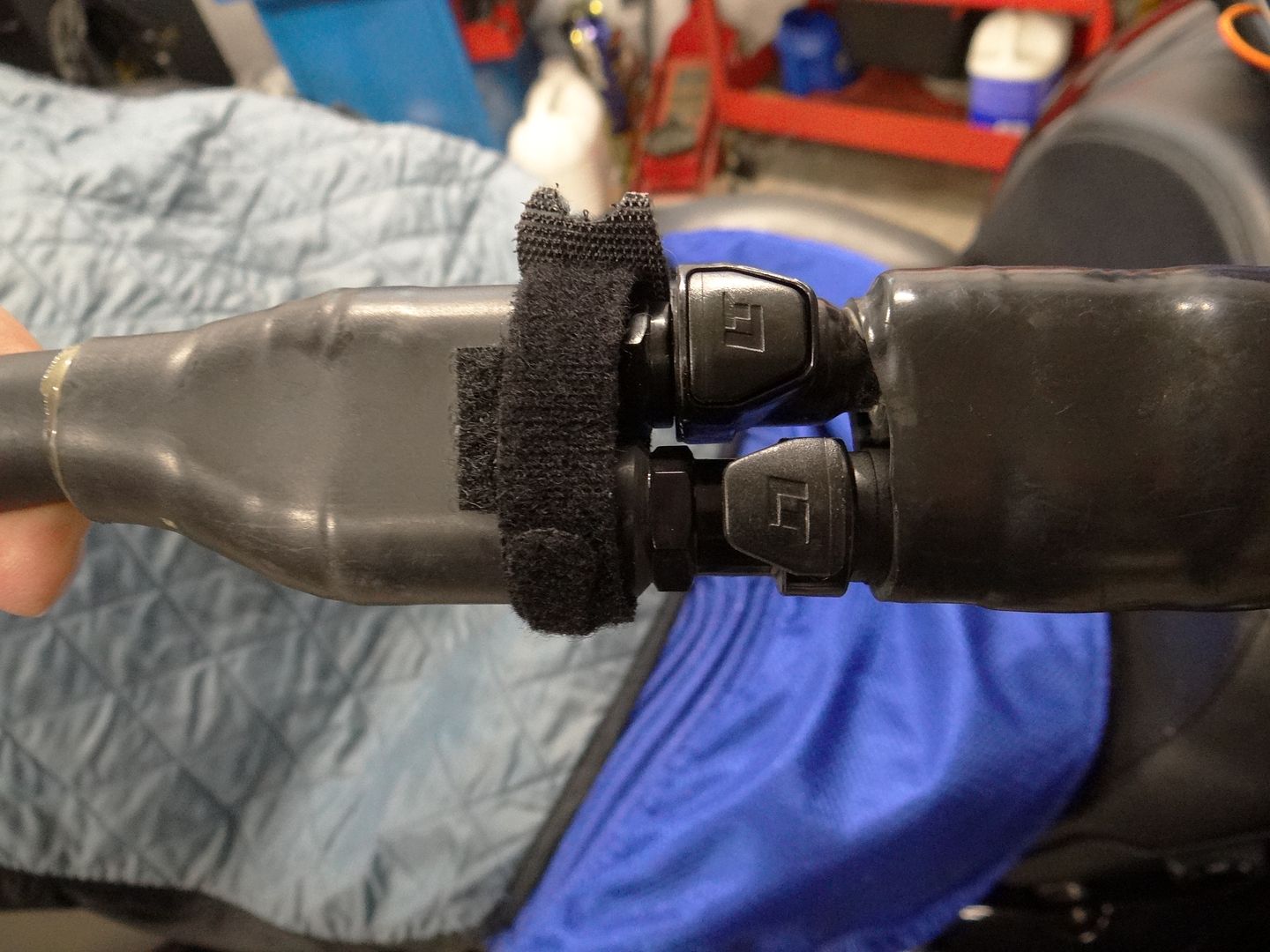 One important thing is that the cooling vest needs to be insulated a bit from direct airflow. Not important with an Aerostich, but with my mesh gear I simply put my old evaporative vest over it. Seems to extend ice life as you are not working the system as hard.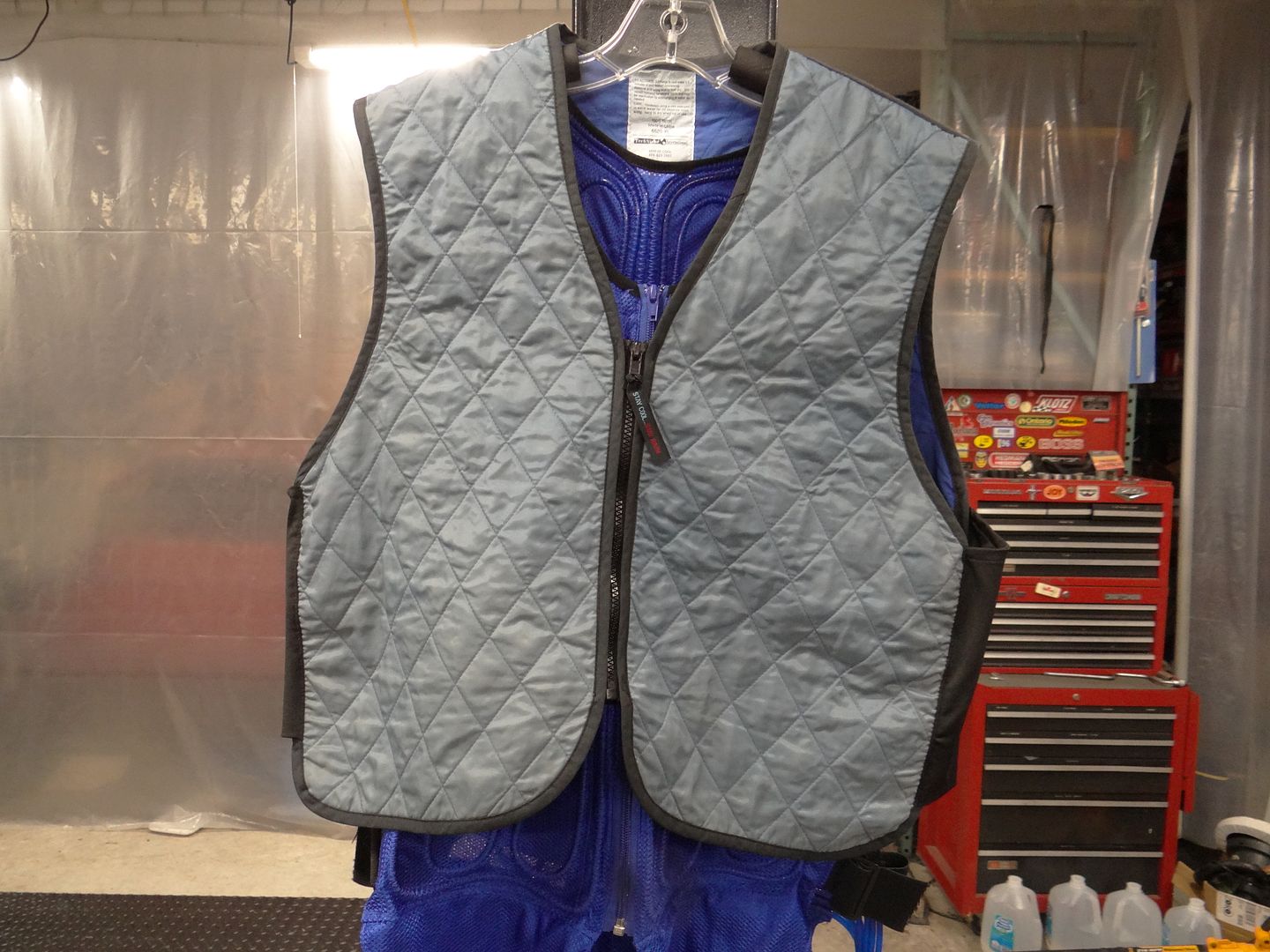 To close I will add what I learned about gear. You can run an Aerostich suit in 100+ temps in comfort. As long as you are moving! Your legs and arms can get very uncomfortable in slow/stopped conditions. Wide open mesh, the kind that most mesh jackets use, is probably going to flow a bit more air than is good. You are trying to create a micro-climate. The best compromise I have found it my Motoport mesh kevlar jacket and pants. They don't flow as much air as most mesh gear. My evaporative vest keeps air off the vest. My arms and especially my legs stay comfortable. Remember, if you keep your core cool, the rest is going to stay cooler too. I have this system working well now. I won't be taking trips without it, where temps are going to hit 90 degrees for instance. Is it the answer for commuting? Could be, but it is a bit of a pita to get it iced up for small commutes/trips. Where it shines is all day trips where fatigue is your enemy!