Discussion Starter
·
#1
·
Winter is fast approaching in the northern latitudes and if you expect to find yourself outside in the snow for an extended amount of time – be it work or play, then take a look at the HMK Team Boa boots. Rated for comfort down to -58°F, HMK boots use a combination of the best technical materials for exceptional cold weather comfort. Water is kept out with a Sympatex waterproof membrane. This material not only keeps your feet dry, but also allows them to breathe, eliminating the potential for sweat, which would then quickly rob them of heat in a cold environment. Sympatex also provides a high degree of wind protection. For users that want a custom fit, Intuition closed cell foam liners are fitted as standard. These liners can be heat molded, so they'll contour themselves to your feet perfectly. There is one drawback to foam liners, they're prone to mold and the stink that comes with it. Fear not! HMK employs an Aegis microbe shield to prevent the growth of foul-smelling bacteria within the liner. And then there's the matter of the Vibram Grip Light outsole for traction. This fantastic piece of soft-compound rubber features an array of lugs for biting into snow for slip-free performance going uphill, or down – through almost any type of snow.
All of these materials, along with the Boa lacing system, provide unsurpassed comfort along with a high degree of surefootedness in a lightweight design that simply would not be possible with a conventional liner.
These boots are not yet available on our website. To order, call Mike at 866.931.6644 x 804 or send a note to FORUM at RIDERSDISCOUNT dot COM with HMK TEAM BOA boots in the subject line, specify the color you want (black or white) and we'll get back to you right away.
HMK Team Boa boots are available in black or white colors.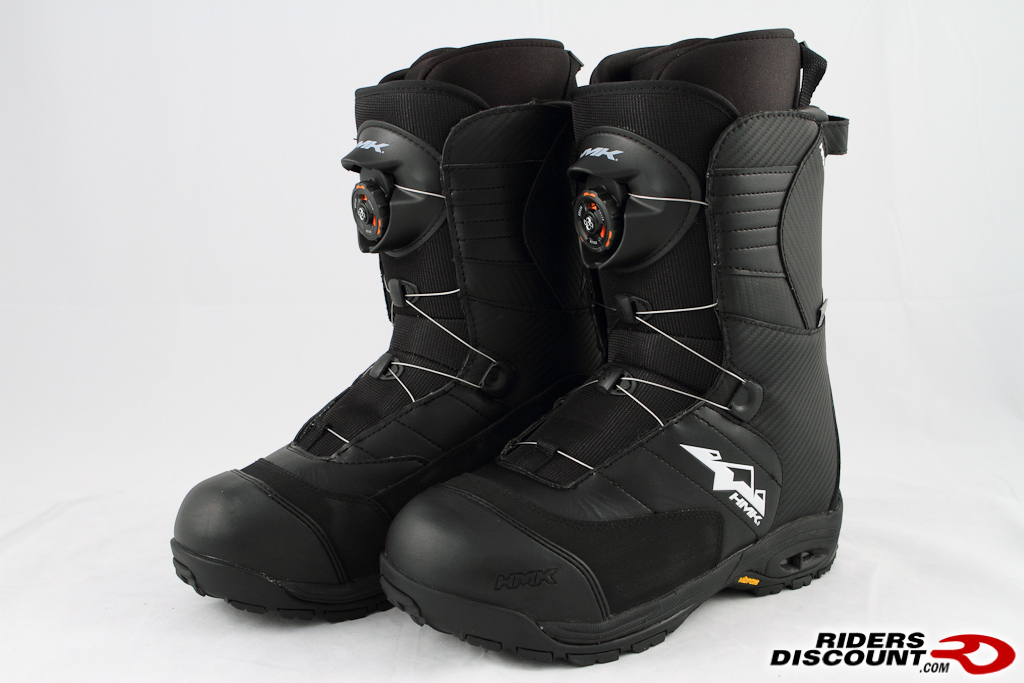 Vibram outsole gives any wearer the surefootedness akin to that of a mountain goat.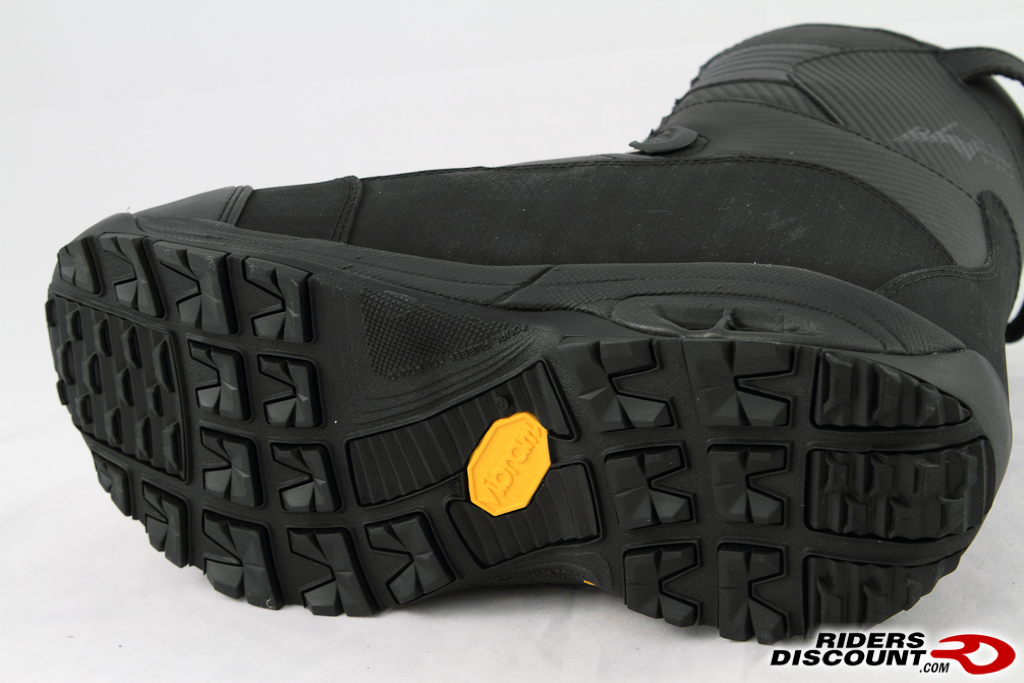 Intuition liner can be heated up and then molded to your own feet for a perfect fit and a sure grip over rough, snowy terrain.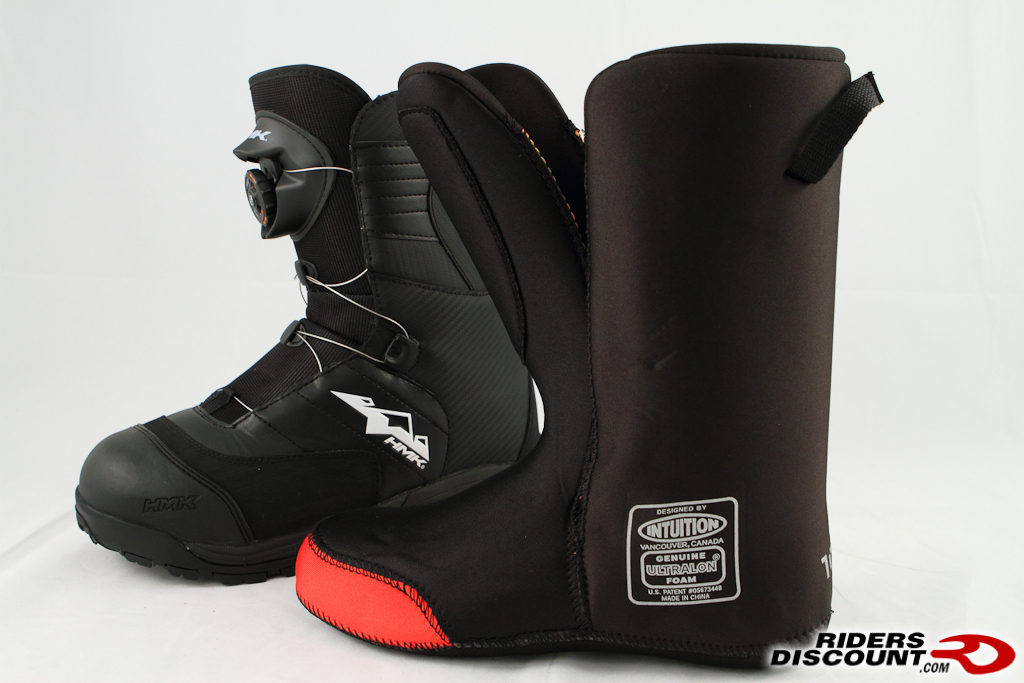 Lacing up does not get any simpler than this. The Boa Lace system can be used even while wearing gloves to provide even tension all around the foot.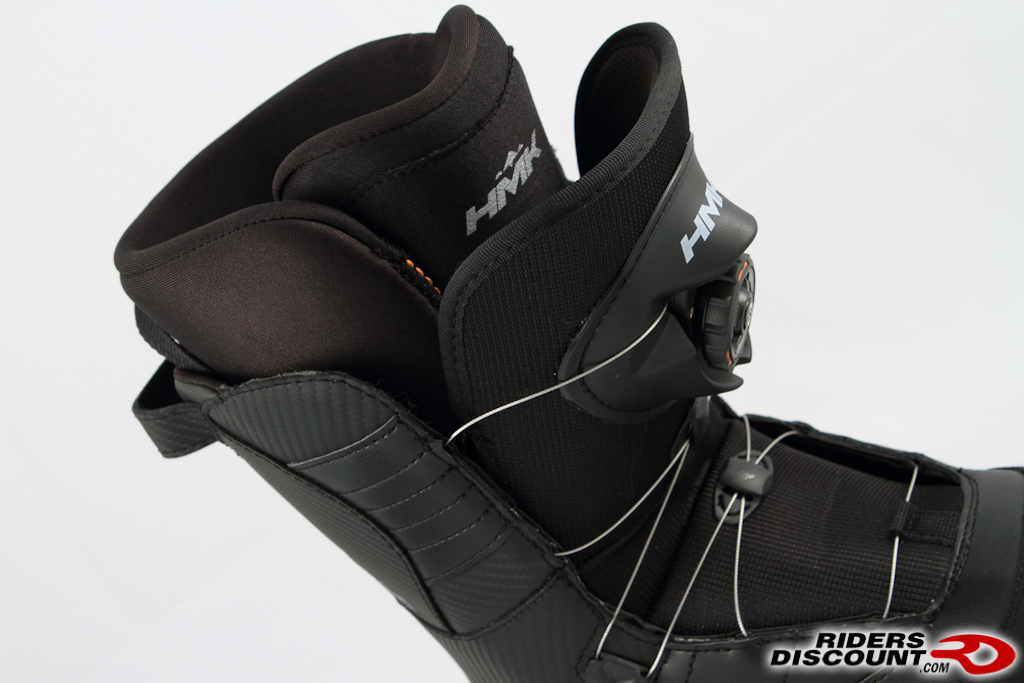 Not one, but deux! – grab handles are available to make getting into, or our of, these HMK boots easier.