Discussion Starter
·
#1
·
I don't usually do this but someone on here requested that I write up the install for an inexpensive set of LED driving lights. I wanted more visibility during the day as I'm happy with the LED headlights that I have for night time trooping.
I wired them directly to the battery using the wiring harness. I wasn't a fan of the inexpensive lighted switch it came with so I purchased a waterproof toggle switch. I did end up turning the lenses 90° so that they would cast light horizontally instead of vertically. While I had them apart I used roofing caulk to waterproof them more.
They were mounted to the reflector mounts on the forks. I used washers and loctite on the bolt in order to be able to
make them more adjustable.
Overall I'm very happy with them so far. We'll see how they hold up.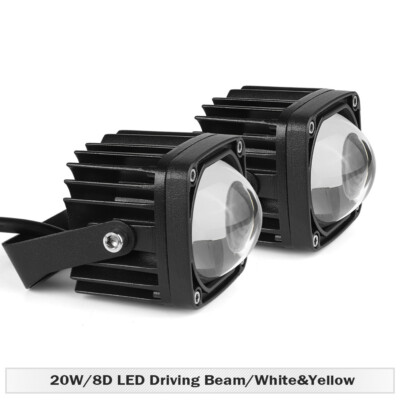 New 8D LED Lens. Higher focused brightness and longer distance output spot light, intense light penetration. 8D HD glass standard light source, uniform illumination to improve vehicle visibility and safety.
Nilight - NI -WA 06 LED Light Bar Wiring Harness Kit - 2 Leads 12V On Off Switch Power Relay Blade Fuse for Off Road Lights LED Work Light, 2 Years Warranty
https://www.amazon.com/dp/B071ZPX32...abc_SAMN3NS8B3NCE7WD96AJ?_encoding=UTF8&psc=1
Baomain Toggle Switch SPST ON-Off Type 2 Pin 12V 10A with Waterproof Cover for Auto Car
Amazon.com: Baomain Toggle Switch SPST ON-Off Type 2 Pin 12V 10A with Waterproof Cover for Auto Car : Automotive
U