Just got through with the installation of some 4 pot brake calipers off an SV-1000 using the adapters that Blair sells here on this forum. Along with the adapters I bought new Galfer pads as well following Blair's recommendation.
The calipers were purchased off Ebay for $50, a little beat up and by the looks of them they were sitting around for awhile. The remaining brake fluid in them was brown and had some specks of what looked like hardened fluid. I flushed them out with some Gumout and ran some new brake fluid through them a few times to elimanate any crud and remaining de-greaser. I also painted them up with some old truck bed spray paint I had laying around:mrgreen: When I go back to finalize the installation and apply locktite to the mounting bolts I'll do a better job on painting them to make them look pretty.
Dramatic improvement in braking, I like to ride with two fingers covering the brakes when riding around town, the few times I have had to brake hard, 2 finger braking wasn't cutting it. I never could get enough leverage to really push the limits of the brakes even with new EBC pads. I have probably reduced the pressure required for maximum braking by half, which kind of makes sense, since there are two more pistons applying force to the pads.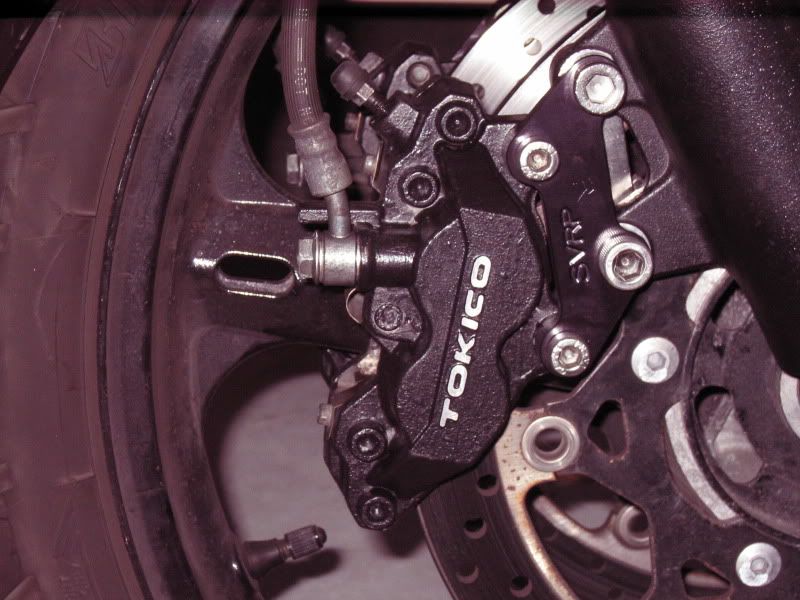 Ron W.