Gotta fix an itch?....need a ride??
Pack the mules with camping gear for a week or so...hightail it out of Melbourne early Sat. morning, spooling k's on the Hume, staying somewhere north of Canberra that night.
Take a few days to bypass Sydney in a wider arc, taking in Bathurst/ Bridle Track if open/ passable, Bylong Valley Way, then either via the coast or part of the New England Hwy...whatever... etc etc, slowly zigzagging towards the Qld border with the Old Grafton Rd. and it's old tunnel, running the backroads and some selcted twisties, through the National Parks of the Great Divide etc etc...
Then through the Border Ranges, Lions Rd, Tweed Valley, whatever.
Bypassing Bris in the back-country of Bunya Mountains, Glasshouse Mtns etc etc towards the Sunshine Coast, running up Cooloola beach to the Cherry Venture wreck-site and out to Rainbow Beach.... jumping-board for Fraser Island.
Yes, the Stroms will make it, no worries....but we'd need to help eachother through the odd soft/ deep patch.
Spent a day on Fraser, running the 80km (each way) to/ from Indian Head and back to the ferry, then dropping the bikes the next day in Brissie (being the Monday morning)....grab a cab to the airport and fly home.
Bike Transport with either Bikes Only or Fergussons (depot-to-depot) varies between $300-$352 (Bris-Mel...get your own prices for other destinations like Can/Syd/Adl) depending on the number of bikes.
Bikes will be available at their Melbourne depots between 3-8 days later (depending on their scheduled runs).
Virgin flights Bris-Mel for Monday, July 25 were on special last night for a paltry $75 incl. taxes, add 12bux for up to 20kg luggage, which aren't really needed as the gear can stay with the bikes.
Dates (set):
Leave Mel 16/7
Fly Bris-Mel 25/7
Accom:
Varied, depending on place and circumstances.....tents to cabins/ pubs etc.
Riding:
Expect anything from rain, snow....to sweat and shorts.
~25% dirt incl. the beaches of the Cooloola Coast and Fraser Island.
This is
25% distance
...which generally equates to
~50% of time.
Distance:
Total~3500km
Financials:
~$350 bike-transport
~$100 flights
~$100 cabs (multiple shared trips incl. before/ after to pick up bikes)
~$100 per day/ head total (bed/food/drink/petroletc)....based on shared accom
As to " why transport + flly instead of ride?"
Well...if you've got extra time, just ride back south if you want.
Since the above is stretching our own time to the max as is, we'd rather spent the time in areas and on roads which we usually don't have access to on shorter/ weekend trips. Just trying to make the most of what's on offer up there...and financials come to the same anyways, considering petrol, tyres, servicing etc when compared to cart+fly.
Numbers: SIX... to keep a decent travelling pace.
For anyone interested....there's not much time to get things booked and organized, don't dawdle around.
This is rather....
Money down and go!!
I've started to book and nail things last night, flights are bought.
All bookings and arrangements will have to be made by the individuals,
I don't want to be involved in "can't make it"- refunds, re-bookings and all that kerfuffle.
The only possibly common booking will be the number of bikes, as that changes the price-per-unit.
For some ideas, check this story....from post #9
Charge Of The Midgets_Cape York Posties Pt.1 - AusTouring.com
See YOUR bike here?
:chug::woot: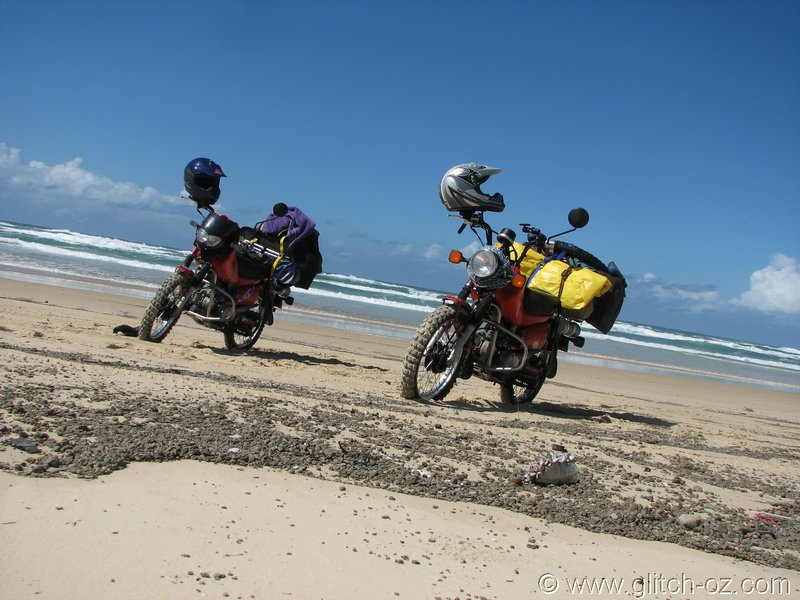 Pipe up here if interested.