:hurray: Hi Everyone,
I now have a simple and easy fix to Mount the Scotts Stabilizer onto our 2012 - 2015 DL650 Vstrom Models
. Many Stromtroopers Worldwide have Emailed me looking for the way to mount up the Scotts Stabilizer onto the 2102 and Up DL650 abs Vstrom.
Email Me Directly at
[email protected]
and I will help you out with the
simple, elegant fix that will allow you to bolt the DL650 Scotts Stabilizer directly onto your 2012 and Up DL650 abs bikes
,
The Superb Scotts Stabilizers for the DL650 and DL1000 are here in stock and ready to ship to you right away,
Now is the time to order and get your Scotts Stabilizers for our DL650 and DL1000 Bikes shipped to you immediately,
They are Stromtrooper Priced, in stock and ready to ship to you today,
Scotts Stabilizers are regular $499.99 plus Taxes plus Shipping, Our Stromtroopers Price is $489.99 all in, with $12.95 Flat Rate Shipping to your door anywhere in the USA.
Visit me at SVRacingParts.com Go in under, For Stromtroopers, Then under Scotts Steering Stabilizers
The Scotts Stabilizer was an Ohlin's Product and is now produced by Scotts Performance so you know it is a premier quality product;
Use one on your bike once and you will wonder what took you so long to realize what a superb upgrade to the steering and control of your bike it really is.
I have our fellow Stromtroopers and many other riders on all kinds of bikes worldwide emailing me that they never imagined that the Scotts Stabilizer could make such a difference,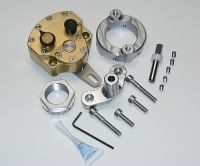 Email me Directly at
[email protected]
for any help you need, I will get you looked after right away,
I also carry the full line of the Scotts Stabilizers for all bikes, so let me know whenever you want performance parts for any of your bikes, I will always do my best for you,
Enjoy the ride, and best regards,
Blair