Hi everyone, Thank you to all of your for the Stromtrooper Support that has allowed me to keep the Chain and Sprockets Combination Special going.
I work hard to both keep these parts in stock for my fellow Stromtroopers and I also work hard to keep the price the same year after year with rising costs making in a challenge. First and Foremost I am a Stromtrooper and I am happy to be able to help you out any way that I can.
Thanks for supporting me so that I can keep it all going for all of you,
These are all High Quality Parts that are great value that I am happy to have been able to provide to my Fellow Stromtroopers over the past 9 years now,
First and foremost, I am a Stromtrooper, and anything else I do on and for the Forum and the members is done to support all Stromtroopers everywhere,
I always bring in lots of the Chain and Sprocket Combinations to make sure I have the right parts on hand for everyone and to keep the prices down and constant year after year.
There are significant price increases coming from the distributors so I have all I can afford to carry in stock and ready to ship to you.
The RK Chain Breaker - Press Fit Rivet Tools are also still in stock and ready to ship,
This is a great time to get your Vstrom Maintenance looked after and out of the way,
Visit me at
SVRacingParts.com
go to the category on the top left, For Stromtroopers, then go to Chain and Sprockets,
Email me directly at
[email protected]
for these parts and I will get you looked after with them right away,
The Chain is High Quality EK-SRX, Japanese Made Chain and Rivet Master Link, and the Sprockets are High Quality Made in the USA products.
525 Chain and Sprockets; All in pricing $180 per set for EK-SRX 525 Rivet Link Chain, (120 Link), Hardened Steel Front Sprockets, and Steel Rear Sprockets in Back, for the 525 Chain Pitch Sizes.
530 Chain and Steel Sprockets combinations; All in pricing $220 per set for EK-SRX 530 size Rivet Link Chain, (120 Link), Hardened Steel Front Sprockets, and Steel Rear Sprockets in Black Color, great for bikes with power over 1000 CC and twins requiring 530 chain.
Lifetime Quality RK Chain Breaker and Press Fit Rivet tool for multiple sizes of Chain, $100, when purchased with a combination Chain purchase, MSRP $149.95 and the best online price I have seen is $120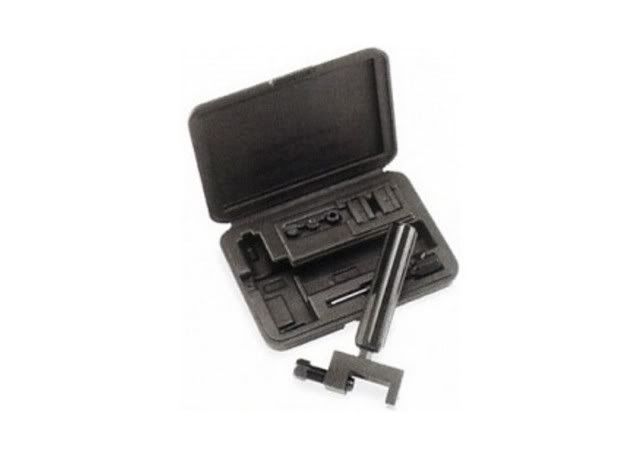 On the RK Tools, I can assure you that the RK Tool we provide is a Lifetime Quality Chain and Press Fit Tool, It is regular $149.99 and the best online Price I have seen for the same Tool is $120. I provide them to my fellow Stromtroopers at $110 Shipped For Free when shipped with the Chain and Sprocket Combinations,
I pay the distributor $99.95 for these tools, and once the credit card and PayPal costs are considered, I provide them as a labor of love as everything I provide my fellow Stromtroopers has to pass my personal smell test for excellence.
I like things that work well and last. That is why I recommend the RK Tool. I want you to have the best I can deliver to you,
$12 to ship Chain - Sprocket Combinations with, or without, the RK Chain Breaker Press Fit Rivet Tool, to your door, anywhere in the USA.
I also ship these Chain and Sprocket Combinations Worldwide for my fellow Stromtroopers,
These items are in the store at
SVRacingParts.com
so that you can order directly yourself or email me directly at
[email protected]
to get them.
Include your contact phone number if you would like me to give you a quick call back to discuss your bike, or gearing choices, with you,
Everything is in stock and ready to ship,
Let me know whenever you are ready, I will PayPal invoice you, and get you looked after right away,
Many, Many Stromtrooper members are using these SV Racing Parts, Chain and Sprocket Combinations along with the RK Chain Tool and loving them.
I think you will too, the quality is great, and so is the price.
Thank you for your support.
Enjoy the ride, and best regards,
Blair