Discussion Starter
•
#1
•
You may live in an area where cage (car/truck) operators and four-legged creatures alike are always aware of your presence and never cut or jump in front of you. Unfortunately my travels find me battling both constantly so in the war of safety the 139dB extra loud Stebel Nautius Compact Air Horn was added to the arsenal (and my Strom). There are apparently different types of Stebel Air Horns but the one I have is the COMPACT version. I'm not sure why they even call it compact since it's size is rather beefy IMHO... 4 3/4" tall, 2 3/4" wide, and 4 1/4" deep.
I decided this mod was a necessity in or around nowhereville Colorado w/my riding partner (yup, RTJohn) and there was some kind of steer break or something (cowboys, plz forgive me for not knowing the proper term).. basically there was a slew of longhorn steers in the road and a broken fence nearby. Not sure why the asphalt was preferable for them but they weren't impressed AT ALL w/the beep-beep of our stock horns (I swear I heard one of them say "whatever, chick"). 8) When I could get the bike pointed straight at them it was the flashing light of the headlight modulator that got a reaction (proving once again the benefits of flashing light over constant). Anywho, this is one of a plethora of stories I have from the road involving animals... for those of you who frequently travel in "Open Range" areas then you know what I'm talking about. For those of you who don't know, Open Range means cows & sheep can roam wherever they please, including the road, since there are no fences to contain them. In many remote parts out West we have wild horses and they too can be found with the deer, antelope, elk, etc. sometimes in the center of my lane. Maybe a pic or two would help here... (btw, this was on Hwy 50 east of Great Basin National Park en route to UT)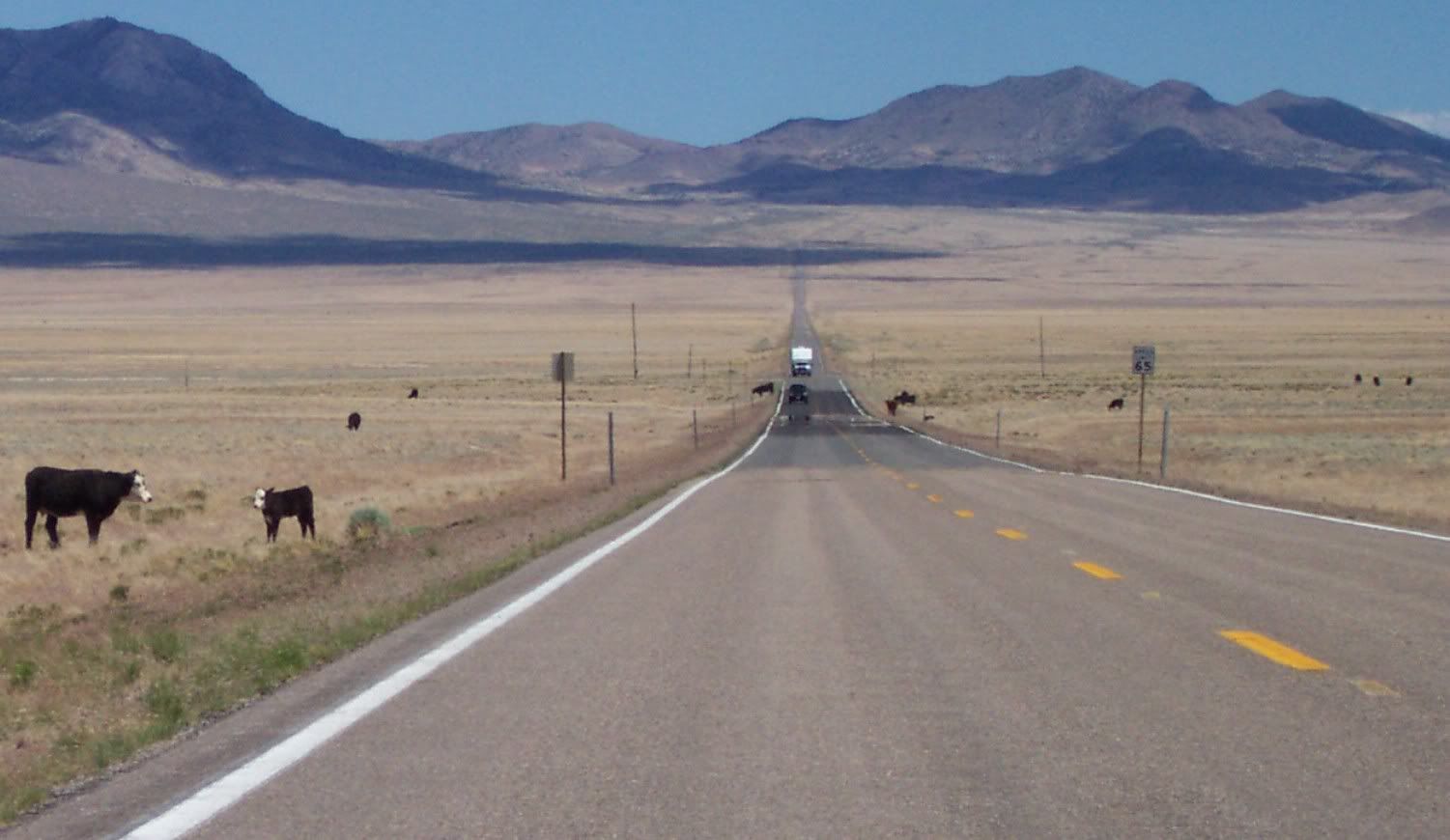 Aside from animals wanting to share our lanes we all have stories of cars merging into our lanes, attempting to turn in front of us, etc. :twisted: You have likely discovered your stock horn is, well, very lame. For something that is so important (being heard which equals being seen) I have no idea why all motorcycles have such ridiculously ineffective horns.
The install of the Stebel was done by my super-duper extraordinare mechanic and good friend Jim and required some of his fabrication and creative skills to get the thing mounted on the Strom. I really can't intelligently answer exactly what Jim did even though I saw him do it. (hey, some of make better riders than wrenches ya know). I can say that he made a bracket to mount the horn to the bike and he also ran wires back to the power block which is under my seat. Because of the chosen mounting location we had to give the front INSIDE of the fairing a bit of a trim; however, if you look at both sides of your stock bike you'll notice they are shaped differently. The left side (where the horn is mounted) of my bike is now shaped like the right if that helps anyone who wants to understand. I do recall the unit has a certain orientation (can't mount it on it's side) and that Jim's location choice factored weather protection too. All I know is the mount has been rock solid and the horn has worked perfectly since the install.
After 5k miles in various situations I can report that the cell-phone-in-left-hand-Starbucks-in-right-hand SUV Soccer Mom as well as critters give me their FULL attention. Folks, this horn is simply L-O-U-D. :!: :!: :!: The ability to get animals attention AND get them moving (such as out of the middle of the road) has proved on several occasions to have such results that it's for this reason that RTJohn now makes me lead in Open Range areas. I have tested the horn around a lot of different animals and I can say that 2 things seem clear... younger animals have big reactions to the horn and it also seems the bigger the animal the bigger their reaction to the horn. Horses have reared and charged away, cows run faster than I ever recall seeing a cow run, elk, deer, and antelope all flee... and all movement is AWAY from the horn (the bike). Squirrels and various ground critters defintely move but nothing like the intensity of the bigger animals.
This mod doesn't remove the risk inherent to riding a motorcycle either in traffic infested w/zombie drivers or in areas w/critters running amuck but IMHO it definitely adds to my chances of arriving at my destination safely.
There have been linking issues w/some sites here on Stromtrooper recently so until that is resolved I'll just recommend that you do a Google search if you are interested in purchasing a real horn for your Strom. You can always PM me and I'll tell you where I purchased mine. I paid less than $40 for the unit. You'll need to get wires/fuses/make brackets yourself to complete the job (or have a whiz like Jim do it).
Stromette