Discussion Starter
•
#1
•
Sorry this is so late (we got back almost a month ago now), but I finally got around to sorting through the pics and footage. This is a more traditional ride report, and I hope to start posting the videos by the end of August. Hammy and I have discussed doing a "part 2" of this years trip consisting of a quick run to Northern Saskatchewan for some riding/fishing in mid-August. If that pans out, I don't want to start any editing until everything has been shot. Anyway, here's what's happened so far....
After a few years always heading west, we mixed it up a bit and decided to head southeast. This year's trip would be a bit shorter than the ones in the past (only about 6 days), so it looked like a quick loop through Saskatchewan, the Dakotas, Wyoming, Montana and Alberta. That meant for once, I'd have to make the first run solo to make it from Edmonton to Hammy's place in Saskatoon. The countdown counted down, and the excitement mounted as departure day approached. I had scored a sweet deal on some Happy Trails panniers (thanks Big Dan!), and I had modded them to fit on my stock Suzuki rack (the rack they came with was for a 1000cc V-Strom). I also had a set of TKC80's on still from last season. They were a little worn, but nothing too serious. I was all loaded up and ready to go.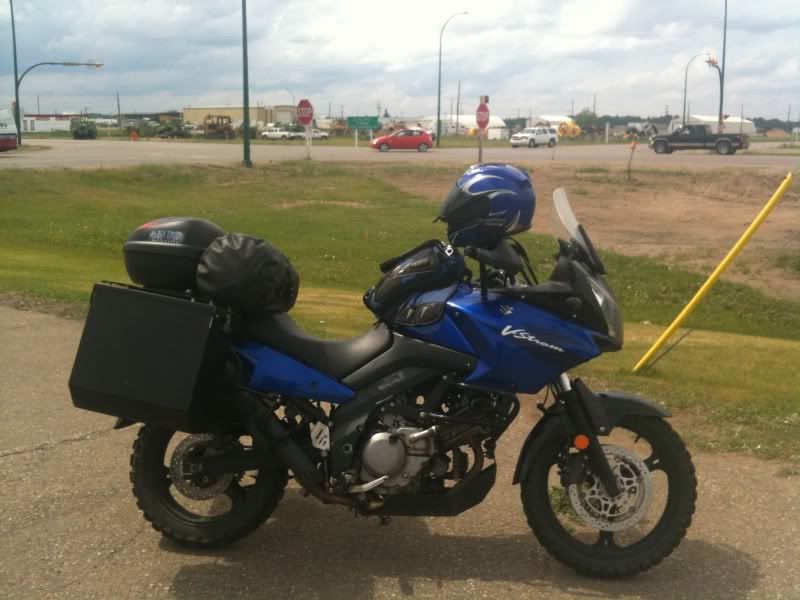 I knew my first day run to Saskatoon would be a boring one, just straight flat prairie road for 5 hours. I decided to skip the Yellowhead highway and took hiways 14/40 just to mix it up a bit. I also had an alterior motive for taking the 14. About 2 years ago I was introduced to the beef jerky from Meatco in Wainwright. A few of us in the local V-Strom club became addicted to it, and started to call it crack-jerky. I had to stop and get my fix.
From there it was a pretty boring striaght shot on the slab to Saskatoon. It had rained pretty much all morning, but the sun finally came out at the Saskatchewan border. I rolled into Hammy's place to find him in the garage, loading up the Versys.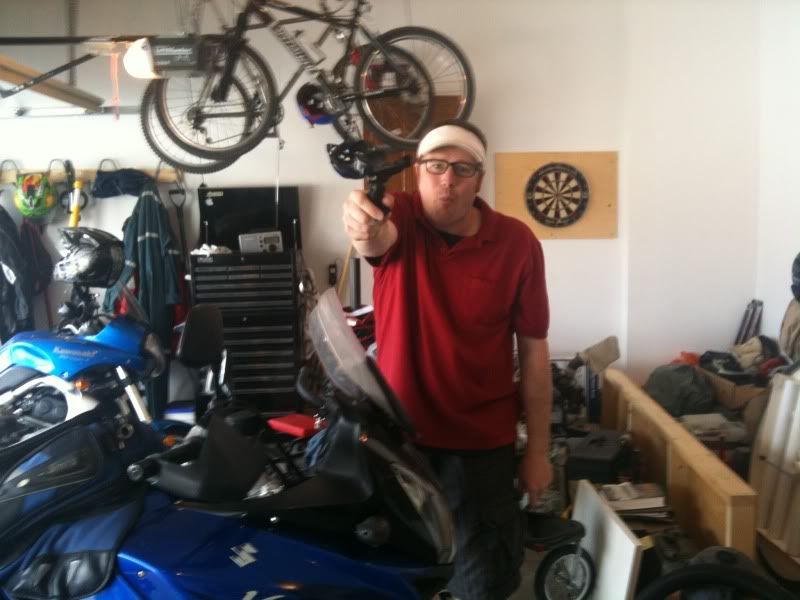 He had only gotten back from the field the day before, so he was just putting the final touches on his equipment. It didn't take long to button everything up and before you knew it, we were into the rum (shocking I know) :jawdrop: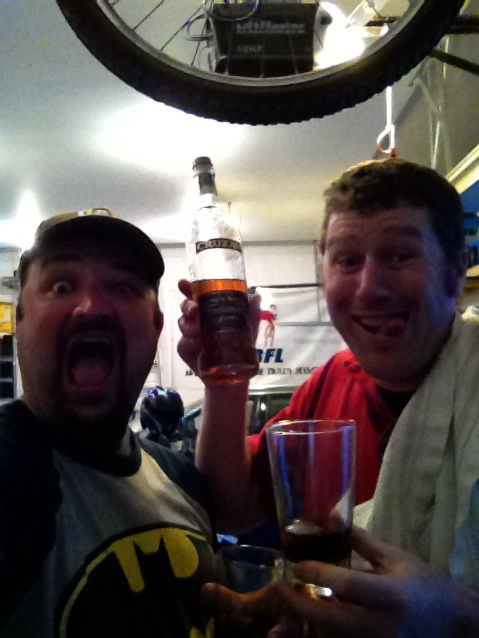 We polished off the half bottle Hammy already had going then finished off a fresh bottle of Cruzan (Mmmm good).We rounded out the evening out on the deck with some BBQ Hammy-burgers and discussing our route.
One of the highlights of this year's trip was supposed to the Beartooth Pass, but all the recent reports had it closed due to snow. We still had a few days till we'd be in that area, but it still had us a little concerned we wouldn't be able to do it. Ahh well, no point worrying about it yet, so we called it a night.
The next day we got up, geared up, hopped on the bikes and took off. We were both fresh as daisies despite the copious amount of rum consumed the night before. It was a beautiful day and we had the whole trip in front of us. We had arranged to meet a couple of fellow riders at the nearby Timmy's for a coffee. Adam and Ben met us there and rode with us to Davidson (about an hour south of Saskatoon). Great guys to ride with. Ben has a 650 Strom (smart guy :thumb
)and Adam was riding this sweet old Honda 750.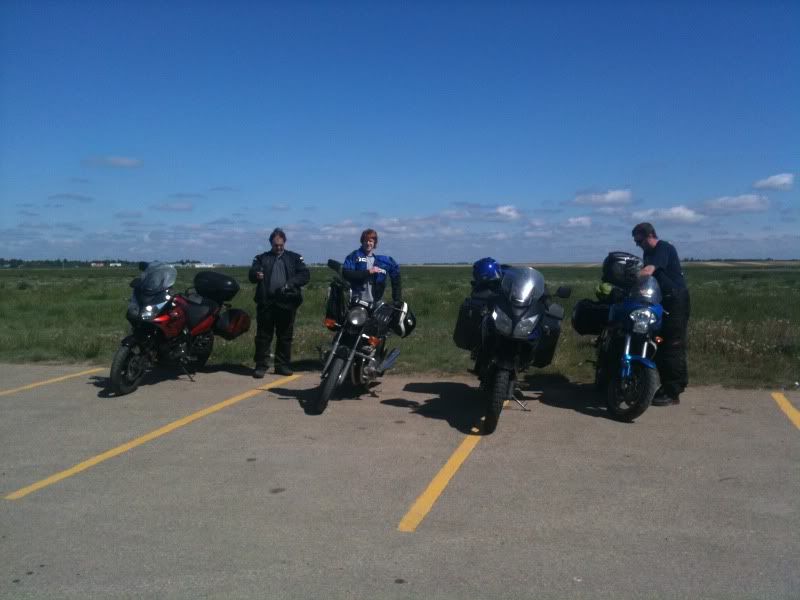 After grabbing another coffee in Davidson, we said goodbye to the boys and kept pushing south. Ben had made a good reccomendation and we ended up taking a few back roads and secondary highways around Regina. Another advantage of this small detour was we got to go past Rouleau Saskatchewan, the place they filmed the Canadian TV show "Corner Gas". We stopped for a photo-op, threw a whizz behind The Ruby and kept pushing on.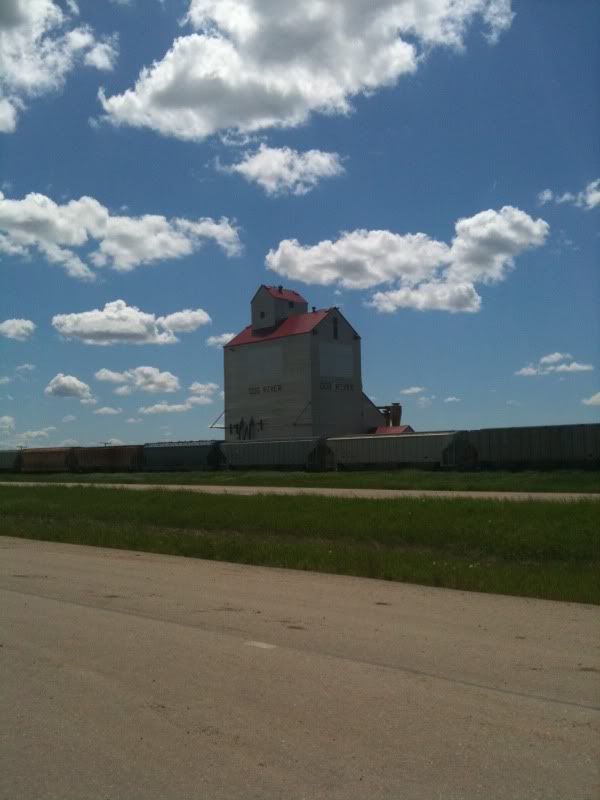 As per our usual MO, we kept to the back roads and hit the border crossing at Oungre/Fortuna. We must have raised a few eyebrows, cause we had 3 border guards come out and go through our bags. After about 10-15 mins, we were allowed to cross and we kept pushing south towards Williston. It was as we were cruising down the road that an on-coming semi kicked up a golf-ball sized rock that came up and hit me right under my right eye. I always ride with my visor open and this thing hit right between the bottom of my sunlasses and the bottom part of the opening in my helmet. It hurt like a bastard, and I was immdiately tempted to pull over, I took a quick look in my mirror and it didn't look like it was cut open or anything, but it rang my bell pretty good and damn did it hurt. Hammy had his helmet cam running and you can actually see the rock come off my head and then bounce past his bike.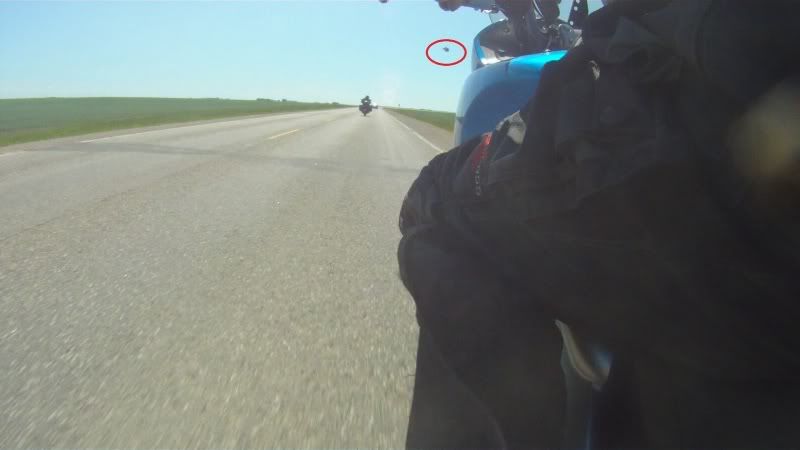 No serious damage done, (just a good-sized rasberry on my cheek) so we just kept pushing south. Nothing else too exciting happened other than us getting a little lost trying to get out of Williston. We headed about 20 mins east of Williston to the Lewis and Clark State Park. It was starting to cloud over a bit, so we wanted to get set up as soon as possible. The clouds ended up just missing us so we had a great evening camping at the edge of of Jessie Lake.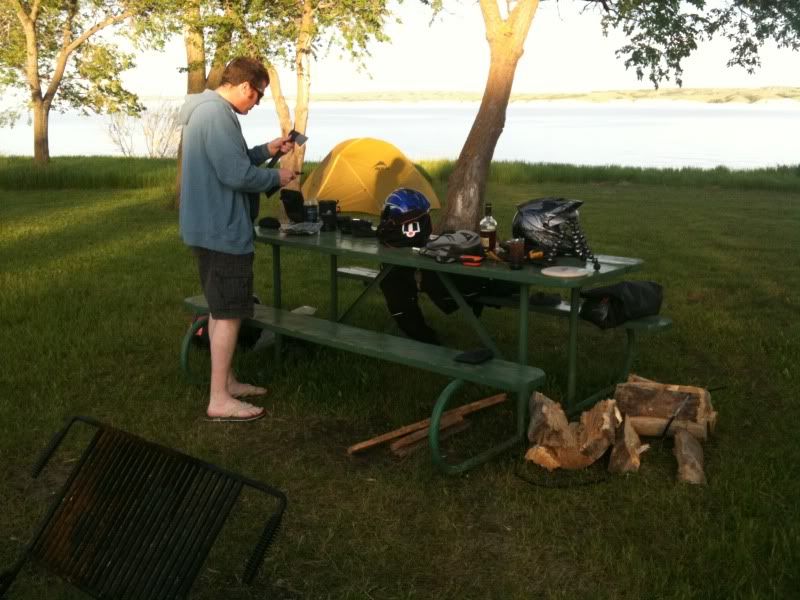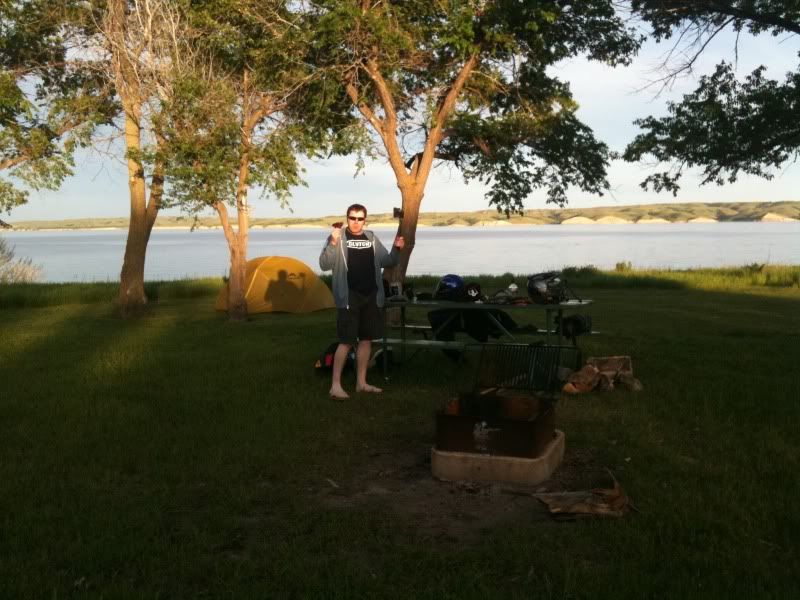 The lake was really high, as was every other body of water in the area. One
guy at the gas station said this was the most rain North Dakota has had in 150 years. It was while camping here, that we started what would become a running gag for the rest of the trip. Our firepit had a strangely shaped hole in the side of it. At first I thought either it was from corrosion or some drunken jackass had taken a cutting torch to it. Upon closer inspection we realised it was an outline of Lewis and Clark, pointing west. The same sillouette image that had adorned the hundreds of Lewis and Clark Trail signs we had passed that day.
Once we figured that out, we started to refer to it as the "Lewis and Clark hole". We were probably a little over-tired and had already dipped pretty good into the rum, so that struck us as really really funny. For the rest of the trip, little comments would pop up like; "Man, was that ever a long time on the bike, my Lewis and Clark hole is killing me!" or "Did you see that truck cut me off?...what a Lewis and Clark hole". It was with that bit of high-brow humour that we called it a night.
to be continued....