Discussion Starter
•
#1
•
We've got a fleet of 12 Wees and had three go down last year and bent Givi crash bars (engine guards). The bars did their job. They are somewhat sacrificial and absorb much of the impact, sparing considerable damage, but bend pretty much flush with the tupperwear in the process.
Needless to say replacing the bars with new is an expensive proposition, and there isn't a ton of suggestions out there on how to unbend them easily. I've sought advice on this forum.
I brought my Dominican mechanic up yesterday to help do a bunch of pre-season maintenance and repairs. One of the tasks was to be unbending 4 bent Givi crash bars. The plan was to park the bike between two strong reinforced concrete poles, securing the frame with a strong nylon tow strap, attaching the bent bar with a strap to a "come-along" attached to another pole and then carefully winching the bar to the original position.
Dominican mechanics are not like American mechanics. They don't have a bunch of tool, they don't have workshops and they don't replace things, they repair things (I had a rear windshield wiper go bad on my Montero. In the US we'd replace the motor assembly for $125+. Not here. He took the armature out, rewound it and filed bushing from rawstock to replace the original...perfectly...for under $10.) I joke that a Dominican mechanic could build a Space Shuttle with a bag of concrete, a busted moto and odds and ends from the street.
He said my method would work well. He had a better idea. So we tried it.
It worked. We bent all four bars in under 40 minutes.
Here is the process. Excuse the pics, it's at night in a carport and the photographer didn't know I was going to write a step-by-step report. But you'll get the idea.
First of all, put the bike next to a strong pole, take a jack-stand (or something similar, maybe a piece of 4x4 or something), extend it between the pole and the lower bar, and strap it tightly to the bike with a towing strap: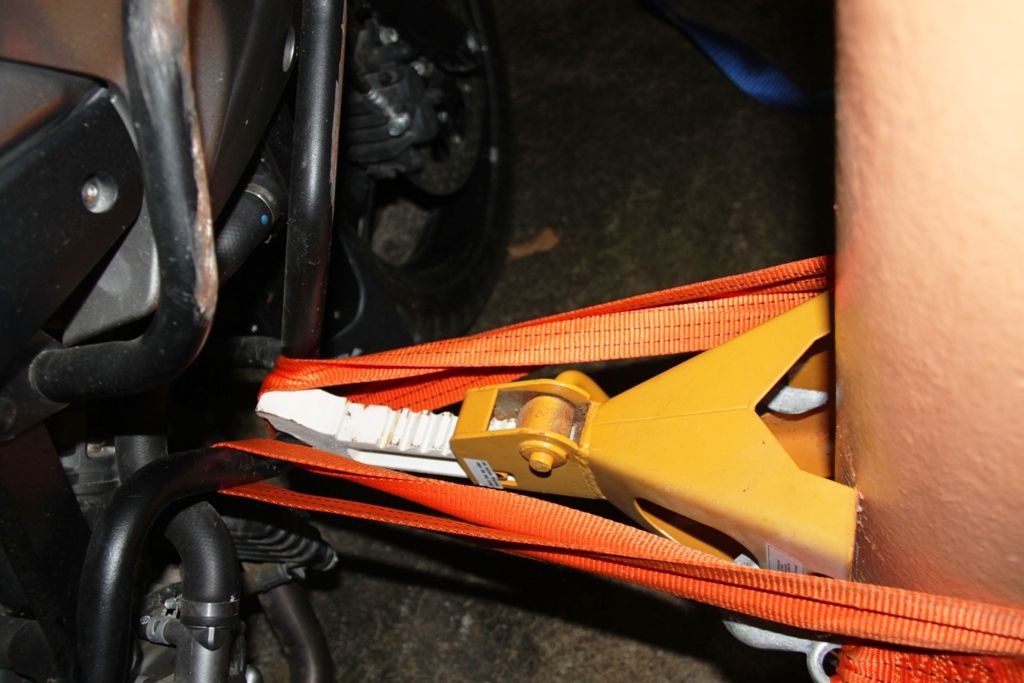 Attach a strap with a come-along winch to the top bar close to the bent part, attach to another immovable point (we had another pole but anything could do), have someone hold the bike steady (our helper sat on the bike and push away from the pole), slowly winch the bent bar until in it's original position:
Worked perfectly. Quick. Easy. Effective.
The Dominican way.
4 bent bars. 40 minutes. Awesome.:thumbup::hurray: