Ballistic Performance continues to lead the way with innovative lightweight batteries for motorcycles, ATVs and other applications where power and weight are important factors. Now, Ballistic has introduced a new connection scheme that perfectly compliments their Battery Management System (BMS): Intelligent Digital Balance Charger. This additional connection allows the user to charge each cell within the battery individually for a balanced charge and peak performance. Furthermore, balanced batteries can be expected to last twice as long as batteries that are only charged by your machine's generator system. And should you choose to forego the Ballistic BMS charger, you can still charge every Ballistic Performance EVO 2 battery in the conventional manner as directed by the included instructions.
Ballistic Performance EVO2 batteries are available in
four different sizes
: 4-cell, 8-cell, 12-cell and 16 cell.
These hand-made in the USA lithium iron phosphate batteries are engineered to be extremely light, durable and powerful with every component designed specifically for use in high-performance powersports applications. If you're looking to save a significant amount of weight, and improve your machine's starting performance, look no further than Ballistic Performance EVO2 batteries. Often, our machines are designed to be as light as possible yet they still employ rather arcane lead-acid batteries that comparatively, weigh a ton. Depending on the application, you can expect to
save up to ten pounds of weight just by switching batteries
! This is a considerable amount of mass that will be noticeably absent the first time you ride the bike with this battery installed.
From a maintenance standpoint, a conventional lead-acid battery will lose much of its charge, even during short-term storage which is why trickle chargers are so popular today. Ballistic Performance EVO2 lightweight lithium iron phosphate batteries have a very low self-discharge rate and can easily withstand indoor storage for a year or more with no recharging required to start your bike afterwards!
Another big advantage of this aftermarket motorcycle battery, other than its light weight - is its power output performance. Pound-for-pound, conventional lead-acid batteries do not transfer electricity nearly as efficiently as Ballistic Performance batteries and consequently, must be built oversized to make up for this. The result is a battery that weighs significantly more yet provides less starting power output than a Ballistic EVO2 battery.
For those of you concerned with properly securing a Ballistic Performance battery in your ride, each battery comes packaged with a foam carrier that can be cut and shaped perfectly for installation. And with the addition of a BMS Intelligent Digital Balance Charger, Ballistic Performance batteries can be kept at true peak performance year-after-year.
If you're unsure of which battery is best for your application, call our expert MIKE at 866.931.6644 x 804 or send a note to FORUM at RIDERSDISCOUNT dot COM with BALLISTIC EVO2 BATTERIES in the subject line, let us know what machine you have, and we'll get back to you right away.
New Ballistic EVO2 batteries come with a BMS plug in right between the leads.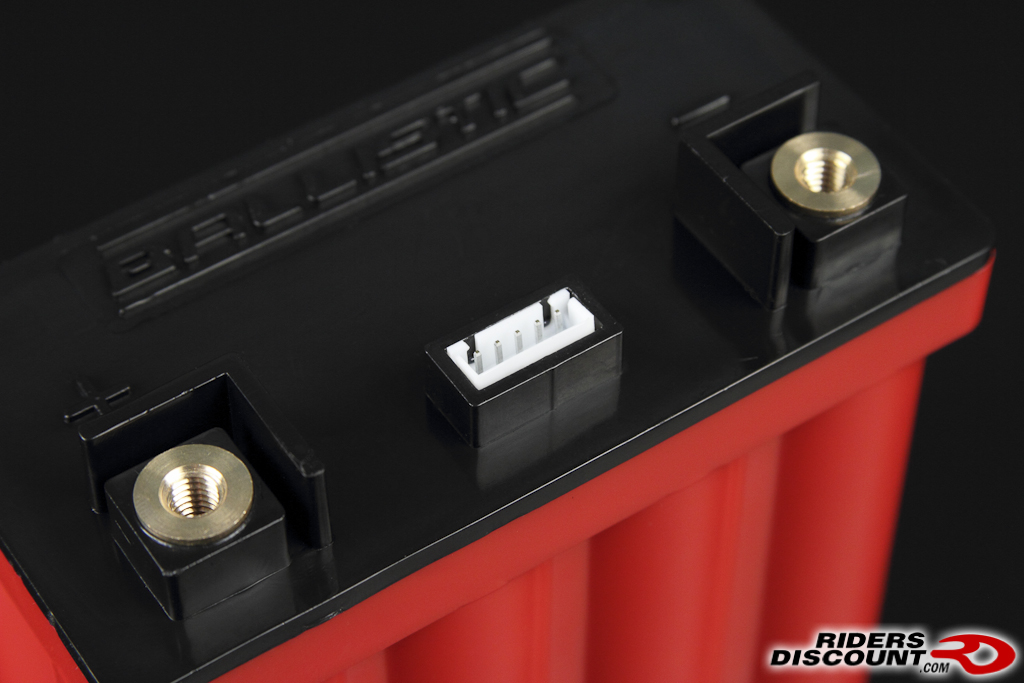 This port is designed to allow users to plug in a Ballistic BMS Intelligent Digital Balance Charger for peak charging performance and extended battery life.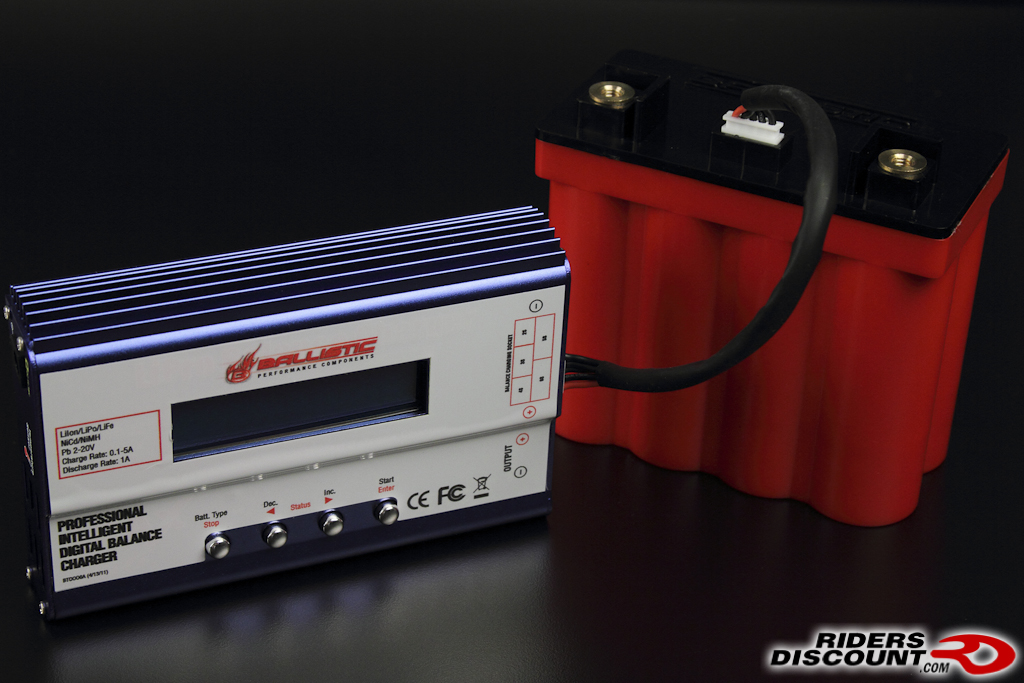 Other than the addition of this extra charging port, there is little difference between the latest EVO2 battery and its predecessor. Each EVO2 battery comes fully charged out of the box, simply plug in and you're ready to go. The high-strength chassis provides a durable package for the LiFePO4 cathode that's up to the challenge of starting high-compression engines. Plus its small size frees up room within your bike's battery box for popular aftermarket tuning equipment like a Power Commander or a Bazzaz Performance tuning kit.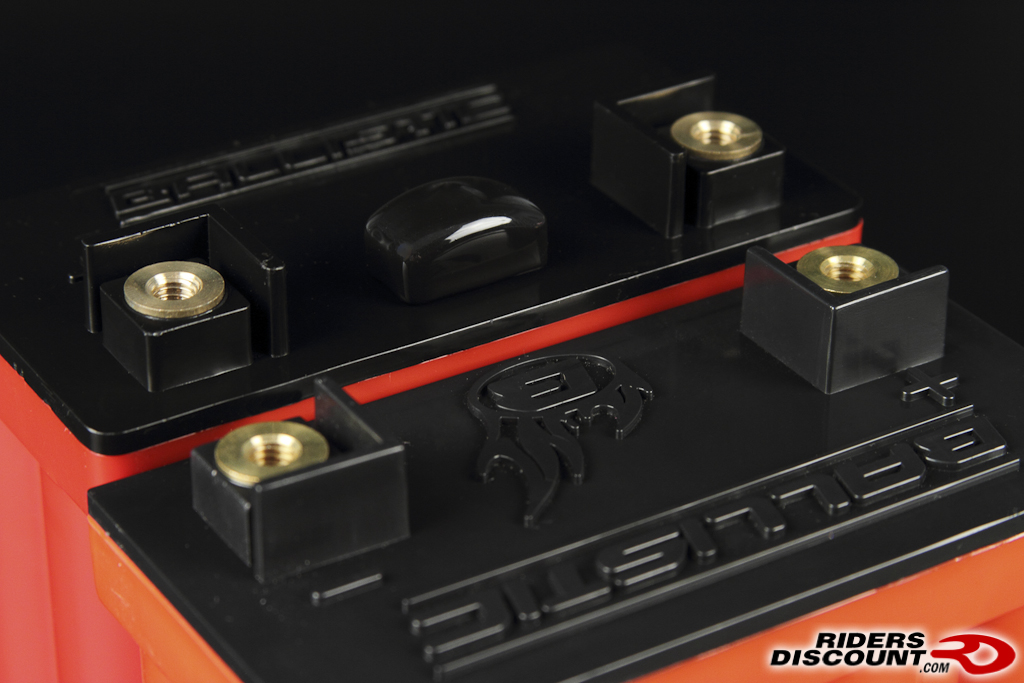 Fret not, those of you that have already purchased a Ballistic Performance EVO2 battery without the balancer feature. This charger can also be used to keep your Ballistic Performance battery in top running condition.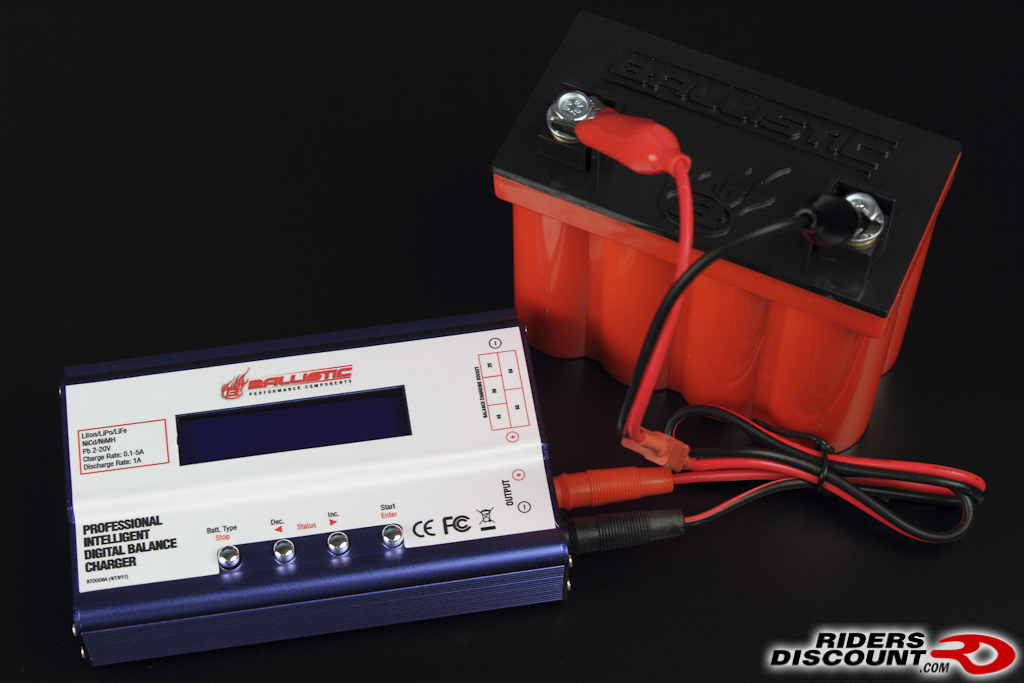 Four, eight, twelve and sixteen cell batteries are available to suit a wide range of applications. From dirtbikes and ATVs to high-compression V-twins – if you're unsure of your needs, call us for advice on what best suits your application.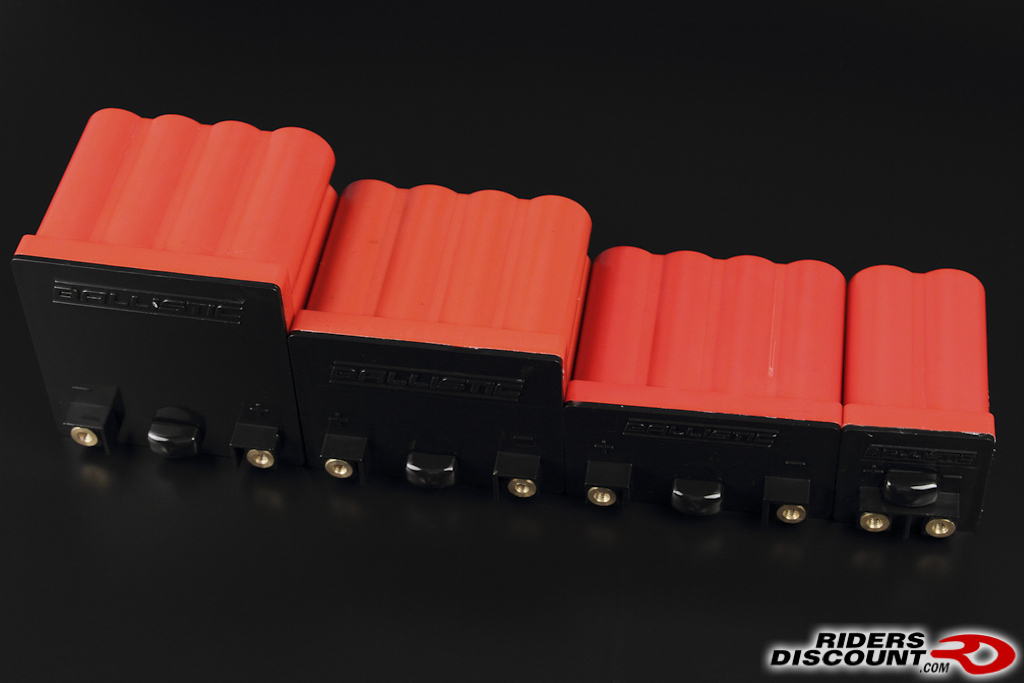 And where maximum power is required, we now have 16-cell Ballistic Performance batteries in stock.