Discussion Starter
•
#1
•
From now until Wednesday at 6PM EST you can get an Arai Corsair-V in
Platinum Silver for $459
or an Arai
Dani Pedrosa Replica Corsair-V helmet for $499
shipped to any address in the lower 48 states from Riders Discount! This will be the last time we offer these
brand new SNELL M2010-approved Arai helmets
with recent build dates at this incredible price. Don't miss your chance to save hundreds of dollars and own Arai's best helmet at our best price ever!
These Arai sale prices are not available on our website; call TJ at 866.931.6644 ext 817 to order while supplies last. Remember, sale ends Wednesday at the close of business!
Wider visor aperture offers more view through the bends. It's the largest field of vision from an Arai yet!
Corsair-V is the first motorcycle helmet offering the Peripherally Belted SNC outer shell construction which significantly increases the helmet's rigidity and safety without a huge penalty in added weight.
Emergency Release cheek pads offer increased personal safety in case of an accident by making it easy for medical personnel to remove the helmet without applying undue force against the cervical spine.
Famous SNC net material has become stronger to keep the shell shape intact even under extremely heavy loads and impacts.
Improved ventilation and side exhausts get air moving over the skull and keep the rider comfortable in the hottest of climates.
MotoGP tested and developed Air Wing is easily adjustable, even with gloves on, in five different angles of attack positions to suit every riding position. The Air Wing reduces drag, turbulence and buffeting resulting in more comfort and additional top-speed.
New airflow spoiler directs the airflow around the bottom edge. Together with the new Power Intake Shutter chin vent and the FFS (Free Flow System) aerodynamics around the bottom are optimized reducing buffet and wind noise.
The now famous anatomical shape of the helmet gives a clean and aerodynamic look and the actual width of the helmet opening is enlarged for easier putting on and taking off without sacrificing stability and low noise levels at high speeds.
Completely removable Dry-Cool® interior lining and neck roll pull sweat and moisture away from the skin while you ride and can be easily cleaned when needed.
Don't miss out on a great deal for one of the best helmets you can own. To get these Arai helmets on closeout, call TJ at 866.931.6644 ext 817 for expert sizing guidance and fast shipping. Supplies are limited so call today!
Arai Corsair-V Platinum Grey helmet –
$459
shipped anywhere in the contiguous USA.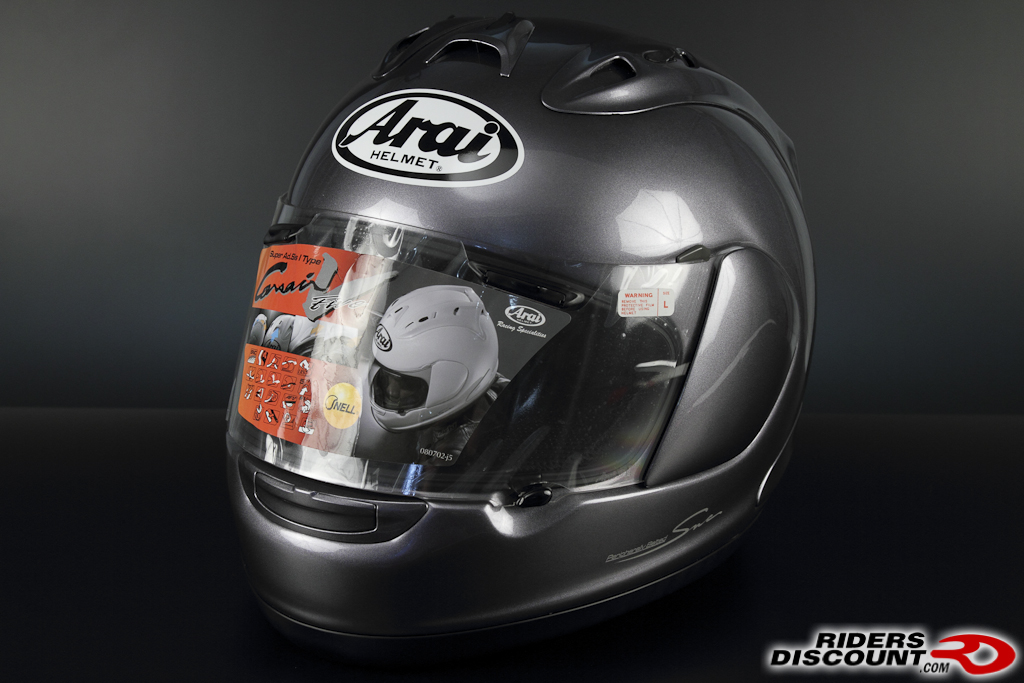 Below each of the large strakes can be found three user-adjustable vents. The front vent is controlled by the black button seen near the center of this picture while the other two are adjusted via a single tab at the rear. These controls have a positive feel to them and are very easy to manipulate with a gloved hand.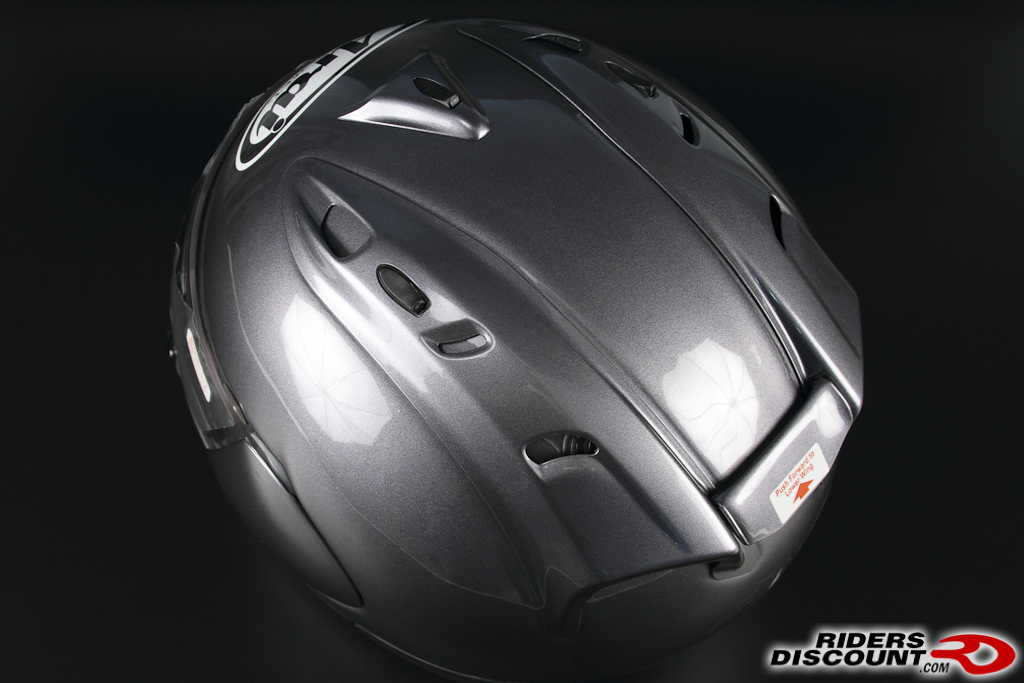 Every one of Arai's top-of-the-line helmets come with a fully removable liner – even the neck roll can be pulled out without the need to use any special tools.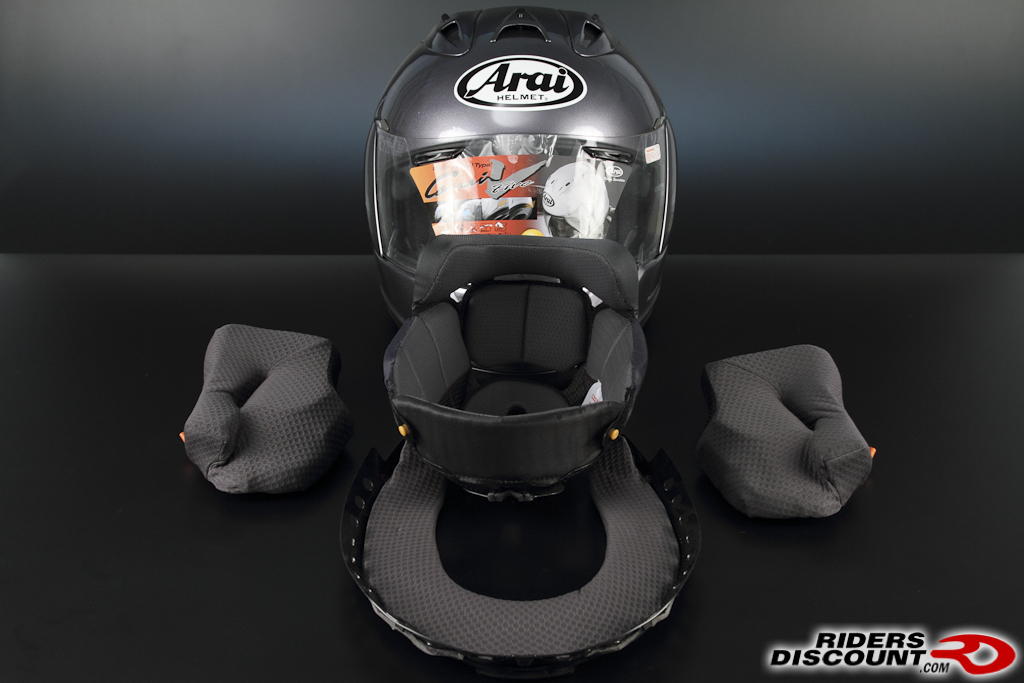 Arai Corsair-V Dani Pedrosa Replica –
$499
.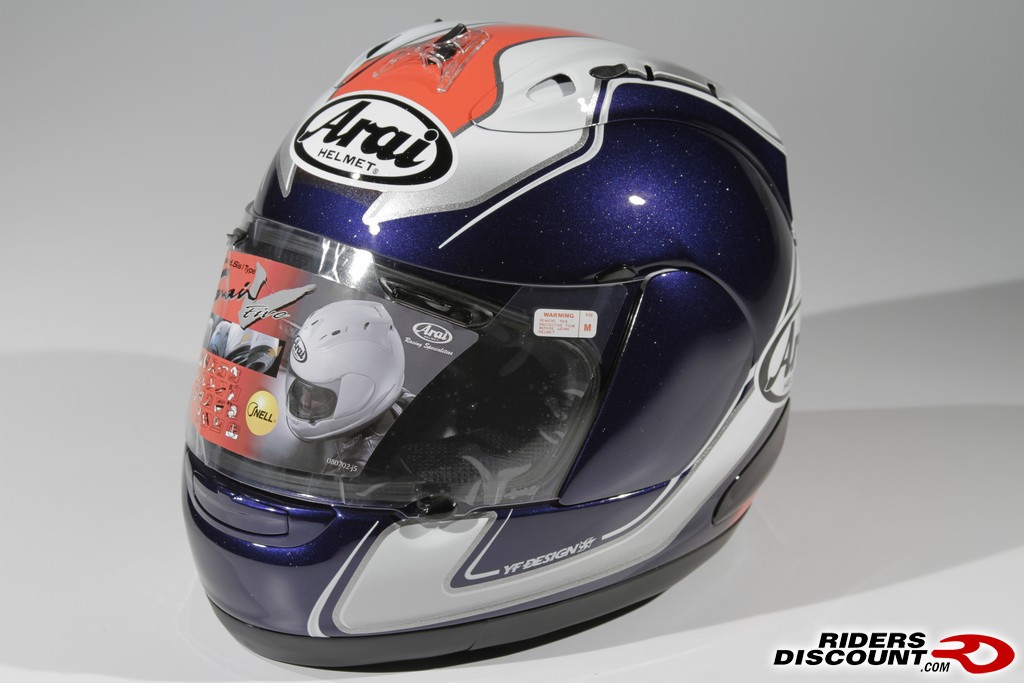 User-adjustable ventilation can be found on the front and the back of the helmet and provide exceptional cooling characteristics when called into duty. For safety, the fittings shown here are taped, not glued - to the external shell so that they may sheer away in the event of a crash to prevent the helmet from getting caught on anything it comes into contact with.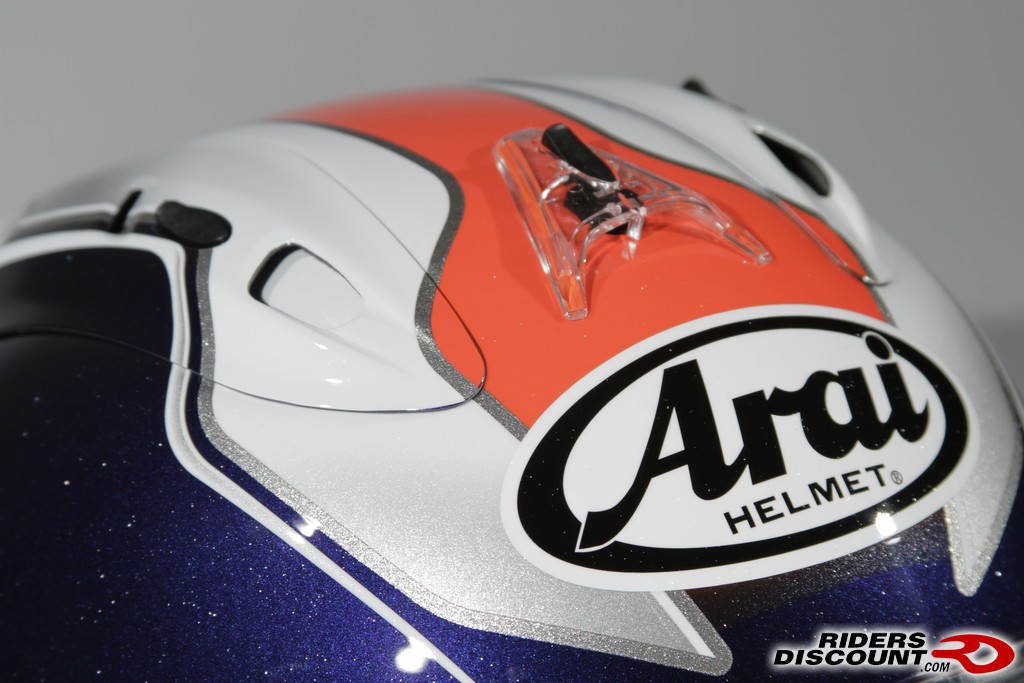 An adjustable spoiler is the trademark feature on the Corsair-V. This device helps prevent buffeting and can easily be tuned for different motorcycle wind deflection characteristics.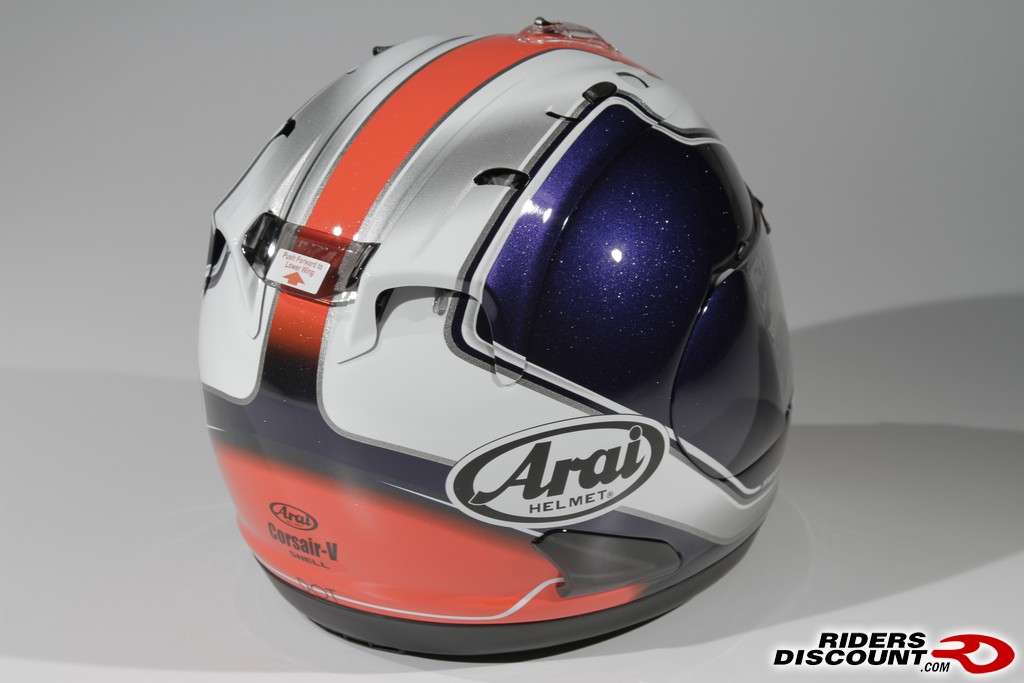 We also have smoked and mirrored visors in stock and ready to ship. Just ask for one when ordering.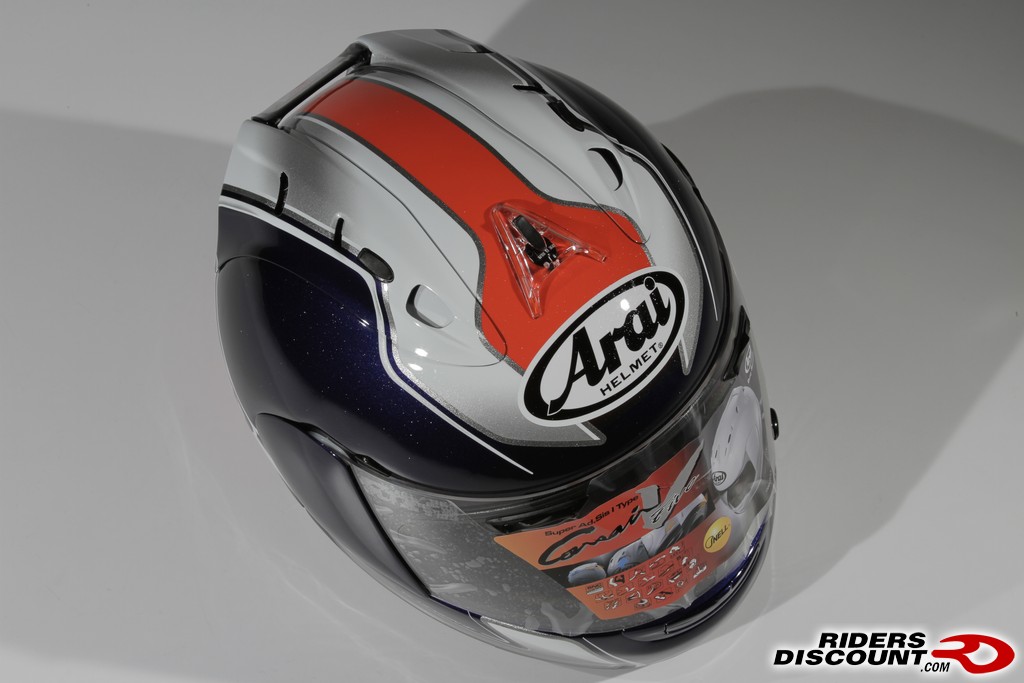 All of these helmets are Snell M2010 certified and have recent build dates.