Discussion Starter
•
#1
•
I really hated the long rear fender on my new DL650K7 so after reading some posts by other Strommers I decided to do a fenderectomy.
I first headed out to grab some supplies. I bought a hinge from the local hardware store, some rare earth magnets from an electronics store and an LED tail light and number plate protector from a motorcycle accessories store. I also added some red reflectors after to keep the bike legal.
I took off the bottom of the rear fender (with a saw) and shaped it using a file and sand paper. The fender plastic is quite soft and very easy to shape using the saw and file.
I then screwed on the hinge and number plate. The LED tail light was then added to the flat area of the fender and wired into the old tail light wiring. Finally, I attached two small rare earth magnets to the top of the rear fender for the number plate to attach to. At first I just stuck the magnets to the fender using epoxy glue but the magnets came off after about 24 hours. The plastic fenders have a coating that epoxy doesn't bond well with. To solve this I screwed two small screws into the fender and then epoxied the magnets to the screw heads. This works well and no problems now after 4 weeks on the road. I had to move the registration label around to the left side of the bike and used one of the rear fender allen screws. Next year (when rego is renewed) I might use a tube type label holder and mount it under the top rack.
This was a relatively easy mod and gives the bike a whole new look that is more sporty. When I first started talking about this mod the wife give me some weird looks and was trying to talk me out if it. But now she is impressed and reckons the bike looks way better too.
My only concern is that the LED tail-light doesn't light up the entire number plate evenly. However, I rarely ride at night so I don't think this will be too much of a problem. If the cops give me trouble I'll probably just get a second LED tail light and angle them so that one light shines on the left side and the other on the right side of the plate.
Here's some photos after the job...
From the side: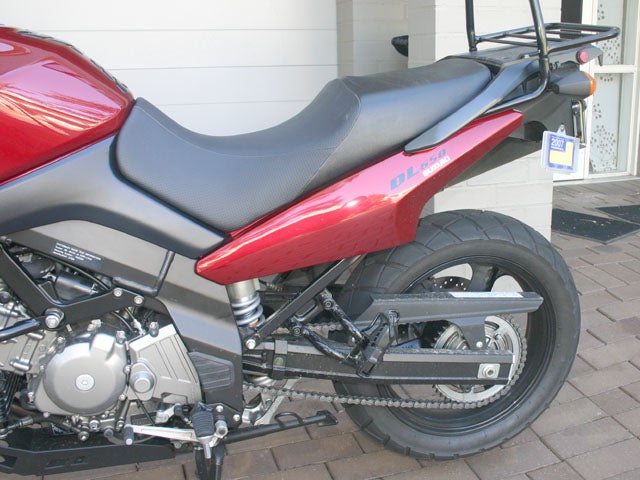 and from the rear showing the magnets in behind the license plate: