Discussion Starter
•
#1
•
Sorry to those of you looking for some super exclusive exotic, its my 2006 DL1000. In its defense, read the story that follows.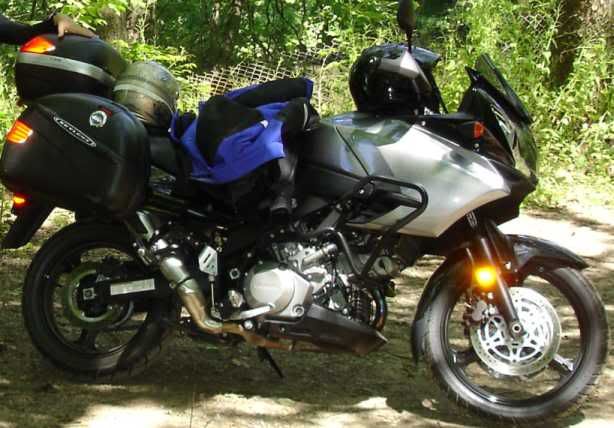 This bike has been transformed, it is pure joy to ride. More responsive, smoother, more versatile. It is amazing!
I finally decided I would take the time for some maintenance and to install some accumulted farkles. In terms of performance, I did the following:
1.) Discovered the boot from the air box was not even attached to the front throttle body. Replaced the stripped screw on the clamp and installed the boot properly.
2.) Installed a K&N air filter.
3.) Installed extension hoses to simplify throttle body synchs, and did a synch.
4.) Removed secondary throttle butterflies.
5.) Adjusted throttle cables.
5.) Installed 43T rear sprocket.
Since I did everything at once I can't comment on individual improvements but I can tell you that the sum of my efforts is awesome. The thing now pulls like a freight train, 6th is a completely functional gear and it runs smoother at all speeds than it used to. I love it! I went for a ride yesterday and every time I twisted the throttle I grinned like an idiot.
Removal of the secondarys has made the throttle much more responsive. I felt the stock setup had too much lag to it and it was imprecise. Now, it is instantaneous and crisp. I find it much easier to match engine speed to bike speed for butter smooth shifts, up or down.
The 43T sprocket lowered the gearing enough that it is completely useable at sensible highway speeds. The bike cruises nicely in the 100 – 110 kph (65 – 70 mph ) range now, and doesn't feel like its lugging. Running up through the gears is a riot and the bike just rockets ahead, gaining speed at an amazing rate.
I liked this bike a lot from the day I bought it but I did have some issues with how the engine ran and I knew the gearing was not right for me. These relatively simple and relatively inexpensive changes have transformed the bike. Now I simply love it. I can't think of a more capable, versatile machine. Head out and blast back roads, explore that quiet gravel route or snap on my Givi bags and head out on the highway for a week, this V-Strom thing will do it all and do it well.

Other add-ons included a Blue Seas aux fuse box, Stebel compact air horn (to be the first accessory for any new bike in the future) and a Speedo-Healer.