Discussion Starter
•
#1
•
All-weather utility comes standard with Alpinestars Durban Gore-Tex gear. Featuring a multifabric external shell construction that's specifically formulated for less-than-ideal riding conditions, you'll stay dry and comfortably warm when you're wearing this jacket and pants combo. Safety is looked after with CE-certified armor for the elbows, shoulders and knees fitted as standard. Provisions for upgrading protection with a
Bionic Air back protector
and
Bionic Chest Pads
are also available. And for the rider that prefers to stay off the beaten path, the Durban Gore-Tex jacket is fully compatible with an
Alpinestars neck brace
too.
Safety aside, this equipment is supremely comfortable and is adaptable to all riding conditions. Zippered air intakes are placed on the front of the jacket at the shoulders, chest and inside the arms. These are complimented by a set of exhaust vents on the back of the Gore-Tex motorcycle jacket. The pants too, have a set of zippers on the front for enhanced cooling performance. Bad weather is also looked after with a series of adjustment tabs for the arms, waist, leg openings and wrists so you can keep the jacket close to your skin and stay warm. Furthermore, removable bibs are included with the pants so you can cinch the bottoms to your liking. And then, you've got the Paclite Gore-Tex liners with zip-out fleece inserts that can all be removed and stored away in the aft utility pocket. It's all here: hot summer days, rough roads and sideways rain are all accounted for! There's even a built-in hydration bag with up to a 2L capacity.
Available in US sizes 38-50, you can read more about
Alpinestars Durban Pants
and
Durban Jacket
on our website or just call Mike at 866.931.6644 x 804 for expert sizing assistance. You can also email us any questions you have, send those to FORUM at RIDERSDISCOUNT dot COM with ALPINESTARS DURBAN GEAR in the subject line and we'll get back to you right away.
Alpinestars Durban Tech Touring gear.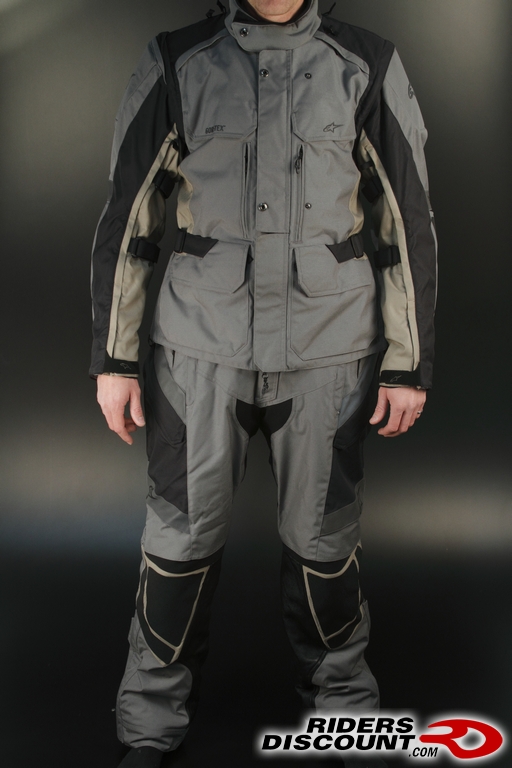 In true all-weather gear fashion, the pants come with suspenders (which are removable) and a waist zipper to keep cold drafts from blowing up your backside.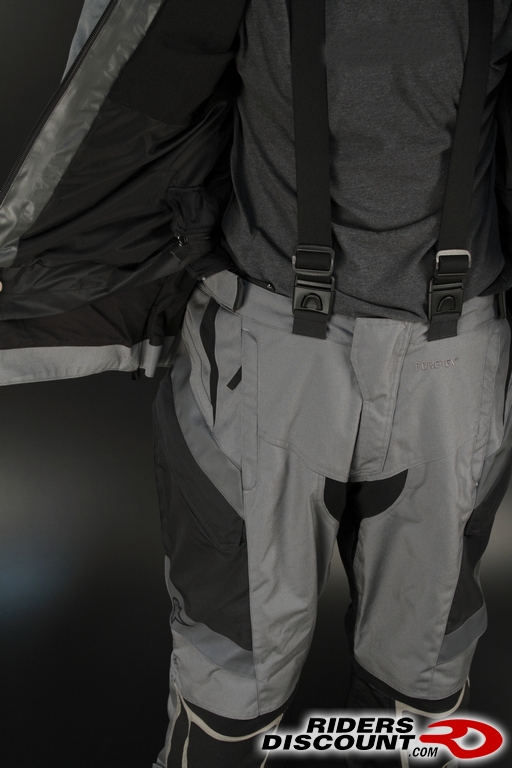 Some touring gear we've encountered can be rather inflexible and can make you feel like you're trapped under layers of tarpaulin, especially in the knees. Alpinestars has addressed this issue with their patented Vector knee joint construction to allow plenty of flexion for comfortable, uninhibited movement on the bike.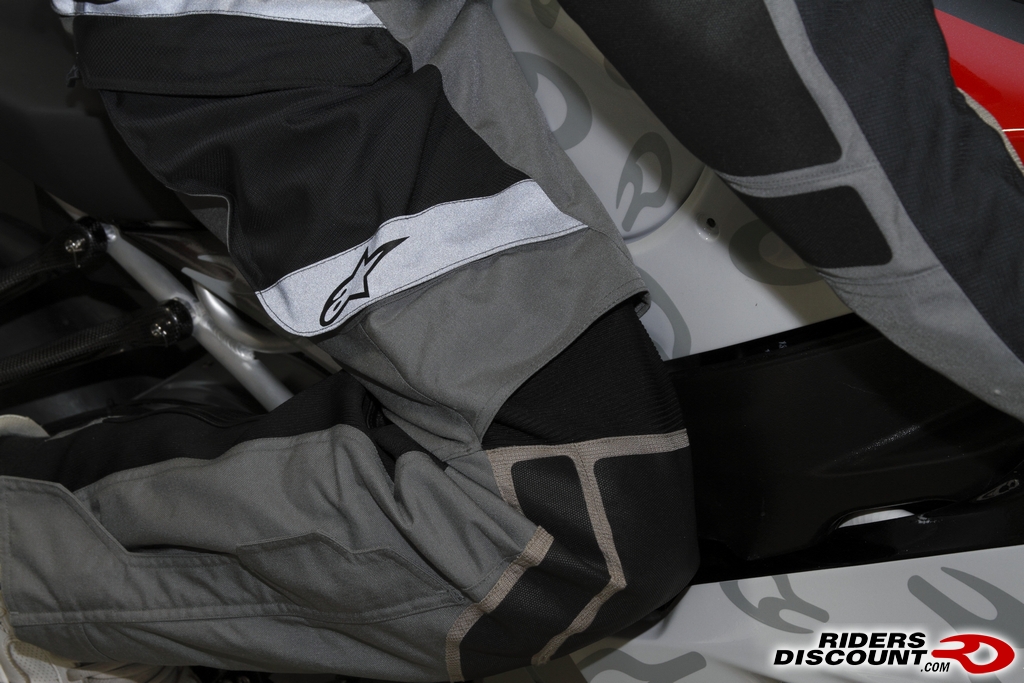 Two waterproof pockets are housed on the front of the jacket. Keeping wind off the center of the chest, the main zipper features a front closure flap. There's also a pair of waterproof pockets on the pants just above the knees.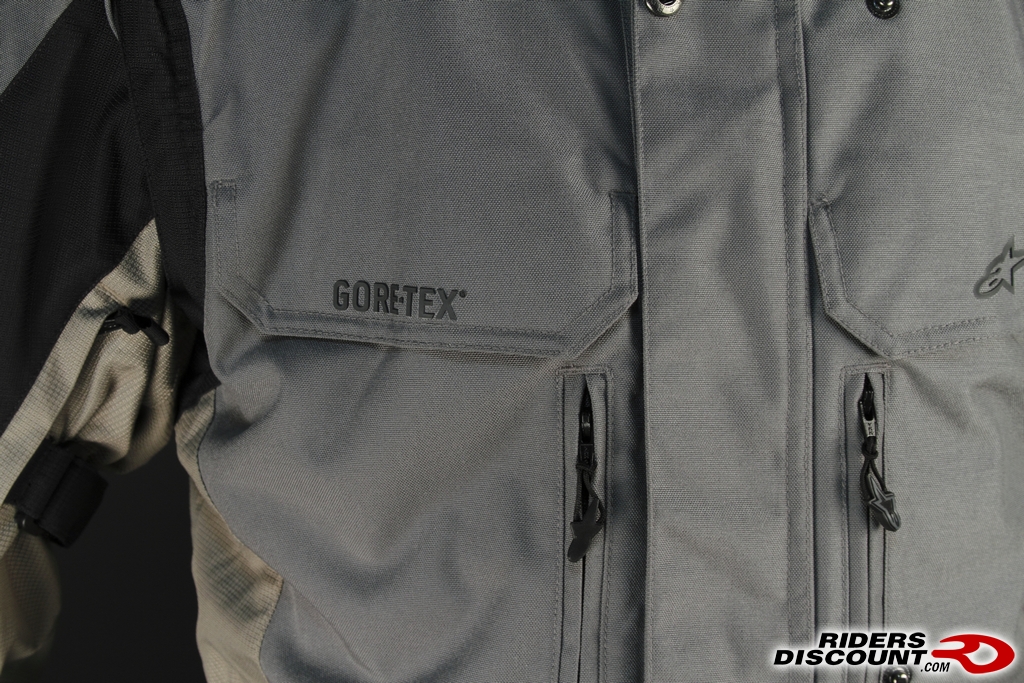 Digging a little deeper, we can see the Paclite Gore-Tex inner membrane.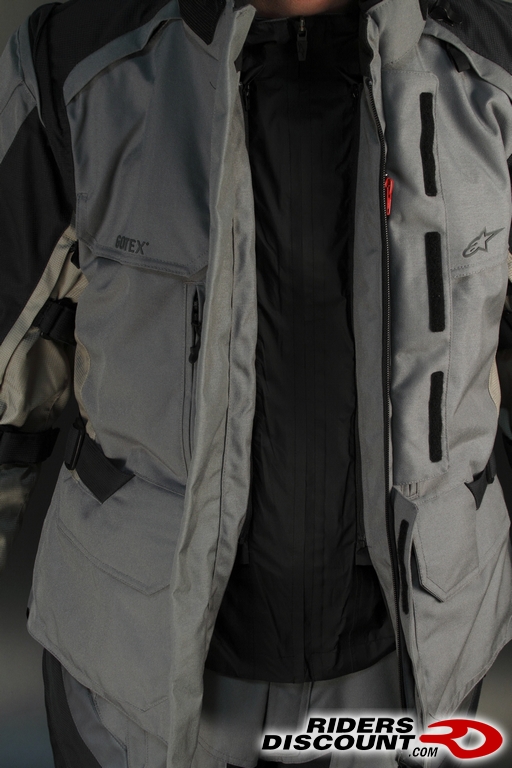 A 2L hydration pack is also included with this jacket.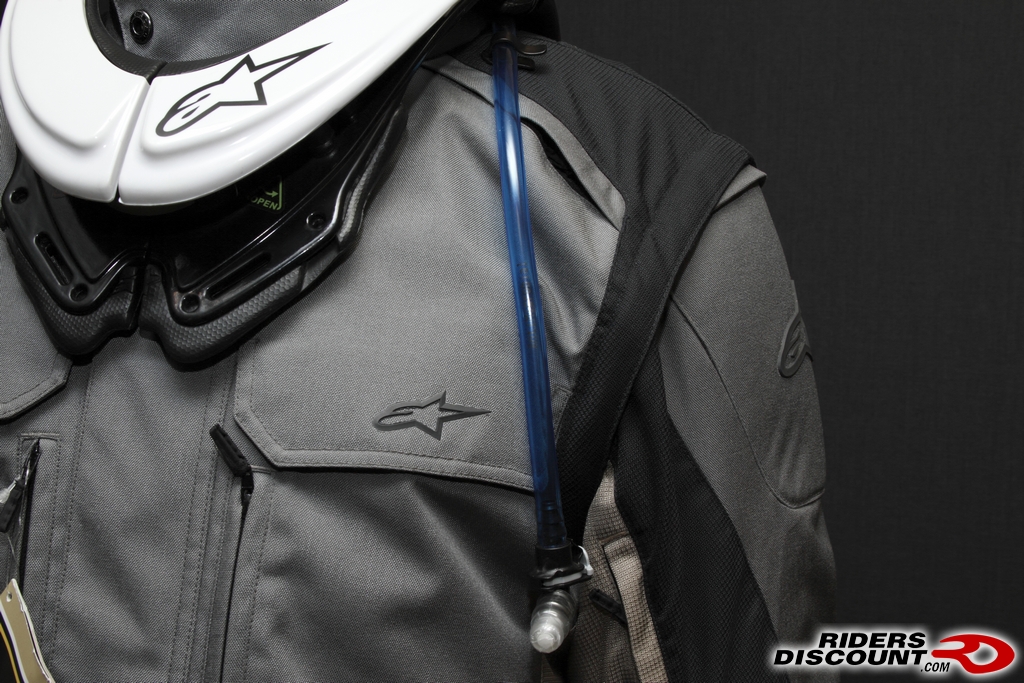 At the center of the lower back, a removable utility pouch serves as an excellent place to keep the removable liners when they're not in use.