Discussion Starter
•
#1
•
I am interested to hear people's thoughts....
Ok, I have thought about this project for a while and I am testing the idea right now that I have made it.
As I am leaving on a trip this Sunday, I thought I should see if it fails locally.
I have consolidated everything into one case, the weight right now is 53 lbs.
Link to pictrures..
http://i60.photobucket.com/albums/h34/DavidLSI/V-Strom with strap plate/100_1327.jpg
http://i60.photobucket.com/albums/h34/DavidLSI/V-Strom with strap plate/100_1326.jpg
The ride in was smooth, I noticed no difference in handling, braking or accelerating. I do notice the wieght difference when placing on the side stand. I will need to watch this on my journey.
I went the 35 miles on commute this morning, even with the stop and go there was no shifting going on. I did get up to 95 for a short distance which also gave any indication the load was on.
*****************UPDATE**************************
I used the mounting plate on the trip. With the bag finally packed and the additional bags on my bike the extra weight added 70 plus pounds.
Riding was not a problem but I dropped the bike 3 time while on the trip, the extra weight while manuvering into and out of a parking spot cause problems.
If you get a little off balance there is no saving it, my right leg is the proof that you should not even try. I tore a bunch of somethings inside, it is all purple and swollen.
Here is a pick of the loaded bike...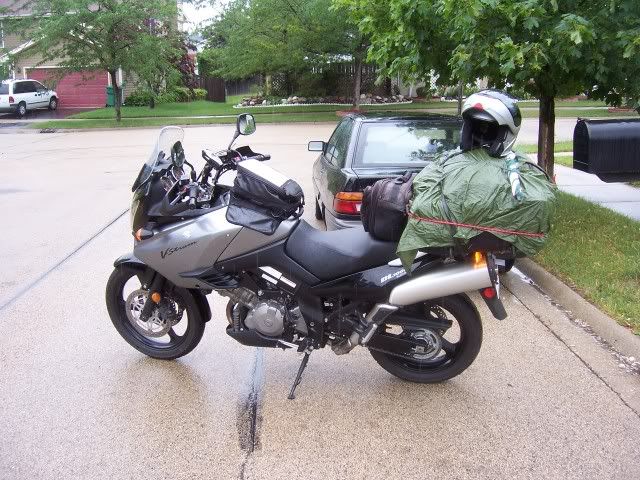 Oh well it was worth a try and I will still use it but limiting the load to a more logical number....
So long for now,
DavidLSI