Discussion Starter
•
#1
•
After complaining about the crappy 2-piston calipers for the last 5 years, and having tried (and removed) stainless steel lines, HH pads, bleeding, re-bleeding, and bleeding once more, I finally decided to upgrade to 4-piston Tokico calipers, and Blair's adapter brackets: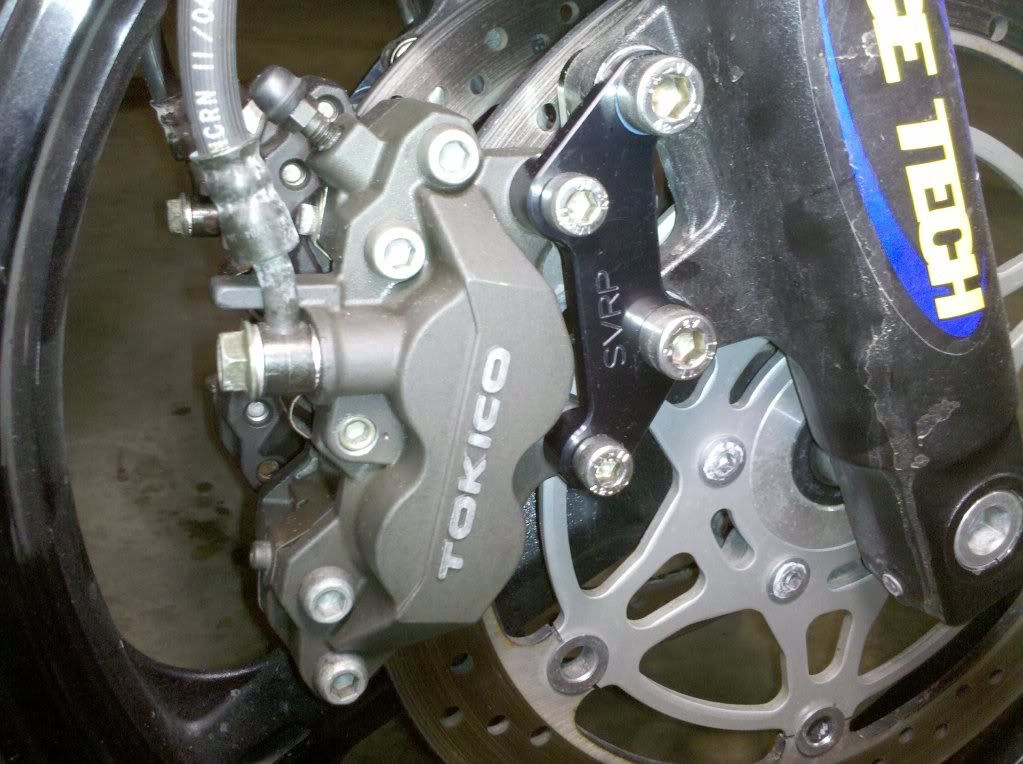 I bought the calipers from a guy on eBay for $40 shipped. They were from a 2002 GSX-R750 and they were in great condition. I disassembled and cleaned them, reassembled, and waited for my parts from Blair.
The adapter brackets from Blair arrived quickly, and with superb customer service. Blair called me within a few minutes of emailing him and made a couple of friendly suggestions for the install, during our call. Once the brackets arrived, I just had to sort out some time for the install.
Put them on yesterday afternoon. First I bled out the stock calipers through the bleeder screws, both sides, to drain as much out as I could. Then I removed the calipers and let the lines drip into pans on each side.
Installed the adapter brackets to the forks, using generous amounts of loctite, and torqued the bolts to 40 Nm on each M10 bolt. Next, I installed the calipers to the adapter brackets and torqued these bolts, again with generous amounts of loctite, to 25 Nm. I backed out the pad locating pins, and applied some loctite here too, and torqued these to 16 Nm.
Lastly, I installed the brake lines to the calipers, with new crush washers on both sides of each line (4 washers required total), and torqued the brake line bolts to 23 Nm. I re-used the original brake line bolts, because the GSX-R750 calipers had one long bolt (two brake lines) and one short bolt (single brake line).
Bleeding the brakes took a bit of time. I filled the master cylinder and cracked open the bleeder screws. Nothing happened. I shut the bleeder screws and pumped the master cylinder several times, and I had a lot of air bubbles coming out. Finally started to get some feel in the brake lever, so I cracked open each bleeder screw, one at a time, and bled them through a clear tube to see what I was doing. Once completed, I topped off the master cylinder and installed the cover, and tightened the bleeder screws to 7.5 Nm and cleaned up my tools.
Can't ride now, as the roads are covered with snow and ice. The feel is good, if not great, as much as I can tell rolling it around on my shop floor. Once the roads are dry, I will be able to seat the pads and get a good feel for the performance of this setup. I cannot wait!!!