Discussion Starter
•
#1
•
I just went do to Best Buy to try and figure out this GPS mounting dilemma. My bike is new to me, and I don't really want to go running a couple holes through any part of my dash, I also don't have scrap metal laying around, nor a way to bend it nicely if I did. I don't have ingenuity, creativity, time or patience. But thank goodness I had $16 and a Best Buy near by....oh and 3 black zip ties.
Here is what I did.
The mount is made by IQ Smart Solutions, and the model is the ZR Universal GPS Mount. It comes with attachments for all the major brand GPS units (I have a Garmin).
I was planning on trying to use the 3M Sticky Pad to stick the base to the windshield down behind the windshield bracket...but then I realized something.
If I leave the suction cup piece and the sticky pad piece off the base plate, it squeezes down between the windshield bracket and the plastic housing for the gauges...LIKE A GLOVE! I crammed it down in there, adjusted the angle for the GPS and took off around the block without any problems. I decided that this probably wasn't save for the long haul (especially on anything rough) so I grabbed a couple zip ties and got creative. Here are some photos, sorry a couple are blurry but you will get the drift. This was the easiest thing I have ever done, and absolutely NO permanent damage to the bike at all. I could easily take the windscreen off and cut the 3 zip ties and it would come right off.
I hope this helps a few people out. Cheers!
Here is the page from their website, you can see the base unit has a screw on the top of it, this screw simply holds on which ever of the two base pieces you want (suction cup or 3M sticker). Without that screw on their and without the suction cup or 3M sticker the thickness of that base unit is PERFECT to stuff down in between the windscreen bracket and bike.
Here it is complete with the package so you know what to look for.
From the front without the windscreen.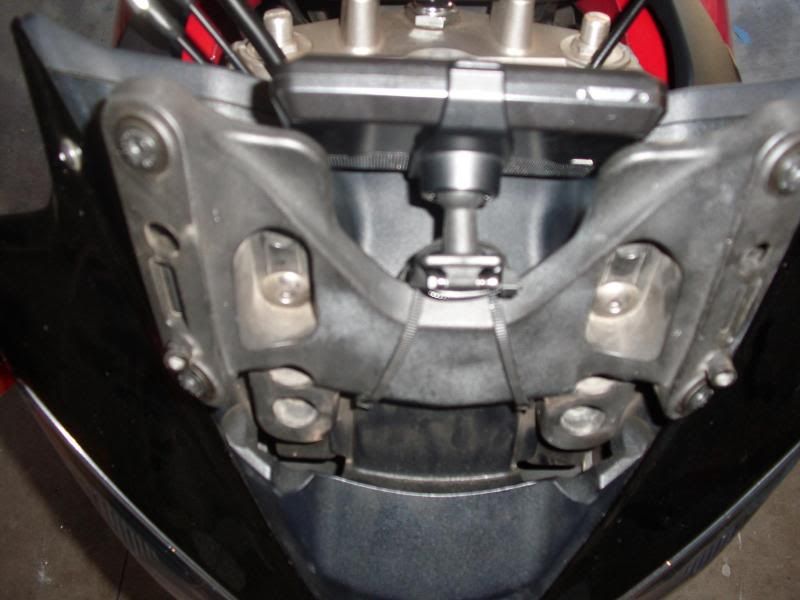 From the handlebars without the windscreen.
From the side...You can see that third smaller looped zip tie. That was because the Garmin attachment kept trying to slide out of the base unit. I slapped that on there and it isn't going anywhere!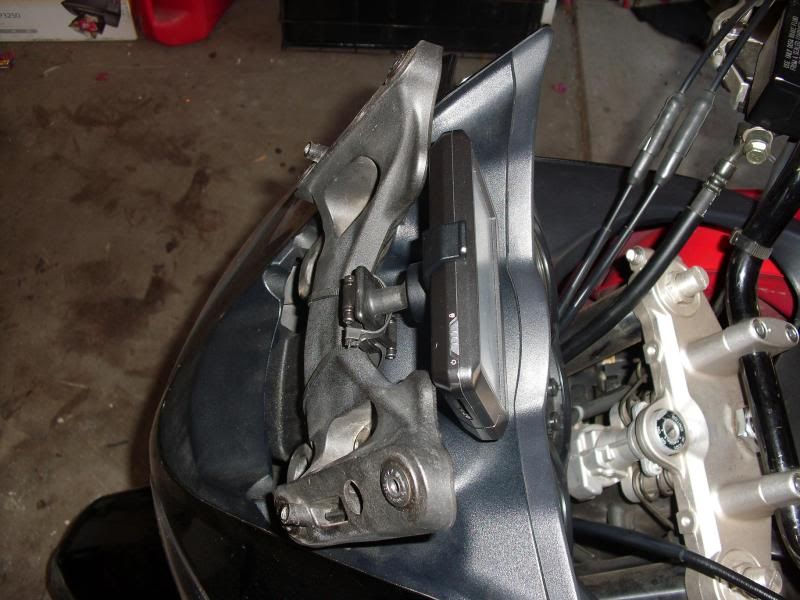 With the screen, plenty of room there for a larger GPS if you have one.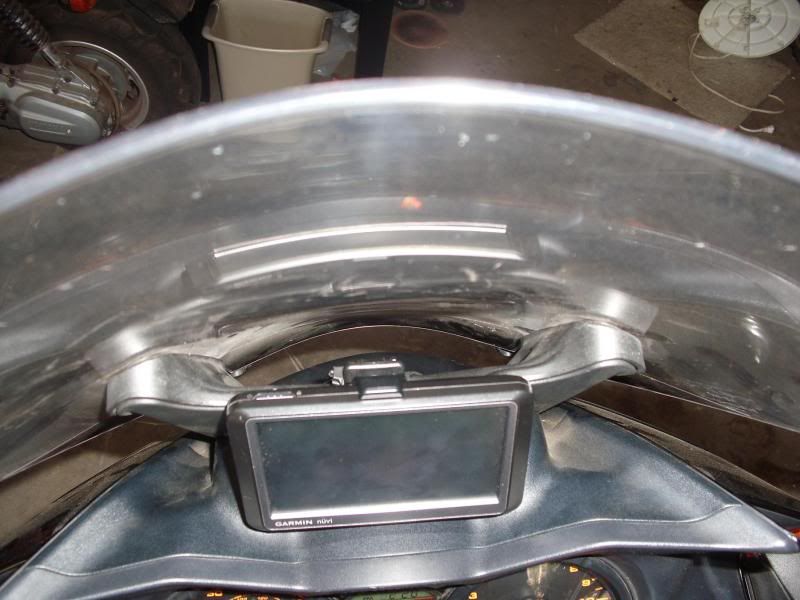 All done!