I needed a place to keep liquids at the ready when I wasn't using my camelback. Taking a que from a fellow strommer I came up with this idea. I mounted two bicycle waterbottle cages one on each engine guard.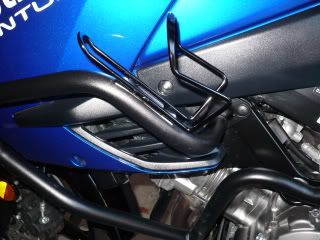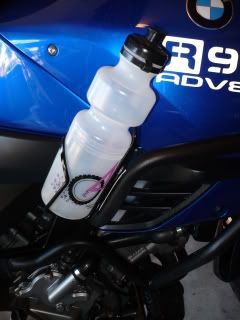 I went to the local bicycle and purchased two aluminum "Specialized" cages.
Then stopped past the local hardware store for some #10x1/2" self tapping screws, washers, and some two sided mounting tape.
I started by locating a proper location on the crash bars and then double checking to see if it would interfear with me or the operation of the motorcycle.
Once I esablished the proper placement, I marked the location of where the holes needed to be drilled. I then drilled two small pilot holes in each engine guard where the cages were to be mounted. I then screwed (with a cordless drill) each self tapping screw (phillips pan head as the hexhead is too tall) into place without mounting the cages. I then removed each screw. I used an oversize drill bit to chamfer the holes slightly to debur them.
I cut two strips of the thick, two sided, tape. I then mounted the tape to the backside of the waterbottle mount. I poked holes in the tape where the screws protrude through. I then inserted the screws, with the washers in place, into the mounting holes on the cages.
Put a dab of regular RTV silicone in the holes to seal them up from moisture. Then remove the backing from the two sided tape and install the cages. I used a regular screwdriver to tighten screws.
The time it took to do this was 15 minutes from start to finish. Since I now have a modular helmet, this will be my primary means of hydration while I'm out riding.
Added content: The two sided adheasive strips are there to quell the vibration between the two parts. You could use foam, rubber, etc to accomplish the same thing.