Discussion Starter
•
#1
•
Today's Adventure:
We rode into Joshua Tree National Park on my new '16 DL650. My intent was to go explore some of the dirt roads that we've been unable to enjoy on my Goldwing. Being the responsible adult I am, I stopped at the visitor center to check road conditions and get the ranger's advice on the best route. We opted for the Geology Tour Rd. It's an eighteen mile loop with an option to continue down a 4x4 road onto Dillon Rd by the I-10.
As we turned off the pavement we found a freshly graded super smooth dirt road. It seemed a bit boring but I figured it would be a great way to get Lisa, my wife, used to off-road riding as a passenger. After a couple miles it turned into a washboard surface. Soon we began our decent into the valley. The road was at first, lightly covered in sand then the sand became more reminiscent of riding on the beach. It was near impossible to keep the bike on the desired line of travel but with our downhill momentum we were keeping the bike "rubber side down" Fortunately there was no traffic and the road was plenty wide. This section was where Lisa first yelled "I DON'T LIKE THIS". After about 8 miles we reached the turn to take the 4x4 route to I-10. We had some nice hard packed sections with a few ruts and rocks but we handled it well and really enjoyed it.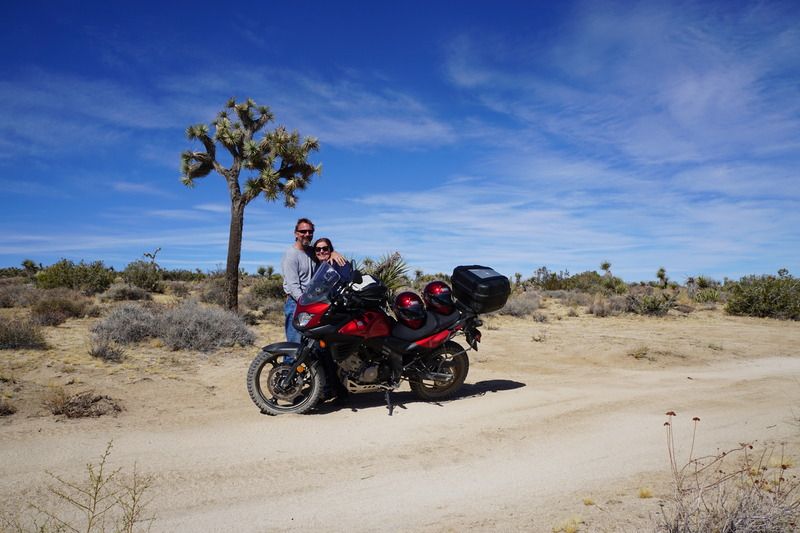 A few more miles we came across some stopped vehicles. The route was now impassable for us due to large rocks. Time to turn around and relive all the past excitement in the opposite direction. Had a few pucker moments trying to ride sideways in the sand while avoiding the rocks and bushes. Again with the "I DON'T LIKE THIS" from the back seat.
Finally we're back ready to climb out of the valley. Holy crap!!!! I thought going down was tough. We fought the sand and the sand won.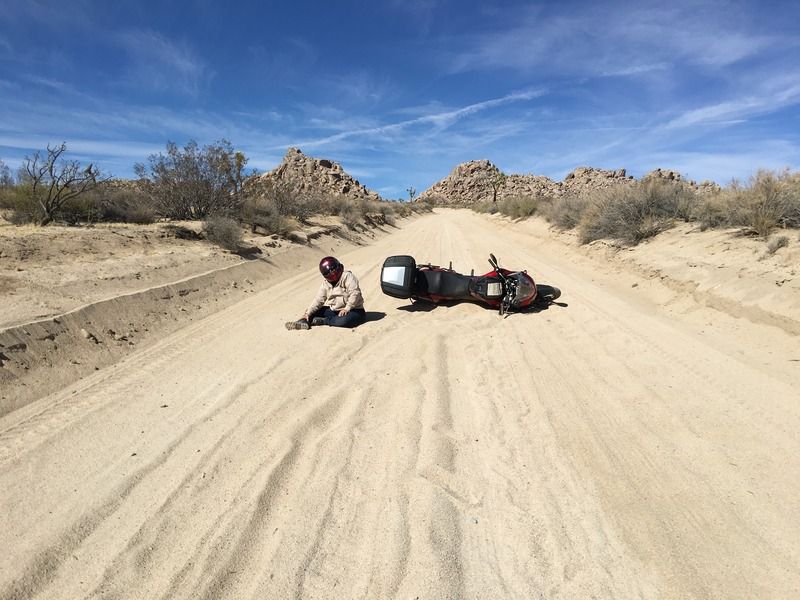 The funny part was after we hit the ground, Lisa's attitude went from "I don't like this" to hysterical laughter. She said she was totally comfortable once we had room to fall without hitting any rocks.