:thumbup: Hi Everyone, There are now Carbon and Titanium 2012 DL650 Akrapovic Exhausts for our 2012 up DL650 bikes at $724.99 on their way in to me right now. They can beorderd now from me by Emailing Me at
[email protected]
This is Stromtrooper Discounted from $899.99 at Akrapovic retail,
Email me Directly for your DL650 Akrapovic Exhaust at
[email protected]
and I will get you looked after right away,
The DL650 Akrapovic is good to go, and works well, with all known Skid Plates for our bikes and with the Center Stands. Many members are running with these parts installed and there has never been any reported issue with fit or performance,
Dealer Cost on these is $667, so there is a $58 Gross Margin less the $22 (3% transaction fee or credit cards or PayPal), and the Net Margin on them to you Guys is $36, If they cannot be sold at this price, then it will not be possible to stock them any more for my fellow Stromtroopers,
And Remember, If you decide to add in the Power Commander for your bike through me at SV Racing Parts, I will be happy to send you a copy of my Custom Made Dyno Map made for our bikes with the DL650 Akrapovic Exhaust,
I will also include the Ti Bung Plug for the Akrapovic if you do not have the O2 Sensor installed in your bike model or the O2 Sensor Reducer if you do have the O2 Sensor on your bike for Free,
Both Titanium and Carbon DL650 Akrapovic Exhausts for our DL650's are now available in stock and ready to ship,
Email me Directly at
[email protected]
and I will get you looked after immediately,
I
have the Akrapovic fit the 2004 - 2011 DL650 models In Stock and Ready to Ship,

I also have the New Akrapovic to fit the 2012 DL650 Models in transit to me now and will have them available to ship to my fellow Stromtroopers within a few days now, 2012 Models are available in both Carbon and the Titanium Canisters, Your Choice of Canister Finish, same $724.99 for either Carbon or Titanium,
The Akrapovic Exhausts work with Skid Pates and with Center Stands.
Email me for the Akrapovic Exhausts at
[email protected]
Here is a sound clip of the Akrapovic on our bikes,
09 v-strom akrapovic exhaust - YouTube
Go to
SVRacingParts.com
to order them.
To order the Akrapovic Exhausts and accessories; You Go in under For Stromtroopers on the upper left categories, then under Akrapovic Exhausts for DL650 Choose the parts you want from the drop down boxes and check out any time you like,
These Exhausts Bolt Right on and come with all hardware you need to Mount them. The connector pipes are redesigned to clear the rear caliper relocation on the 2012 DL650. This is the best of the Best in Exhausts for our bikes,
The Pipe is tucked in nicely so no issues at all with Racks and Hard bags Mounted, Better Clearance than our stock pipes on the racks. Less Heat Generated at the Canister than the stock pipes as well,
Ready to ship at $724.99 for as long as this inventory lasts.
I match all legitimate Dealer Prices to Stromtroopers everywhere and I Ship Internationally every day,
There is not a big margin in these things but I hope that my fellow Stromtroopers will do me the courtesy of coming back to me and letting me know what others will do and giving me the opportunity to do whatever I can for you as a long term fellow Stromtrooper and Vstrom rider,
Remember First and Foremost I have been a Stromtrooper from the beginning of Stromtroopers and do everything I can to bring us great parts and products including all those that I manufacture and have developed specifically to meet our Stromtrooper needs,
Here is the Real Bonus to my Fellow Stromtroopers.
I had the opportunity to complete a Custom Map for Power Commander for use on our DL650 Bikes that I will be providing with the Akrapovic Exhausts as an Added Service to my fellow Stromtroopers, This will save you a minimum couple of hundred dollars in Dyno Tuning Time and get your bike running right,
I will also have the PC - V Power Commanders for our 2012 bikes in stock and ready to ship as well within a very short period of time, they are on order now so purchase with confidence,
Everything is In Stock and Ready to Ship today,
Your Choice of Carbon or Titanium with Carbon Tip,
This is a Stromtrooper Savings of at least $175.00 on the Akrapovic Exhaust,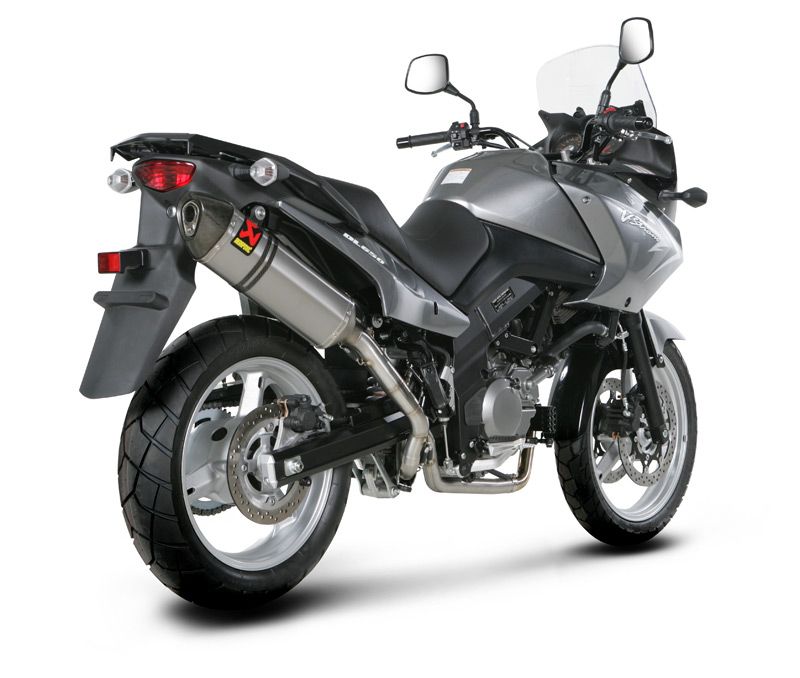 Email me Directly at
[email protected]
and I will get you looked after right away,
No PM Please, Email is fast and makes it much easier for me to help you out quickly,
Here is a sound clip of the Akrapovic on our bikes,
09 v-strom akrapovic exhaust - YouTube
**Edit note, I just located this chart from Akrapovic on the bolt on improvement of the Pipe on our stock bikes,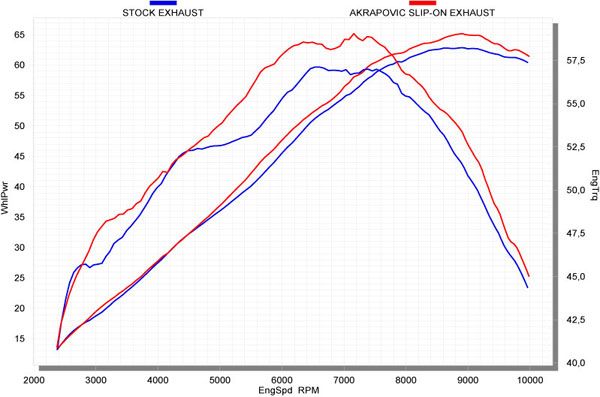 I can tell you that with the Power Commander and my SV Racing Parts, Custom Map for the Akrapovic to get you going; You will get you a very pleasant bump up in smooth power and performance from the Akrapovic Exhaust as well,
Let me know whenever you are ready, I will get you looked after right away,
Enjoy the ride, and best regards,
Blair