Discussion Starter
•
#1
•
The date has been set:
April 24, 2010
.
Start your rallying season right! Explore scores and reports from our previous years.
http://www.thumbwave.com/lowcal250/
Lots of useful tips on our FAQ page, like:
Do not attempt to learn to use a new GPS or software during the morning meeting!
:blink:
=====
Last year's winning route: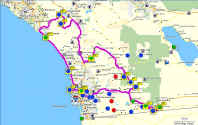 =====
Come out and have some routing and riding fun. If you want to use the rally dinner as a RTE or a finish for a SS1K, BBG, or 50CC get in touch with me and I'll try to help you get what you need lined up on this end.