Stromthusiast!
Super Trooper!
Join Date: Jun 2012
Location: Cuernavaca, Mexico
Posts: 369
New Mini Screaming Banshee Air Horn
---
I received an email today from Screaming Banshee about their new, smaller air horn and stock horn controller.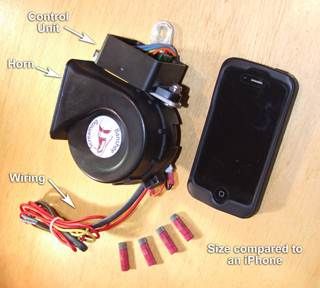 From the email:
Many of you have emailed us with great stories and even videos of your Banshee's in action - thank you for all the great feedback!
Commonly, however, many of you have asked us to create a system that's smaller, simpler and easier to install while still being just as loud.
We've listened to this, and in response we have developed an exciting new product that we are calling the "Plug & Play Screamer".
We've recently completed the final design and the Plug & Play Screamer is now ready to go to market.
In order to help us get this project off the ground, we've decided to launch the idea on a crowd sourcing platform called Indiegogo. With the funds received from this project we will be able to start a large scale production run of the Plug & Play Screamer.
We invite you to check out the project for yourself, and as always we welcome your feedback!
Best Regards,
Peter Olt
PS: Since the delivery will be in November, the Plug & Play Screamer makes an affordable and unique Christmas gift idea.
$79 for a single unit...
---
[SIGPIC][/SIGPIC]
'10 Vee Adv
Multiple Farkles
:
Stebel Horn with Screaming Banshee,Gorilla Alarm, Madstadt Bracket, RichlandRick's fork brace, accessory shelf and mirror extenders, PCV, Twin 12v outlets, Twisted Throttle and EB Fuse Blocks, Admore Light Bar, GPS and Contour Camera Ram Mount, Bark Busters, 8k HIDS, Omni-Cruise Throttle Lock, Altrider Bars, sliders and side-stand foot. Wolfman Rainier Tank Bag, ADVMonster "30" Aux Lights