A stupidly easy GPS mount (NO SCREWS, NO STICKERS)
---
I just went do to Best Buy to try and figure out this GPS mounting dilemma. My bike is new to me, and I don't really want to go running a couple holes through any part of my dash, I also don't have scrap metal laying around, nor a way to bend it nicely if I did. I don't have ingenuity, creativity, time or patience. But thank goodness I had $16 and a Best Buy near by....oh and 3 black zip ties.
Here is what I did.
The mount is made by IQ Smart Solutions, and the model is the ZR Universal GPS Mount. It comes with attachments for all the major brand GPS units (I have a Garmin).
I was planning on trying to use the 3M Sticky Pad to stick the base to the windshield down behind the windshield bracket...but then I realized something.
If I leave the suction cup piece and the sticky pad piece off the base plate, it squeezes down between the windshield bracket and the plastic housing for the gauges...LIKE A GLOVE! I crammed it down in there, adjusted the angle for the GPS and took off around the block without any problems. I decided that this probably wasn't save for the long haul (especially on anything rough) so I grabbed a couple zip ties and got creative. Here are some photos, sorry a couple are blurry but you will get the drift. This was the easiest thing I have ever done, and absolutely NO permanent damage to the bike at all. I could easily take the windscreen off and cut the 3 zip ties and it would come right off.
I hope this helps a few people out. Cheers!
Here is the page from their website, you can see the base unit has a screw on the top of it, this screw simply holds on which ever of the two base pieces you want (suction cup or 3M sticker). Without that screw on their and without the suction cup or 3M sticker the thickness of that base unit is PERFECT to stuff down in between the windscreen bracket and bike.
Here it is complete with the package so you know what to look for.
From the front without the windscreen.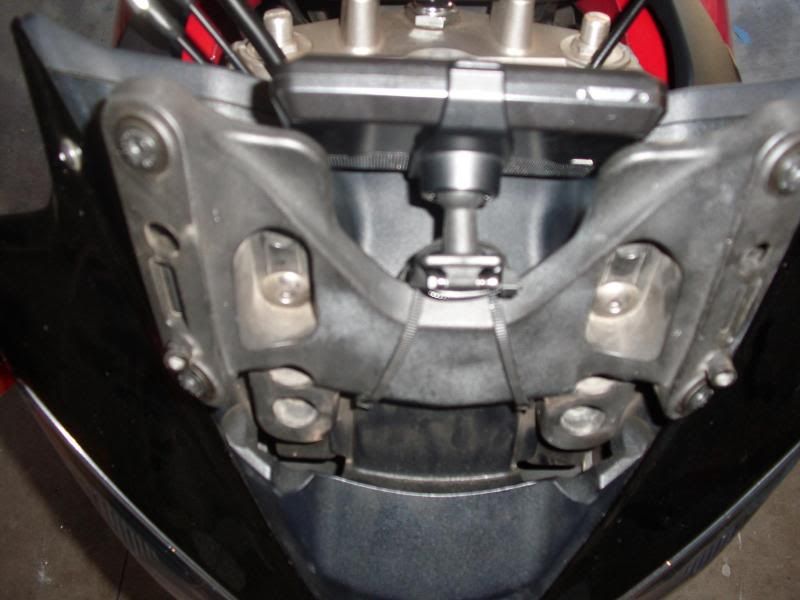 From the handlebars without the windscreen.
From the side...You can see that third smaller looped zip tie. That was because the Garmin attachment kept trying to slide out of the base unit. I slapped that on there and it isn't going anywhere!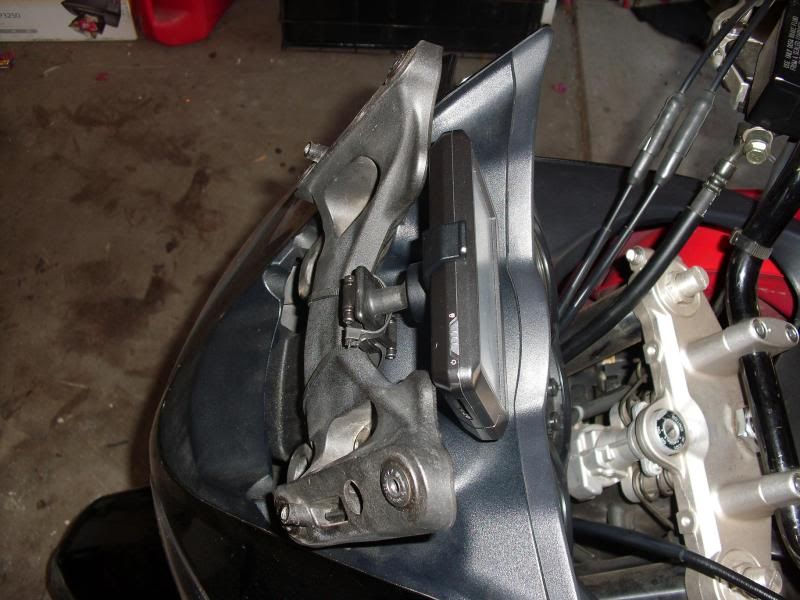 With the screen, plenty of room there for a larger GPS if you have one.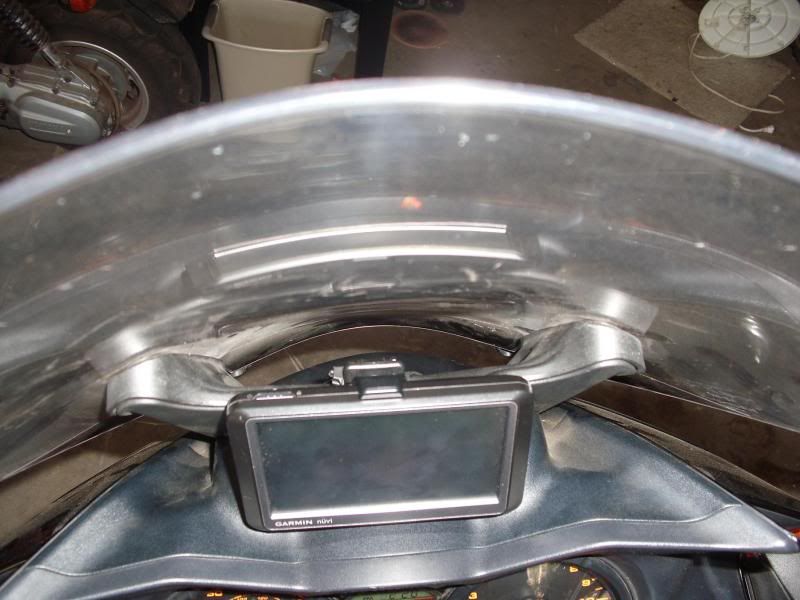 All done!
---
Yes it's fast, no you can't ride it.
Stromthusiast!
Join Date: Sep 2009
Location: Seattle
Posts: 381
Looks great!
---
Looks like it belongs there! I like the cheap part too. How's the vibration in that area?
---
DL650k9 Orange
Stromthusiast!
Join Date: Sep 2009
Location: Seattle
Posts: 381
Dirt, Also, how did you wire it up? I think I see a wire coming out of the base but where does it go?
---
DL650k9 Orange
I am anticipating some vibration, but I haven't run it up past 30 mph yet with it on there. It's 97 degrees outside right now....so it's going to have to wait a few more hours or until tomorrow when I am going over to a buddies to get power to the GPS unit. The ride down to his house is about 40 minutes at freeway speeds, that will be a good test. It either works...or the GPS will be scattered down the side of the freeway
---
Yes it's fast, no you can't ride it.
We were typing at the same time. It doesn't have power yet. I am going to put a cigarette lighter 12V plug someplace tomorrow and just plug it in running cord through a small hole (it's already there, where two pieces of plastic meet) behind the windscreen mount. I will take some photos. I am not sure where the plug will be yet (maybe under the seat, maybe under the dash...not sure).
---
Yes it's fast, no you can't ride it.
If I run into vibration issues, I might try to get some padding down between the windscreen bracket and the dash, I think if I remove a few screws I can get it wide enough to fit some rubber strips in there, and then sandwich it all back together.
---
Yes it's fast, no you can't ride it.
I logged 300 miles this weekend on an overnight touring trip. The GPS was sweet! There was very little if any vibration. I ended up adding the Pat Walsh shelf as well, it fit under my GPS mount without any problems. So the GPS is the exact same, I just have a shelf there as well (not really sure why yet...but someday that shelf will come in handy).

I also added a 12V outlet (cigarette lighter plug) to the bike. I will have to take a photo of where I mounted it, very nicely done (thanks to my buddy Grinchmob).

Anyways, if you are looking for a cheap, easy, non-invasive GPS mount, you can't go wrong with this one.
---
Yes it's fast, no you can't ride it.
Stromthusiast!
Join Date: Oct 2008
Location: Fort Collins, CO
Posts: 30
I just added this to my bike tonight. You're right - stupid easy. It's easy enough to do that I could see my self putting it on and off when I need it for a trip. I'm a little worried about how secure the GPS unit is, but I'll bang it around when I go for a test ride. Thanks for the tip on this.
Here's my easy, no drilling mount
---
Strom Squadron Member #6

Silver Strom Club #29