My Clearwater Glenda LED lights
---
http://picasaweb.google.com/10012231...eat=directlink
I received some LED lights from Clearwarterlights.com a few days ago. They were very favoribly reviewed on webbikeworld.com. This was the first Vstrom 650 kit so they said I was a bit of a test run for installation by an electro-noob. Installing them was not much of a problem. The hardware fits perfectly, and a K7 wee has holes already in the cowling for the wires. Thankyou Greywolf for showing me me where the yellow high beam wire is (noob remember). Also having an EB plate greatly simplified installation because all I had to do was attach ground and hot wires.
The lights come with a rheostat knob which is a major selling point for these lights. I can point them directly ahead and then adjust them from 0 to 100%. I was thinking of getting Denali lights but they are always at 100% and I would have to point them down to make them non-blinding. If I wanted to point them ahead I would have to stop the bike and adjust them. Glenda lights are extremely bright at 100% and they automatically switch to this when I am on high beam. At this setting the lights are many times brighter than my normal headlights. At 40% they are bright, but not blinding bright so I keep them at this when at low beam. They help me be "seen" during the day. They only draw 24 watts at 100%, less when turned down.
The lights are expensive, but I guess you get what you pay for. It was important for me to "be seen" as well as have very good driving lights at night. They are very white in color which makes them stand out during the day. This was my last LED farkaling project - Admore light bar in the back, Glenda lights in the front.
unk:
---
[B]2009 650 ABS[/B]
2nd Happy Glenda Owner
---
Wee-Strom Alernator Output Cured
OK, now that I have your attention ...
One of our few complaints about the DL650 is the small amount of surplus wattage it generates. For me my V-Strom grail was enough power for driving lights, electric vest, heated grips and small appliance charging. Well, that's what I now have.
I recently read about the Clearwater Glenda LED driving lights (
http://www.clearwaterlights.com/
) on WebBikeWorld.com (
http://www.webbikeworld.com/lights/m...riving-lights/
) but they didn't show an application for the V-Strom. Still they were what I wanted. Driving lights that only draw 24w were exactly what I needed. I sent Clearwater an email and Glenn, the owner, wrote back that they did indeed have a V-Strom application. I called to order my set and was told that the mounts were to be in on Monday and they would get them out Priority Mail right away. That was fine by me as that should give me a night to install them before leaving on Friday for Cambridge, NY for Americas's biggest one-day ProAm bicycle race (2,000 racers in 26 fields). This race is unique in American cycling as the course is 62 miles of which 25 are on dirt roads.
The light arrived in Thursday's mail nicely packaged in a 4"x6"x8" box with every part you might need. Since I was replacing a set of Optilux lights I already had wiring to the front of the bike so I probably saved 30 minutes there. Mounting the Glendas was the easiest part of the job. They mount beside the lower fork using the same mounting points as the fender. A flanged washer replaces the Allen-head screw and torquing to about 8 ft-lbs set them right were I wanted them.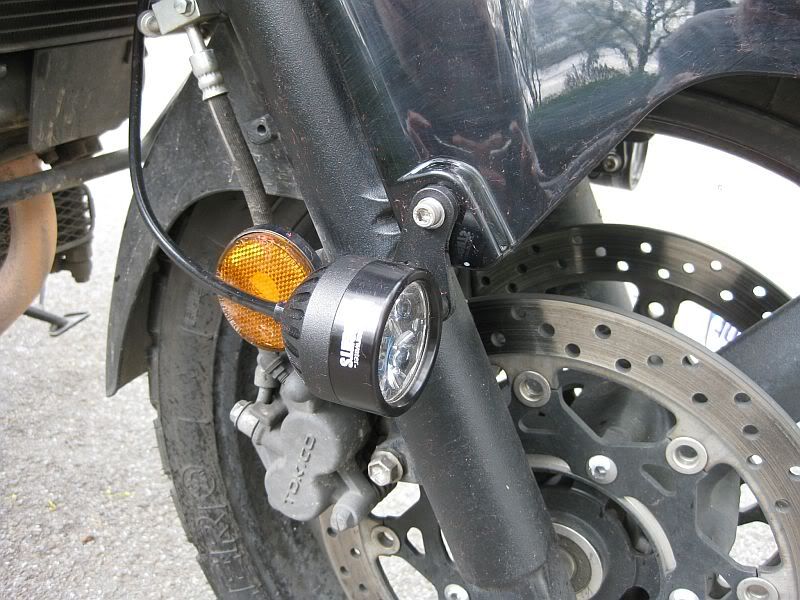 The Glendas are so bright at night they are too bright for oncoming traffic so the folks at Clearwater have two very ingenious (simple) solutions. One is a digital rheostat which mounts nicely on the V-Strom handlebar. I find that full brightness is the right setting for daylight but after dark about 33% is the right level. But isn't it a PITA to change the rheostat every time you want full brightness on those dark lonely roads that we have all over north central Pennsylvania?
That's the other solution. They added a small relay that is controlled by the high-beam circuit so that when you flip on the high-beams the Glendas go full bright.
I was able to do the full install in less than three hours and that included removing the Optiplex lights, moving my Whalen TIR3 LED flashing lights, making and eating my dinner and, of course, installing the Glendas.
So how do they work? OUTSTANDING!!!!
They are very bright during the day and their position down low gives them the geometry for the visibility triangle that safety experts say helps us to be seen by brain-dead cagers. But after dark they really (please forgive me) SHINE.
Yesterday I motorefed both the Women Pro and the Men Pro races at Tour of Battenkill (7.5 hours) then hit the road for the 6 hour ride home, I can honestly say I never enjoyed riding at night as much as I did last night. While the Glenda's are not truly driving lights, they do fully illuminate the 50-75 feet directly in front of you so that when you turn on the high-beams you have the impression of a very bright moon-lit night with very clear lighting right in front of you. I used to hate using the V-Strom high beams because of that empty space in front of me. No chance of seeing the crap that shows up whenever and wherever we ride. No matter where I'm coming from in the north, I must ride 50 miles on two-lane roads. They may call it US220 but it's still a two-lane country road. I never felt so much in control of my environment on a motorcycle.
Now for the best part, last night the temps on I-88 were in the high 30s and I needed heat. For the first time I was able to keep my driving lights on while powering my Gerbing vest, my heated grips, my GPS, my Autocom, my cell phone and my MP3 player. I don't know what else I might have needed but I do know my voltage monitor never left the green zone.
At $475, the Glendas are not cheap but they were worth every penny given their quality and utility. They are a lot cheaper a solution to our alternator output problem than buying a motorcycle. And they look really good on the Strom.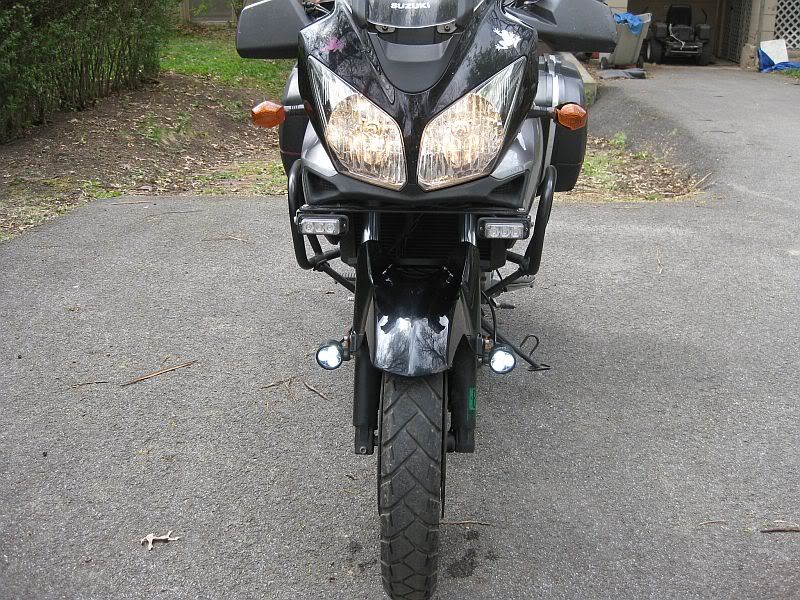 ---
Tom
VXRA 007
'07 DL650 +45,000 - Silver
'90 VX800 +53,000 - Maroon
'06 DL650 +07,500 - Silver (totalled by Bambi)
'01 R1150GS +27,000 - Silver (Sold)
'93 VS800 +34,000 - Red (Sold)
Read the VX FAQ @ [url]www.vx800.net/faq[/url]
Uh, just to make sure I read that right: You guys really paid nearly five HUNDRED dollars for a pair of lights?
---
Scott Craig - Nashville, TN
Red '06 Suzuki DL650 - Red '07 Honda VFR800 -
My Bike Page
I'm surprised that you keep your lights at 100% during the day - when I looked at them in my driveway in the sunlight 100% seemed like it would be dazzling. At night time, the lights at 100% makes reflections of signs so bright they hurt my eyes so I too keep it at 40% unless I hit the brights like you do. These lights will probably last the rest of my life, which hopefully will now be longer that I am more visable.

What are those other lights I see Tomb below your headlights?
---
[B]2009 650 ABS[/B]
Quote:
What are those other lights I see Tomb below your headlights?
Sorry for the delay in replying. Have been pretty busy lately.
Those are Whalen TIR3 LED flashers that I use in bicycle races where we constantly need to confront motorists who don't understand that for about 10-15 minutes, the cyclists own the highway.
---
Tom
VXRA 007
'07 DL650 +45,000 - Silver
'90 VX800 +53,000 - Maroon
'06 DL650 +07,500 - Silver (totalled by Bambi)
'01 R1150GS +27,000 - Silver (Sold)
'93 VS800 +34,000 - Red (Sold)
Read the VX FAQ @ [url]www.vx800.net/faq[/url]