LED flasher relay install
---
I hate cutting and splicing wires on an unmolested wiring harness. So, when it was time to add a flasher relay to calm down my LEDs this is what i did.
Lockhart Philips flasher relay for Suzuki. It's not plug and play like Kawi, Honda, and Yamaha.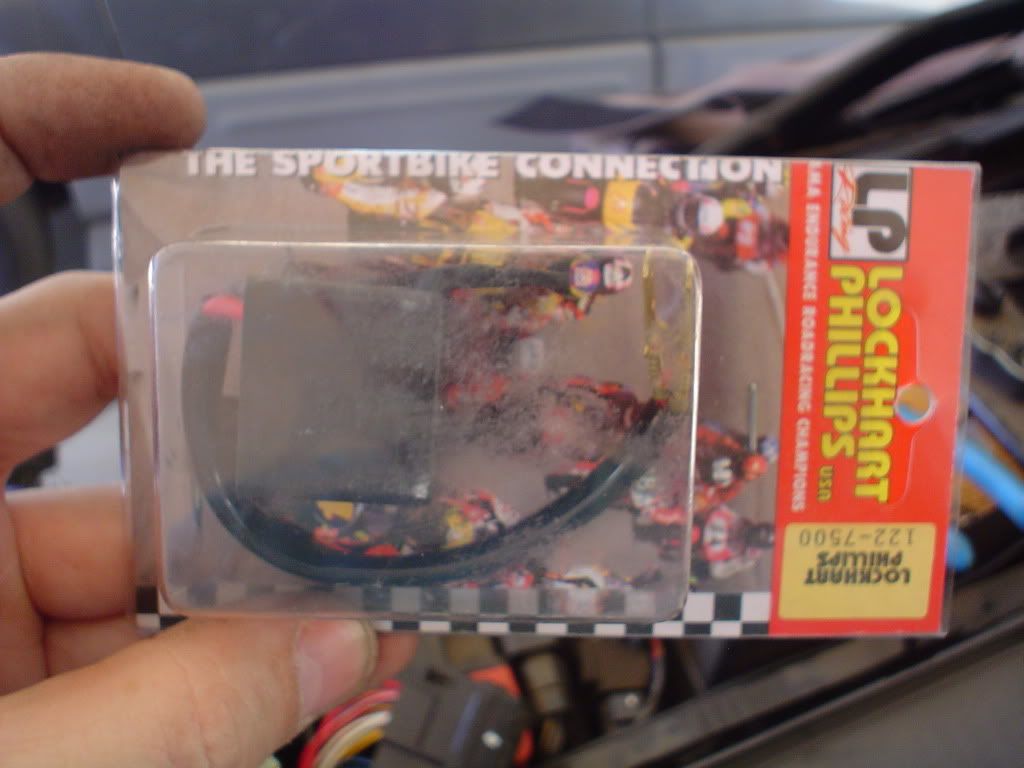 Pull the OEM relay next to the fuse block.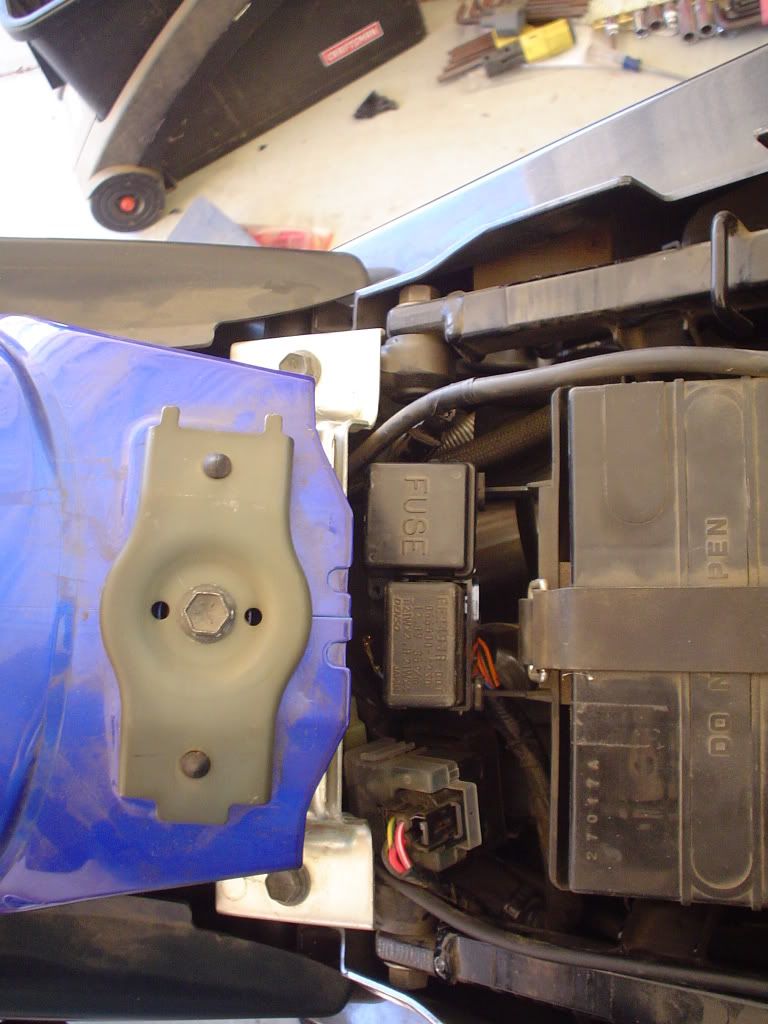 Push the connectors for the flashers out of the relay receptor. There is one empty space. The flasher connectors are next to it (bottom spaces 2 and 3 from left in my pic with the wires already removed).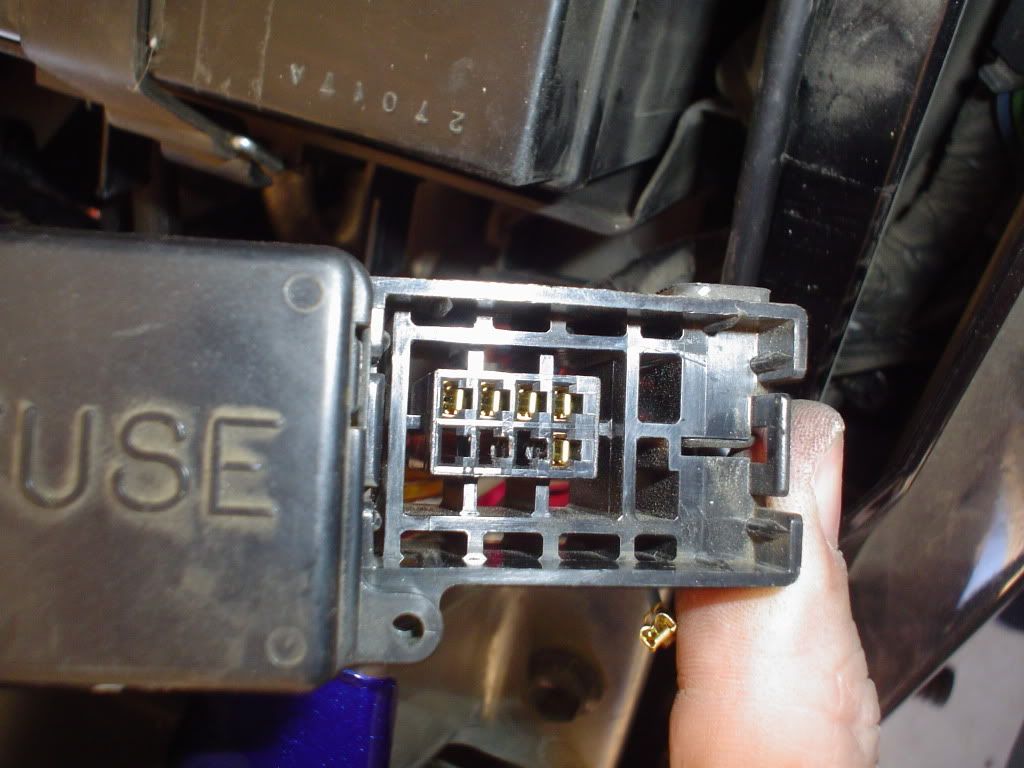 Space 2 is + (in my case brown wire) and space 3 (light blue) is -. Don't know if it matters but that's what the book says.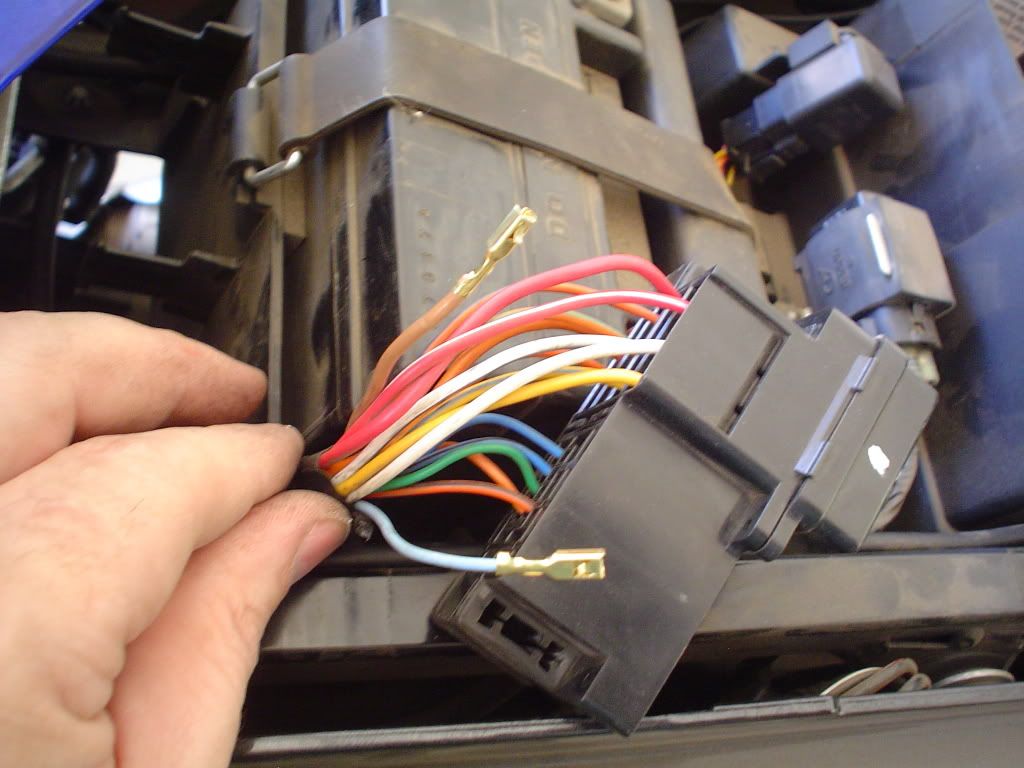 Eastern Beaver sells these dual receptors (size .110).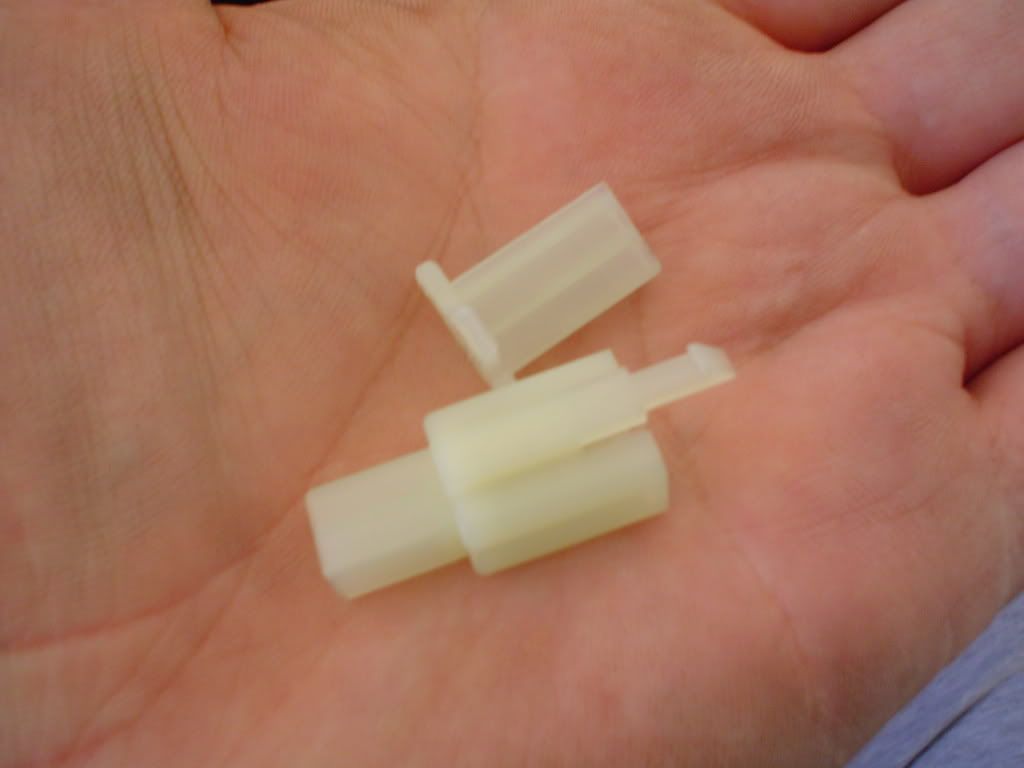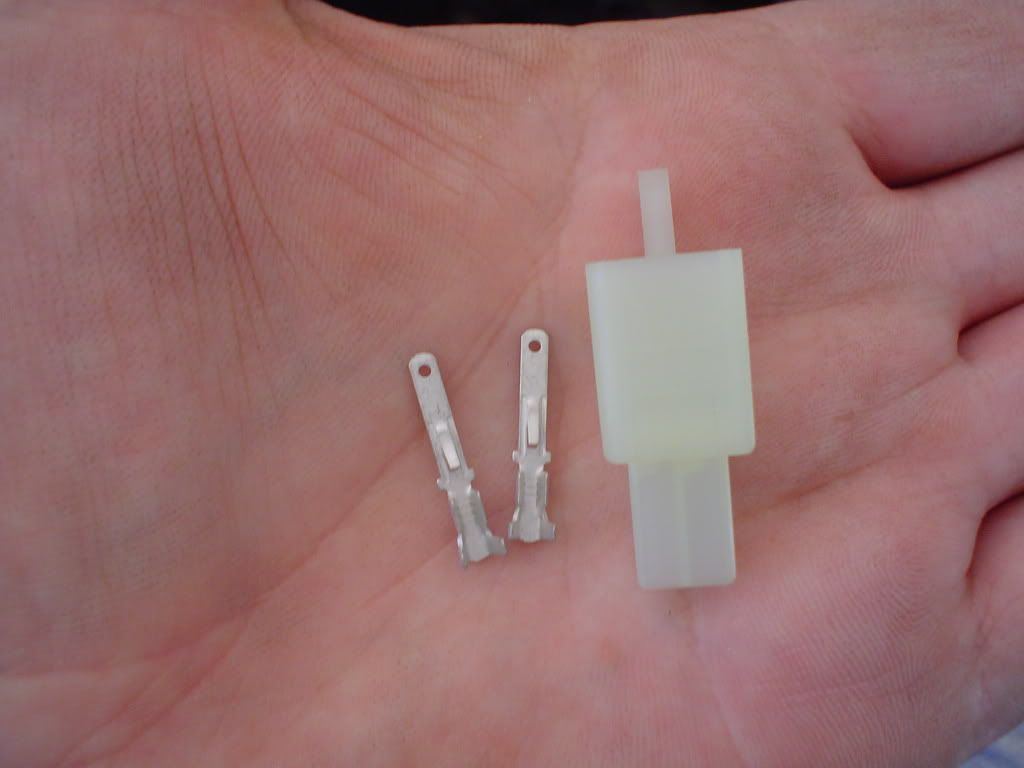 Push the male end onto the OEM spade receptors.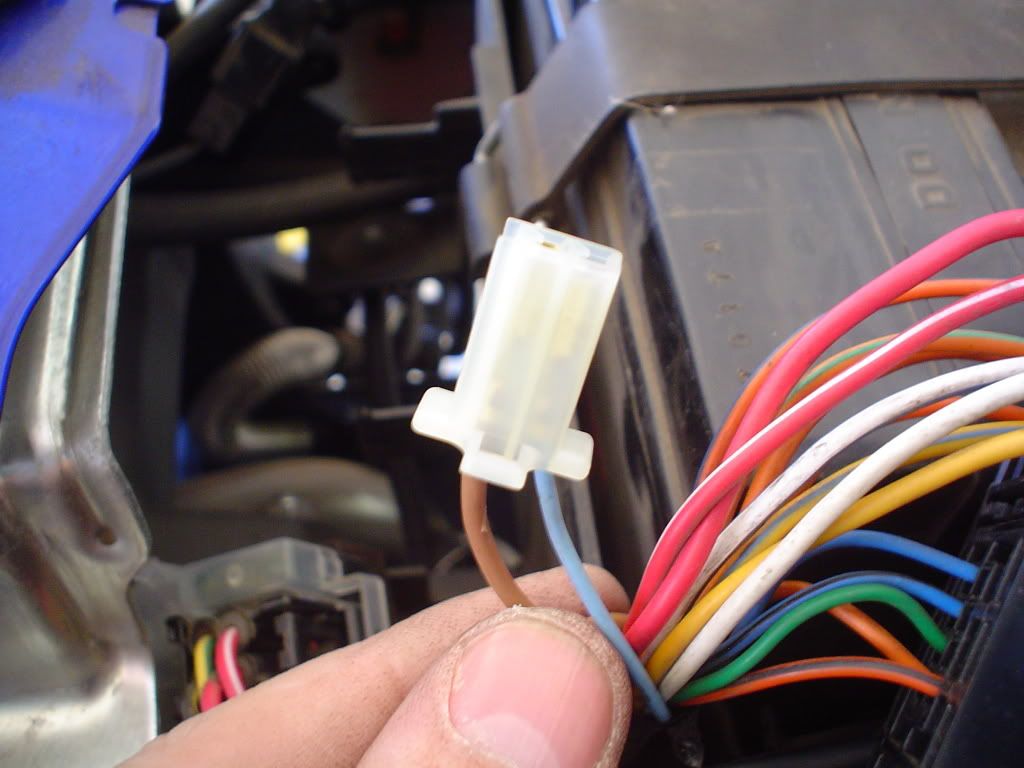 The new relay's spade bits are too big.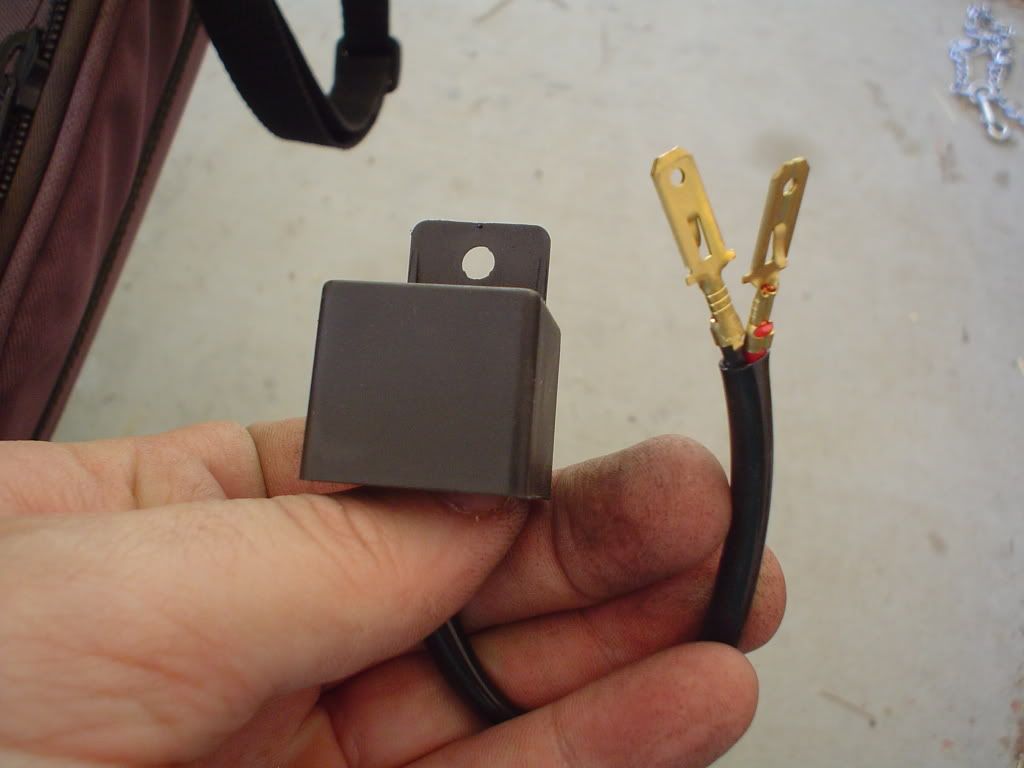 Cut them off and crimp on the ones that come with the Eastern Beaver part. Push them into the female receptor while ensuring that + and - align with the way you did it on the bike. Again, i don't know if it matters but it can't hurt. I also
assume
that red is + and black is -.
Plug the two together and put everything back where it belongs and find a place to hang the new relay and motor on.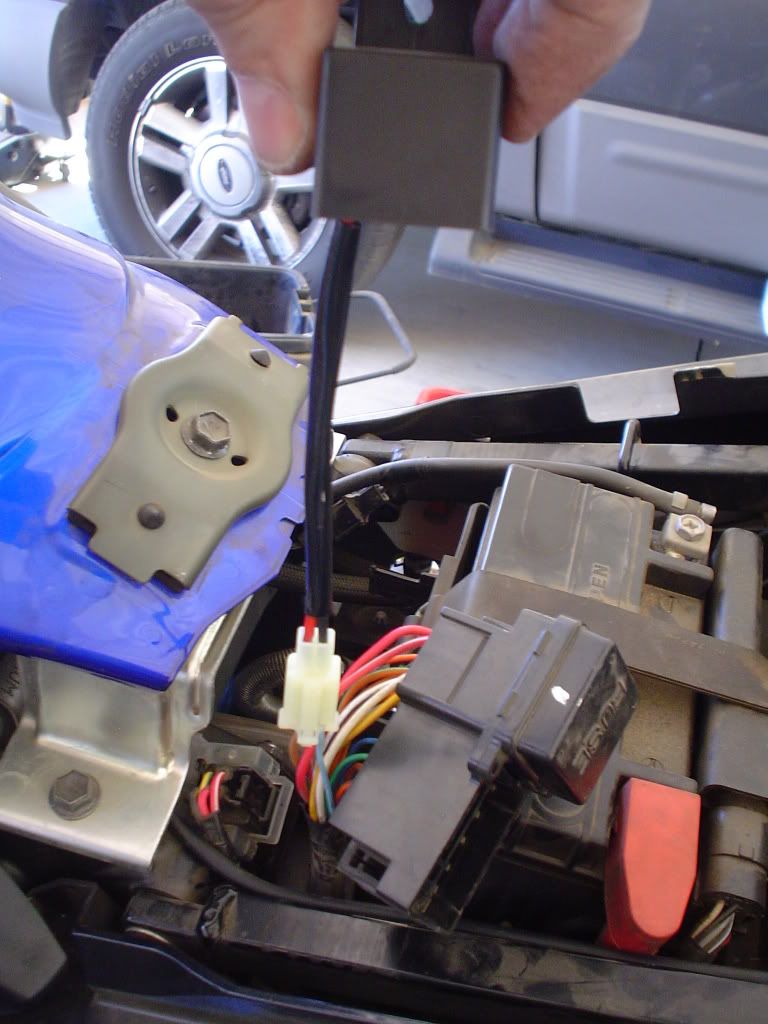 ---
Somtimes it sucks not being in the loop. HUH??[FONT="Comic Sans MS"][SIZE="2"][COLOR="Olive"][/COLOR][/SIZE][/FONT]
Stromthusiast!
Super Trooper!
Join Date: Mar 2009
Location: seattle
Posts: 517
Nicely done. I just cut & spliced & soldered & heat shrinked. One of these days I'll make it reversible and do it a better way.
---
[SIZE="2"]2009 ABS DL650[/SIZE]
Looks like I need to put together an EB order.
---
Vstrom 650 ABS
'09 DR650
'07 Vulcan 900 LT
Good job. A lot neater than mine, but the same idea of not cutting anything.
---
-Tom (DL650AL2) (KA1TOX) (E-I-E-I-O)
This message and images are licensed under the Creative Commons Attribution-NonCommercial-ShareAlike 3.0 Unported License.
http://creativecommons.org
FORUM GODFATHER.....R.I.P. PAT
Join Date: Jan 2006
Location: Evanston IL USA
Posts: 38,049
You guys are better than me. I couldn't get access to the back of the connector so just cut the wires. Maybe it's ABS bike differences but I didn't have the kind of access showing in the pictures. I don't see any reason to go back to the stock flasher anyway. Polarity does make a difference with an LED flasher. My first guess on hookup was wrong and it didn't work until reversed. Of course now I see catch access is from the top. Oh well!
---
Last edited by greywolf; 11-28-2009 at

08:25 AM

.
Good job on nice clear pictures. I would like to see this in the How-To links as well. Maybe with hints on getting that fuse block mount off the tabs. That was a PITA, I had to whittle a special pry tool out of some wood scrap.
I pushed the pins out of the original connector, though I used a tiny straightened paperclip to press the holding tab down on the pin, not having a better extraction tool. I didn't spend any time looking up a good connector. I just built a patch set of wires to wrap on the connectors and tape it tight.
I do like that you found the plug to use the existing pins. I should clean that up some day now. Do you have a picture for where your flasher ended up?
---
[COLOR="Blue"]'07 Vee[/COLOR]
:bom_!blank:[FONT="Comic Sans MS"][SIZE="1"] Let me recommend the best medicine in the world: a long journey, at a mild season, through a pleasant country, in easy stages.[/FONT] - James Madison[/SIZE]
[FONT="Century Gothic"][SIZE="1"]To mimic or to mock... that is the question.[/SIZE][/FONT]
[CENTER][SIZE="1"]* For Google Searching this site - type [FONT="Courier New"][I][URL="http://www.google.com/webhp?hl=en&q=site:stromtrooper.com"]site:stromtrooper.com[/URL][/I][/FONT] as part of your search words[/SIZE][/CENTER]
Quote:
... Do you have a picture for where your flasher ended up?
i did this kind of rushed before i had to head out for Thanksgiving dinner at my brother's. So, i just zip tied it to a harness that's just under the back of the gas tank. I'll update when i find the permanent location.
---
Somtimes it sucks not being in the loop. HUH??[FONT="Comic Sans MS"][SIZE="2"][COLOR="Olive"][/COLOR][/SIZE][/FONT]
Stromthusiast!
Junior Trooper
Join Date: Jul 2010
Location: Santa Rosa, CA
Posts: 1
Did it!
---
Thanks for the pictures and the part info. I did it, I did-id-id it!
I ran longer wires between the flasher and the harness wires to mount the flasher further away. I ended up mounting the flasher to the front of the "under the seat glove compartment" by drilling one hole and using an 8-32 washer/nut/bolt/blue locktite apparatus. I was looking at the spare mounts behind the battery (1 of 3 is being used by a stock widget), however I ruled out that after I realized it would block the battery hold down strap.
Now my flashers are off "manic" and back to "normal." Thankyouthankyouthankyou!
2007 Silver Wee
---
Last edited by sp8z; 07-20-2010 at

01:52 AM

. Reason: added bike info
so simple. was eastern beaver as helpful to you as they were for me? i mean i bugged him a lot before i did this and he always answered my e-mails timely and courteously. i would have lost patience with me after the 2nd e-mail and not bothered replying anymore.
anyway, glad to help. it's what this place is for, after all.
---
Somtimes it sucks not being in the loop. HUH??[FONT="Comic Sans MS"][SIZE="2"][COLOR="Olive"][/COLOR][/SIZE][/FONT]
Stromthusiast!
Join Date: Mar 2010
Location: Cyprus
Posts: 20
Hello guys! I just dropped the bike and broke the left signal, so i bought replacements, cheaper, and smaller, but since i instaled them my blinkers were running verry fast. so i looked on ebay and i bought this:
http://cgi.ebay.co.uk/LED-flasher-re...item1e5d52255c
and is working so fine. it is just a simple replacement. i was a bit terified about cutting wires, so i prefered a plug and play solution. also it works with leds.