SW Motech GPS mount and Madstad???
---
I'm thinking about getting a Madstad bracket (finally....). I currently have the SW Motech GPS mount for my Garmin 2610. Will this mount still fit up correctly with the Madstad? Anyone have this combo?? Thanks.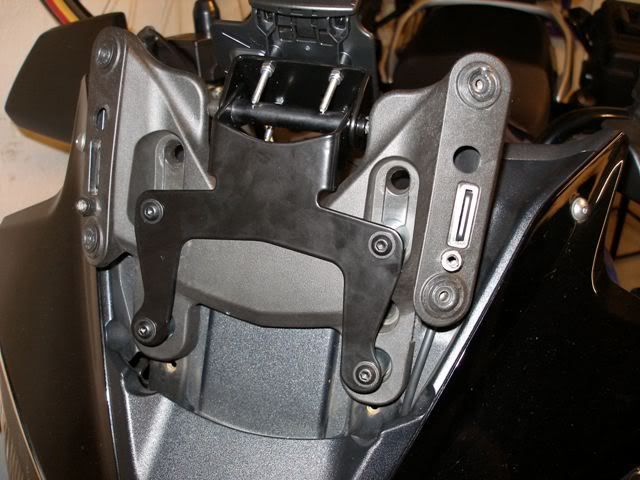 ---
I do not have that mount, but from looking at the pictures you should have no problem fitting it on a madstad bracket. It lines up with the original screw holes and remains narrower than the madstad.
---
dl650k5 -fully farkled- 65k miles. Sold but not forgotten
2006 fjr -roadrunner
Stromthusiast!
Join Date: Feb 2006
Location: Preskit, Arizona
Posts: 108
---
I had that combo, works fine.
---
matt
Stromthusiast!
Join Date: Nov 2006
Location: New Hampshire
Posts: 40
I have a Zuomo mounted on the SW mount with a Madstad.
---
07 650 ABS
76 Bonneville
This is a mount fabricated from 1" rectangular aluminum tube stock purchased at HD and painted. Had to buy 3' so I have most of it left for other projects.
Replaced the standard RAM bar mount with a flat one that bolted on with 1/4-20 x 2" carriage bolts. This setup is very rigid and puts the Zumo right up over the instruments where it's easy to see and hit the buttons.
---
2005 DL650 (sold) | 2009 DL650A (sold) | 2008 Tiger 1050 ABS | 2012 WR250R | 2008 CRF100F
I finally got the Madstad bracket too. I am using a Garmin 276C which is a big box of a GPS but is one of the most robust available. The size of the GPS makes it a little difficult to get to the Madstad knobs but it is dooable with minimal finger smudges on the inside of the windshield.

It may seem obvious to some, but it took some extra thought for me to realize that with the Madstad, you don't need to use the silver stand-offs that come with the Motech bracket. Especially if you have a large GPS unit like mine.

In barrel nuts we trust.......
---
-Todd
[FONT="Arial Narrow"][SIZE="2"]Yellow DL650K8
[/SIZE][/FONT][FONT="Comic Sans MS"][I][B][SIZE="1"][COLOR="RoyalBlue"]Farkelecious[/COLOR][/SIZE][/B][/I][/FONT]
SW Motech GPS Mount & Madstad
---
Yep, I have the SW Motech GPS Mount and a Madstad to run my Tomtom Rider 2. The combo works fine.

Dougal
---
_________
DL650 K8
SW Motech Centre Stand, Crash Bars, Bash Plate and GPS Mount. Givi luggage and racks. Madstad Windshield Bracket. Tomtom Rider 2 GPS. DriRider Voyager Tank Bag, Eagle Touring Screen.
I just want to post some pictures of my bike
---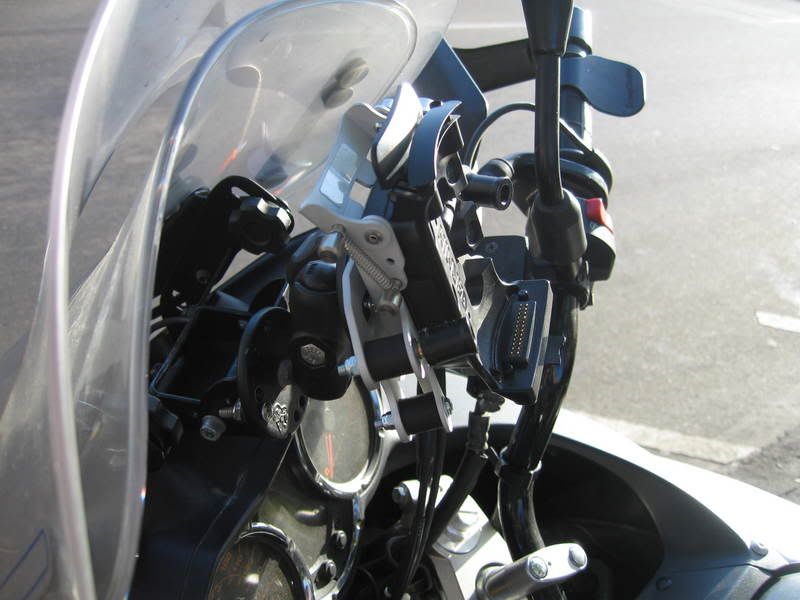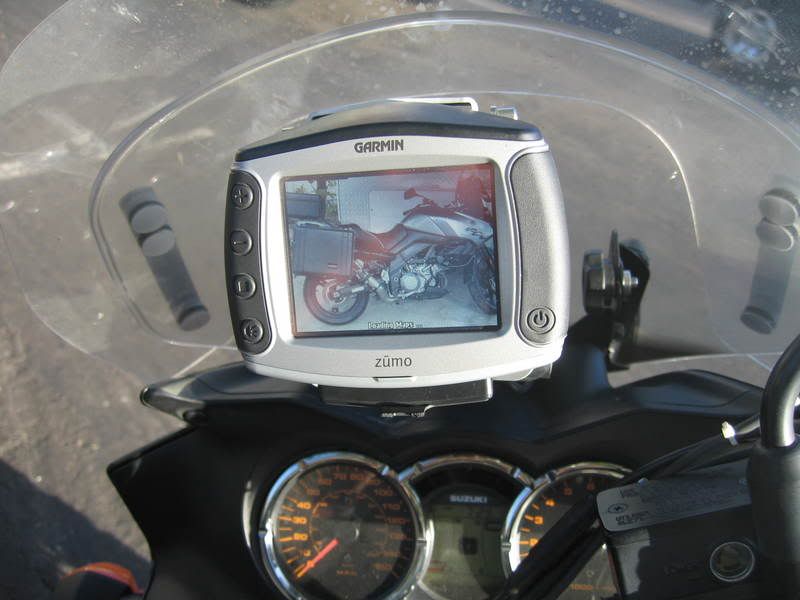 Works great!
---
'06 DL1000 Farkled
'04 XR650L

Stromthusiast!
Join Date: Feb 2008
Location: beautiful Vancouver, on the Wet Coast of Canada
Posts: 273
Wow, Cheff, that's a lot of hardware between the SW Motech mount and the Zumo. Why so much - what does it all do? Can't you go directly from the Motech mount to the Zumo cradle? Educate us.
yes you could go from the Motech mount to the cradle, but you will have to drill some hole on the motech mount of make an adapter plate.

Also when I put it right to the motech mount it vibrated much more. (I know it does not make sense) and it was to far out of my reach.

So I have the ram mount with a locking knob so they cant steel the Zumo or Cradle, to the ram mount I mounted a Touratech locking mount to have my Zumo even more secure.

It is an easy reach to the Zumo the way I have it mounted, and with all that security plus my alarm, I dont worry about someone walking away with it at a gas station etc.
---
'06 DL1000 Farkled
'04 XR650L