Stromthusiast!
Join Date: Sep 2014
Location: Lincoln
Posts: 61
Video Camera.
---
Could anyone please tell me what recording devices (if any) that menbers of this forum are using on their Glees. Obviously I am not to demanding I just want, top quality, cheap price, waterproof and secure simple mounting system. Have had a couple of occaisions recently (in the car) where video evidence would have been invaluable had things turned out slightly differently. I was going to try one device swapping between car and bike but as i can get a very reasonable car unit for £60 I will probably go for a dedicated bike unit.

Thanks.

Geoff.
I use a Contour Roam mounted on helmet (mostly) or RAM mount on top of fairing.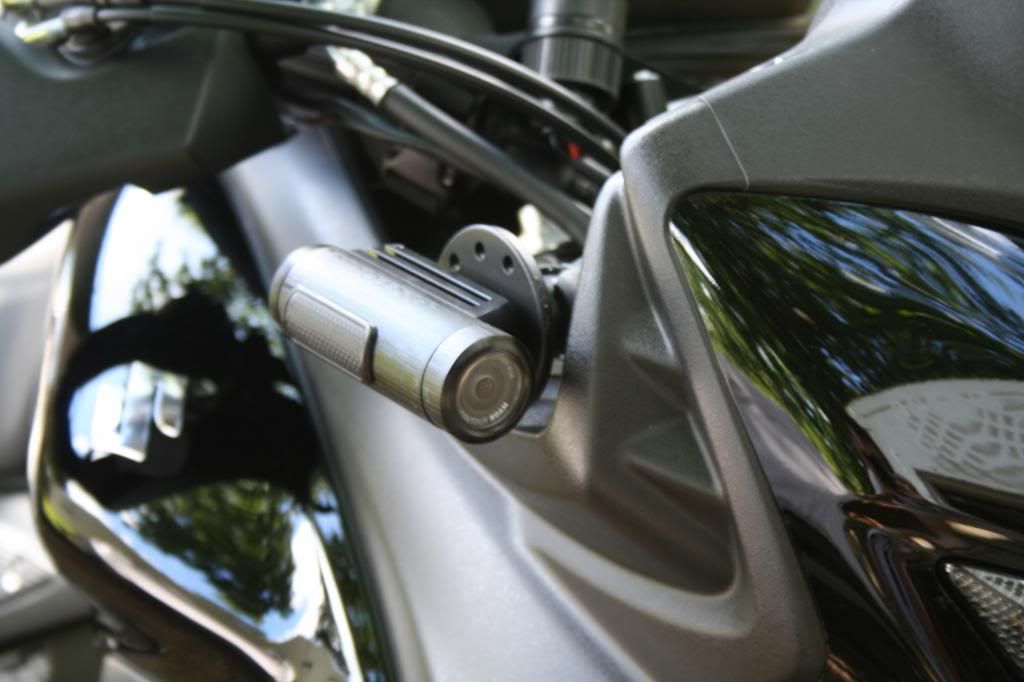 GoPro and Contour are the more popular choices.
---
-Tom (DL650AL2) (KA1TOX) (E-I-E-I-O)
This message and images are licensed under the Creative Commons Attribution-NonCommercial-ShareAlike 3.0 Unported License.
http://creativecommons.org
Stromthusiast!
Join Date: Mar 2013
Location: NJ, USA
Posts: 366
I use a drift HD
---
Reverend Unstable Boy
http://www.youtube.com/user/RevUnstableBoy

https://www.facebook.com/RevUnstableBoy
---
2013 V-Strom 650, 1982 Suzuki GS1100E, 1982 Kawasaki GPz1100, 1974 Honda XL350
Stromthusiast!
Join Date: Nov 2012
Location: Toronto, Ontario, Canada
Posts: 219
GoPro Hero3 - either helmet mounted or on a RAM mount on the left side just off the mirror. Helmet works a bit better.
---
I've never seen a motorcycle parked in front of a psychiatrist's office. And that tells me pretty much everything I ever need to know about why I ride.

My Ride: 2012 DL650A Explorer Package, Fox Orange. Mods/Farkles: Scottoiler vSystem, Rox Risers, Adventuretech Mirror Extenders and Sidestand Foot, SW-Motech Over-The-Dash GPS mount.

Plans: Denali-type lighting, orange LED cowling/engine lighting, LED highlight upgrade, and everything I need to ride the Dempster Highway in 2017.

States/Provinces Ridden: NS, NB, QC, ON, ME, NH, MA, VT, NY, PA, DE, MD, DC, VA, WV, NC, TN, KY, GA, OH, IN, IL, IA, NE, CO, UT, AZ, NE, CA, NM, TX, OK, MO.

Just finished a 12,000 km run from Toronto to Monterey and back.
I had a Drift HD, but I am upgrading, I should receive my Drift Ghost-S this week.
Great customer support!
---
2014 Tiger Explorer XC
2014 Speed Triple
2003 SV1000S (track)
Stromthusiast!
Join Date: Dec 2013
Posts: 250
I've heard that those who have bought the gopro black have not liked it due to the mass amount of memory it takes on your computer to process the videos.
Stromthusiast!
Join Date: Sep 2014
Location: Lincoln
Posts: 61
Thanks folks, very helpful.

Geoff.
I would go Contour, much easier to switch on and off than GoPro, and negligible difference in image quality. Much easier to mount, too..
---
"Between two evils, I'll always take the one I've never tried before..."

Shiro Nakama #069

Suzuki: RF900 x 2, DRZ400E, DL650L2 ABS(sold), SV650SK9 ABS
Honda: CB750F2, VFR750/RC36 x 2, VTR1000 x 2
Yamaha: GTMX80, MX125, Virago250, Virago1100