Stromthusiast!
Join Date: Nov 2007
Location: Atlanta, GA
Posts: 36
GPS Recommendations?
---
I'm going to get with the 21st century and get a GPS to mount on the Wee. What brands/models do you guys like?
---
2004 DL650 with Givi Bars and hand guards
1996 GS500E
1985 PW80 :mrgreen:
Garmin Quest 2 here. I use it on the bike and in the car. Maps are all pre-loaded, it's waterproof, very compact, and works like a charm.
On bike, attached to the Pat Walsh radar shelf:
In car, with the included car kit (crummy picture):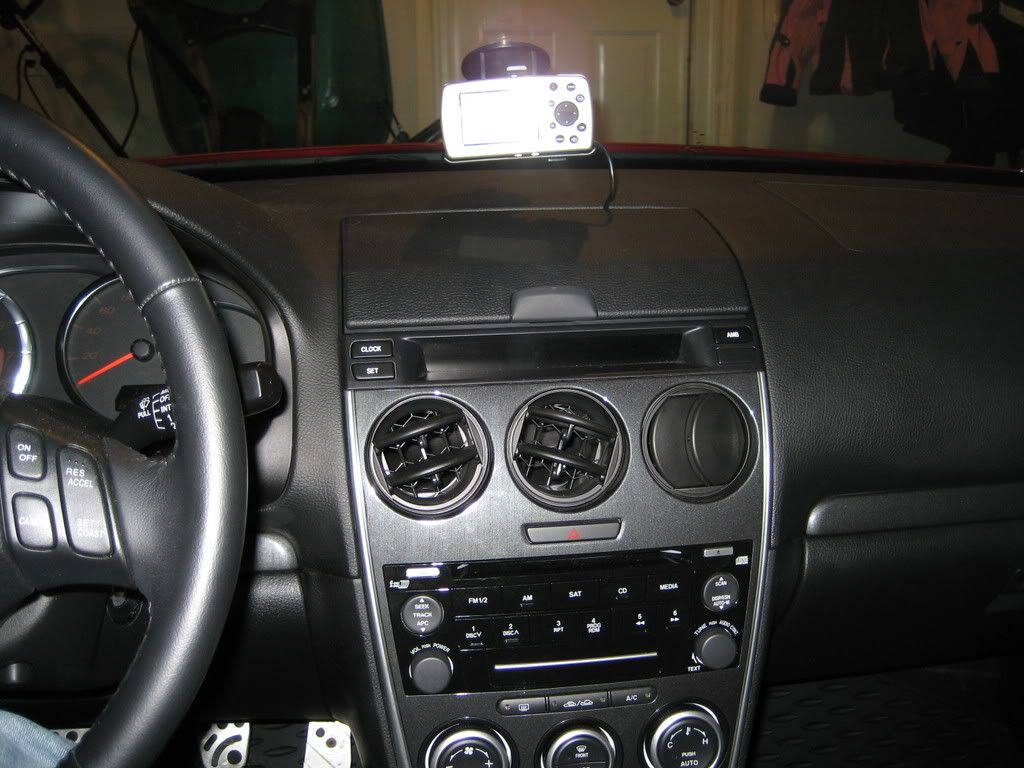 Wow, they have these for a great price now:
http://www.edgegps.com/eCart/viewIte...?idProduct=275
I paid more than that for mine and I bought it from another member on ADVRider. Doh!
---
1997 Kawasaki ZG1000 Concours, [COLOR="DarkGreen"]GREEN[/COLOR]

Old bikes:
2001 Kawasaki ZRX1200R, [COLOR="Lime"]GREEN[/COLOR], sold
2005 HD FXDCI, sold
2003 Yamaha FZ1, "Bee", sold
2005 Suzuki DL1000, Black, sold
2002 Yamaha FZ1, Silver, sold
1991 Kawasaki Ninja ZX-6D, sold
1982 Honda Sabre 750 V45, sold
I STRONGLY second the Zumo 550 route. It has bluetooth, so it can link up with a phone and headset and manage your calls off of the GPS unit, so that you can talk while you ride (not that it's recommended but for a quick call to tell someone you're running late or something, it's great). It's also a touch-screen.
I've been doing the "I think I want a GPS for the bike" for a while now. I did a ton of research and kept coming back to the Zumo 550. Sure there are a lot of very capable units out there for a lot less money but for what you get with the 550, it's still a good value and you'll never be thinking "what if". Plus, it's all set up to use in the car too and the bluetooth will be very nice then.
---
[SIZE="2"][SIZE="1"]DL650K7 - Blue
Madstad Bracket = Awesome!
Emgo Mirrors = Work and Look Great
Cortech Sport Tailbag = Very nice
Cortech 10L Tankbag = Another nice piece
MSR Dominator ATV Hi Bars = Give the bike a whole different feel
Suzuki Gel Seat = Best so far but still not 100% for me
Bestem (Ebay) 2012 42L Top Case = Best bang for the buck!
Modified V-Stream Windshield = Works well
Zumo 550 = Brilliant!!![/SIZE][/SIZE]
What is your budget?

The Zumo is great for motorcycles, but still $500 or more. I have the 550 and a Nuvi 760. I've owned the 2610, 2720, 2820, Quest, Nuvi 360, Nuvi 660, and Nuvi 760 (and some handhelds). Before I bought the Zumo, I used my Nuvi 660 in the map pocket of my tank bag.

If your budget is tight, some folks are going with the old Garmin 2610's or 2720's. Others are buying one of the low-end Nuvis, like the 200 or 250W, available new for $200 or less.

Zumo
Comes with great mount
Easy to work with gloves
Can share routes with SD card
Internal battery

2610:
Customizable front screen
Less than $200
Can optimize route with multiple destinations.
Physically large
Doesn't have GarminLock
No internal battery, high sensitivity receiver.

Nuvi series:
Not considered "motorcycle friendly" by Garmin - or waterproof
Large, bright display.
Can't display speed and map at same time if route is selected.
Most models can only contain one via point and one destination on route.
Has internal battery, useful for walking or biking.
Has high sensitivity receiver, recalculates quickly.
Some models have internal antenna
Some models have bluetooth, FM traffic support
---
2005 DL650 (sold) | 2009 DL650A (sold) | 2008 Tiger 1050 ABS | 2012 WR250R | 2008 CRF100F
My 60CSx
is ok, not great on a motorcycle. I've always liked the Quest series but wanted a portable when I bought.
I'd Zumo 550 if I needed another GPS right now.
---
Cory
07 DL650A
Pleasanton CA
I like my ZUMO 450, I didnt need the "extras" the 550 has.

It is a good solid unit, made just for motorcycles.


Ride safe!

Rob
---
Rob
"07" Blue
Banned
Join Date: Mar 2008
Location: Vancouver, BC
Posts: 4,051
i use an asus mypal a636n as a pda, it has a gps and maps in it.

when i'm riding lost, i pull over, turn it on , look at the map, program a route if i want. and put it in the transparent pouch on top of my tankbag.

i think it's way more practical than a dedicated gps unit. i can use it in a car, on an airplane, while walking through any city i don't know... plus it kleps track of my contacts, appointments, holds tons of mp3s and allows me to connect to the net and check my email from anywhere that has cellphone coverage.

not having it semi-permanently mounted on the bike is a good thing for me. otherwise there's no adventure in the motorcycling anymore. i believe there's no fun in knowing where you're going to end up. i do however like teh security of always being able to find my way back or to a gas station...

and for 400$, ithink i got the best of everything. i like the versatility.

what mostly closed the deal for me was the battery life. even whith the gps on with voice prompts and bright lcd, and while playing mp3s much of the time, the thing still had 40% battery life left after 8 hours of continued use.

personally, i'd never own a dedicated gps unit. that'd be like just owning a dedicated motorcycle that only does one thing. versatility is fun!
I was getting ready to pull the trigger on a Garmin 60csx, but then I really thought about my use case. Sure, I want a GPS for hiking, but I do a LOT more riding than hiking. So, after factoring in a RAM mount for the 60csx, hard-wire cable, and the CityNav DVD, I decided to go with a Zumo 550. I got a great GPS, great bike mount, decent car mount, voice turn-by-turn direction, and the maps were included. I couldn't be happier. If I start getting lost of my hikes, I'll pick up the 60
---
2008 DL650 a.k.a. Road Warrior, member #16 of the Flat Black Club
2009 Aprilia Tuono 1000R a.k.a. Silver Thunder