GPS Charging - USB ?
---
Hi guys,

I am a total GPS noob (in fact, I don't even own one...yet).

I am trying to decide on how many power outlets to have on my bike. If pretty much any GPS can be charged via a USB port, then I should only need one outlet and I can plug in one of those double USB thingos, allowing me to charge the GPS AND my mobile phone at the same time.

If the GPS is going to need an entire cigarette lighter to itself then I will need two outlets.

So...is it safe to assume that any budget GPS unit that I end up buying will be able to be charged via USB ?
---
[URL=http://www.fuelly.com/motorcycle/suzuki/dl650_v-strom/2011/strangedog/493573][IMG]http://badges.fuelly.com/images/sig-us/493573.png[/IMG][/URL]
[URL=http://www.fuelly.com/motorcycle/suzuki/dl650_v-strom/2006/strangedog/401455][IMG]http://badges.fuelly.com/images/sig-us/401455.png[/IMG][/URL]
Most charge by USB, but not all. My Garmin Legend is an example of that.
---
See http://whiskeytangohotel.com/gpi
to build your own V-Strom GPI and save, save, save!
Stromthusiast!
Join Date: Mar 2011
Location: Pasadna area
Posts: 13,902
I put a cheap cigarette lighter on the bike. Yeah it rusts up a bit but functional. I plug the GPS into that and have a 2 headed pig tail that allows me to plug in the phone and GPS when I have to.
You can get outlet happy tank bags from RKA if you over think this stuff.
This is my cockpit. Note the 12V socket mounted as well as the heated grip switch. Both run back to my PS8 power block. I run my Garmin and charge my phone at the same time no problem. I place a sandwich bag over the Garmin when raining and secure at the bottom with a rubber band. Here are some pics if this helps.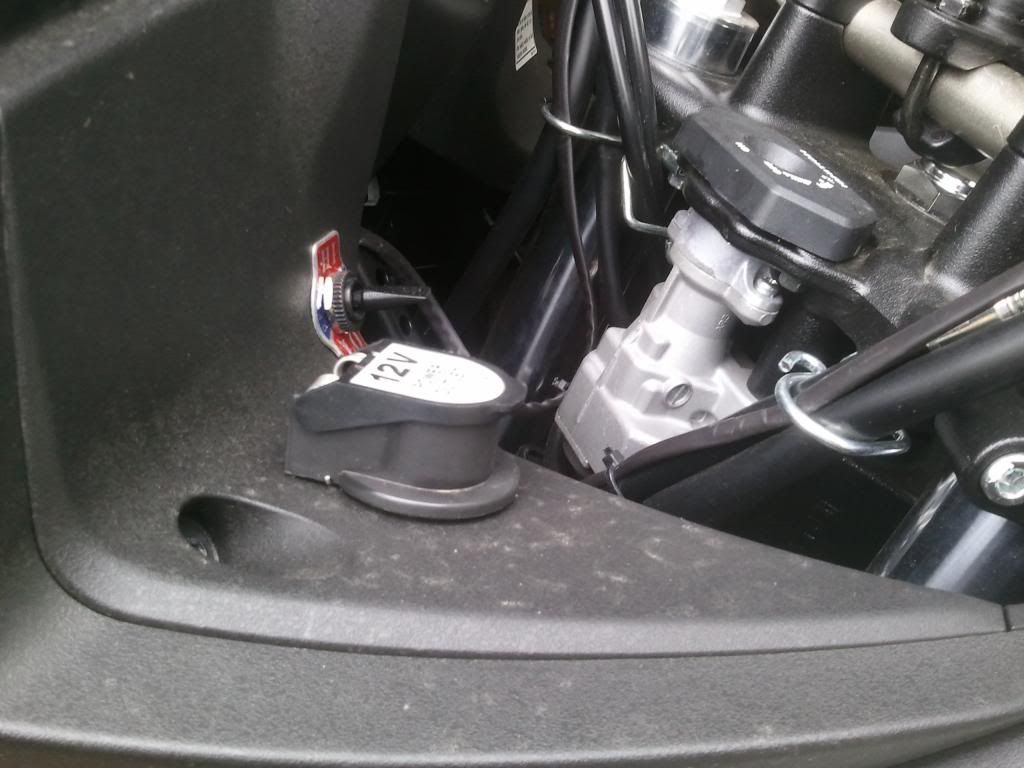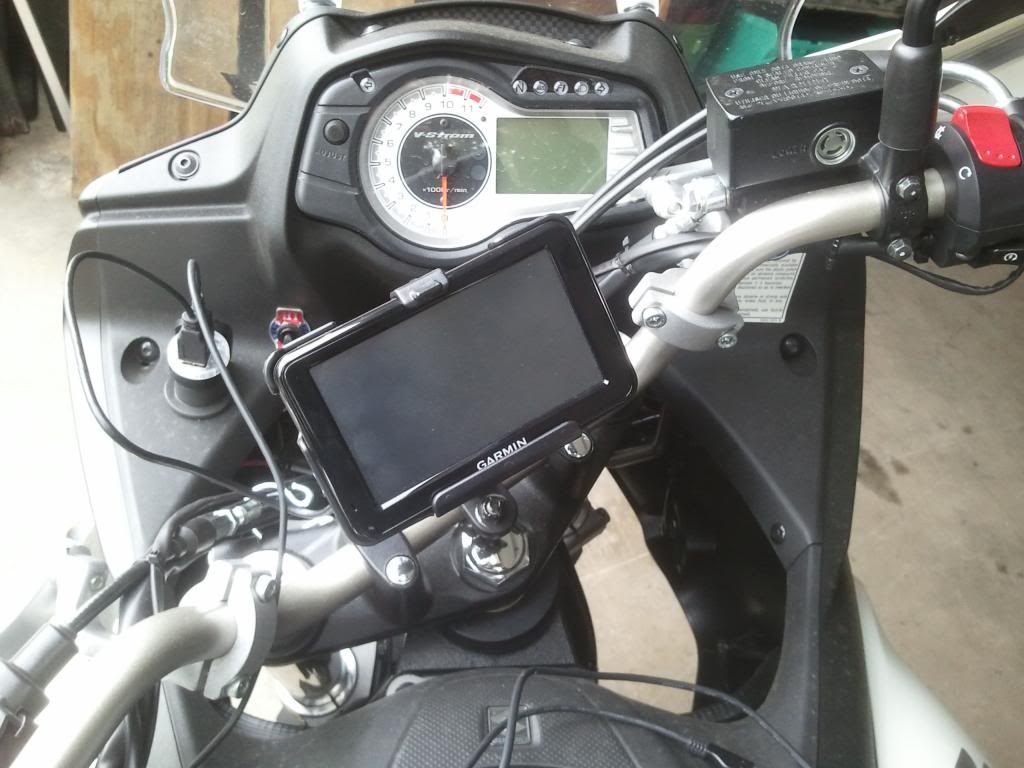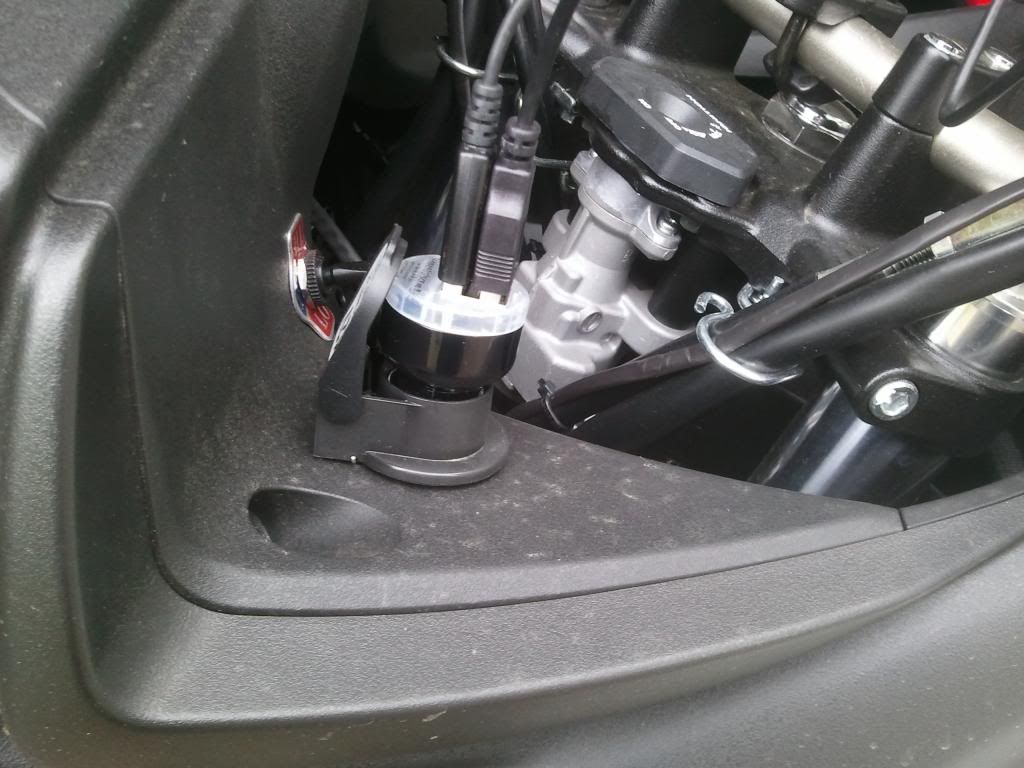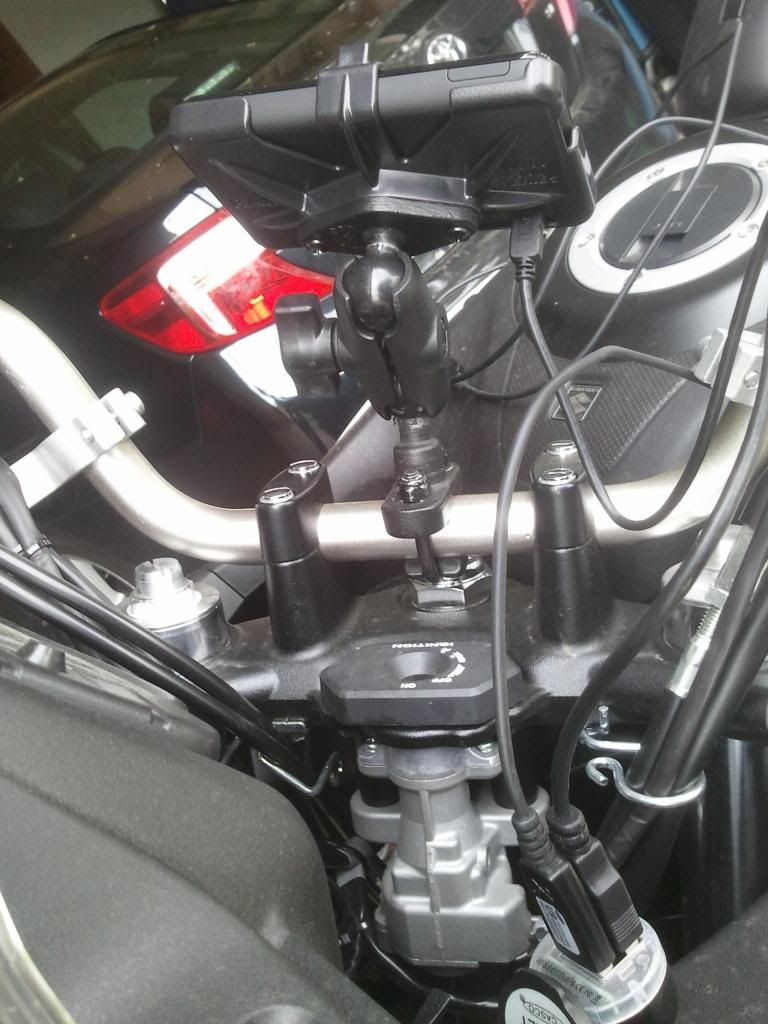 ---
Keep Calm, Fly-fish
------------------------------------------------------------
L2 Glee White- birthday 17 JAN 13
Farkles last to first: MFW Hwy pegs, Russell Daylong, Givi 3D604 tank bag, Motech Pegs, Madstad bracket&adv windshield, Tuono mirrors, Uclear HBC200 headset, E45 topcase, Cree driving lights w/Motech brackets,14T Sprocket, bar riser, E21 panniers, Stich heated grips/outlet, EB PC8, RR Fork Brace, Kouba link, Barkbusters, SW-Motech Centerstand/Skidplate/Crash Bars.
New Charging Gadget for bikes or quads
---
Check out Caddie Charger
Caddie Charger |
!
Originally designed for electronic golf trolleys, connects to any 12v battery! No need for nody cigarette lighter socket and usb cable!
Its crazy efficient and weatherproof!