GPS Mounts. Lets see them.
---
Ready to add one to my Strom and am wondering about positioning it. I think I really like the Mingsel set up but would like to see what others have done. Post em if ya got em!
---
K5 DL1000"Skull Strom",ZUMO 550,Staintunes,Givi Bags,Givi Crash Bars,PCIII,PIAA Lights,MoTec Skid Plate,Centerstand,Tank Cover,Touratech Radiator Guard,Custom Shift Lever, "VStrom" Chain Guard,Bar Riser 1",AK Leather Sheepskin Seatcover on a Sargent & a sweet Elka Shock
http://www.friendsoffoamy.com/videos...nt-episode-023
This is a Garmin 2610 on a Pat Walsh above instruments dashboard, behind a Madstad / MP Cycle Design screen setup. I really like it. Cord does not normally run in front of the tach like that, just wasn't set up right in that photo.
---
BooneDog

[url]www.irun100s.com/daveharper[/url]
-------------------------------------
---
R.I.P.
Red 2006 V-Strom 650: "the most shockingly competent machine in the world today"
Alpenkönig (a.k.a. King of the Alps): 2005, 2006

1989 Sportster Bobber Hardtail
1990 Electra Glide with Cop Bags
this is my one - Zumo 550
---
just like it !
Stromthusiast!
Join Date: Jul 2006
Location: Montgomery, TX (Lake Conroe)
Posts: 50
Here's one of my Vista CX on a RAM mount:
---
Chris

'06 DL1K
'05 XB12R
'03 YZ450F
'03 YZ250F
---
Last edited by capfo01; 03-19-2007 at

06:57 PM

.
My Garmin 76S using the Garmin handlebar mount.
---
[url]http://www.flickr.com/photos/
[email protected]
/[/url]
IBA#27466
2007 Suzuki GSF1250K7 Bandit - Black of course!
2006 Suzuki DL650K6 - Alaska and back July/Aug 2007
1978 Yamaha SR500E - Frame up restoration in progress
1968 Yamaha DT1 Shorttracker / "Bargain" Craigslist find... yeah, right
Mine looks just the same as Chris's. Magellan Explorist with a 1.75" ram mount.
---
dl650k5 -fully farkled- 65k miles. Sold but not forgotten
2006 fjr -roadrunner
Here's mine. RAM mount on a Pat Walsh shelf, mounted high up so I can see the big number speedo.
Need to stiffen up the shelf to eliminate some bounce though.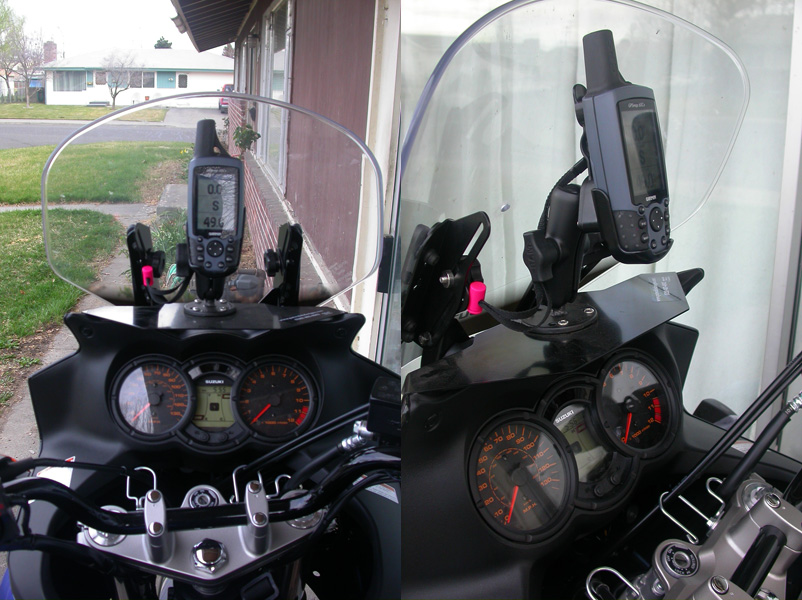 ---
Jim
Perpetual Inertia Machine
FORUM GODFATHER.....R.I.P. PAT
Join Date: Jan 2006
Location: Evanston IL USA
Posts: 38,049
Here's the case but the Garmin IQue wasn't in it at the time. The connection is to a 1" Ram ball on the handlebar clamp to the left of the steering stabilizer. The antenna visible on the right is the black disk with white logo magnetically attached to the head of a clamp hold down bolt.
---
Last edited by greywolf; 12-31-2007 at

04:33 PM

.