Stromtrooper.com Sponsor
Join Date: Jan 2007
Location: Pacific Northwest, North America
Posts: 5,006
SV Racing Parts, June and July Photo Ride Contest, SS Brake Lines Give Away
---
Hi, Everyone. The New, SV Racing Parts, June and July Photo Ride Contest, Stainless Steel Brake Lines, Give Away is here and will be virtually identical to the Previous Contest formats.
Photo Posting Tip for Stromtroopers,
host your photos at a site like photobucket, or smugmug, and then use that image to post here so all can see the full size image immediately.
SV Racing Parts, is giving away a complete set of our SV Racing Parts, Galfer Stainless Steel Brake Lines to our fellow DL650 and DL1000 riders. That means both Front and Rear SS Brake Lines for your bike.
Contest kicks off Right Now,on June 1, 200.
Get set to post your new photo's.
We are giving away the the SV Racing Parts, Galfer Stainless Steel Brake Lines at the end of July.
Once the judges have spoken, the winner will be declared and the prize awarded.
http://stores.ebay.com/SV650-Racing-Parts
(to view prizes and products offered)
Shipping is included, even if you live in Europe, New Zealand, Australia, or wherever, doesn't matter, you're in.
Galfer SS Brake Lines, Rotors, and Brake Pads are well respected and used by professional riders around the world.
Get your entries into the monthly contest photo thread, the SS brake lines are definitely worth it,
if you can't wait for your photo skills to earn you a set, I have them ready to go in your choice of colors, at Stromtrooper discounted prices, including all the hardware and fittings that you require,

$89.95 for the Front Brake Lines,

$49.95 for the Rear Brake lines,

and $135 for Both Front and Rear Brake Lines for the DL650 or the DL1000,

$49.95 for the DL1000 Clutch Lines,

or $187.95 for all the Front, Rear, and Clutch, SS Lines for the DL1000,

Galfer HH Sintered Brake Pads for the DL650 and the DL1000 are $35 a set and you need two sets for the two front calipers, Total $70

The Rear Brake Pads are $35 as a set and you need one set

$10 Flat Rate Shipping anywhere in the USA, No taxes regardless of where you live, I ship Internationally all the so email me for the price to your door regardless of where you live, by USPS, The prices are always realistic,
You can
get them by contacting me directly at

[email protected]
These parts are not in the ebay store,
I have them on hand and ready to ship right away,
All Galfer Brake Line KITS are made with Dupont Teflon Steel braided cable. There are 16 braided lines of steel around the inner section, making the line expansion close to zero under all conditions.
Galfer hose meets or exceeds the following tests and requirements: SAEJ 1401, UNE 26-399-89, ISO 3996. Temperature range : -67/ +464(f). Braking power, Galfer lines will require less pressure at the brake lever to stop the bike, allowing the rider to use less force and stop faster.
All Brake lines are coated the entire length of the line to protect the bike from scratches and the brake fluid from humidity.
All Galfer pre-made brake line kits include all the necessary SS banjo bolts and washers. Make sure that all brake line or hydraulic clutch installations are done by a certified professional motorcycle mechanic.
- All Kits include all the necessary mounting hardware -
It is a made in the USA product.
I've tested the SS Brake lines on my own DL650 Vstrom, and the DL1000 Vstrom, as well as many other bikes.
They both look and work great.
http://stores.ebay.com/SV650-Racing-Parts
So, here is how this is going to work.
This is a posted photo contest, no limit on times entered, one photo shot per entry.
Please do not post comments or discussions on your personal opinions regarding the products, or their use, on this thread. If you have questions you can either email me or PM me or we can set up another thread elsewhere.
This Thread should be reserved for Adventure Touring Contest Photos, and appropriate response to the Photos posted. Thanks.
We're looking for the best photograph, taken of a Vstrom, on an adventure touring ride, anywhere
. The Vstrom must be in the photograph, the rider is optional, but could add value or merit to the photo.
The photo's can have been previously posted. If it is on your myspace or personal web page, OK. Posted on any other forum or adventure travel site, no problem, just make sure it is a Vee, or a Wee, Strom.
We are looking for fresh, new, interesting photos of real Stromtroopers bikes. A single line to describe the photo location and particulars is all that is necessary. Two lines if you have a long title. We are not looking for essays on your trip, but do describe the scene. I encourage you to post the full ride report and the photos in the appropriate spot elsewhere on the forum.
Everyone is eligible, regardless or where you are located, The Frame Sliders and Swing Arm Sliders will be shipped to the winner immediately after the winner is declared,by the judges following whatever day we close the contest after May 1, 2008.
So, get busy everyone, send in your best, Adventure Touring, photo shot of your DL650 or your DL1000 Vstrom, and if you don't have one now, you've got time to get out on your bike, set up a great personal photo scene, and win a FREE Set of Gen Mar Risers, from SV Racing Parts.
http://stores.ebay.com/SV650-Racing-Parts
In the event the winner of the
SV Racing Parts
, April Spring Ride Photo Contest is already a customer of SV Racing Parts, and has already purchased a Set of the Gen Mar Risers, the winner will then be entitled to request and will receive a full credit of the original purchase price of the Gen Mar Risers, from SV Racing Parts, to purchase any other SV Racing Parts product, in lieu of the prize offered,
http://stores.ebay.com/SV650-Racing-Parts
Stromtroopers, for any of my SV Racing Products, please email me directly at
[email protected]
I will contact you, and then PayPal invoice you, directly for the parts and products you want.
Stromtroopers receive 10% off the MSRP on Galfer Brake Products, including Stainless Steel Brake and clutch Lines, Rotors, and Brake Pads when ordered through SV Racing Parts, email me at
[email protected]
and I will look after you right away.
Here are some product shots, I will post more later,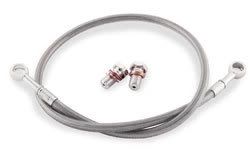 Gen Mar Risers on Vstrom, One up and One back
Gen Mar Risers one up and one back in Polished Aluminum
Gen Mar Risers One up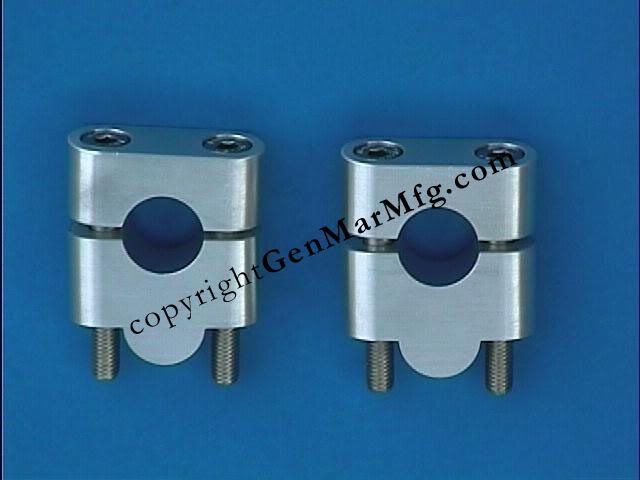 Gen Mar Risers, One up mounted on bike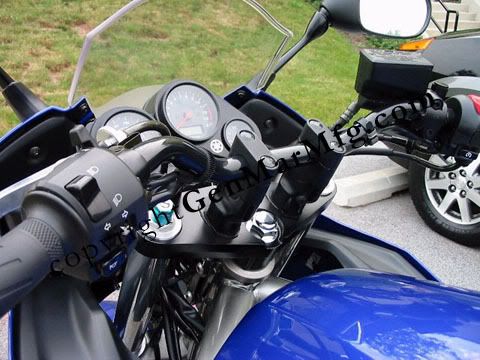 Gen Mar Risers with Cable Routing from Left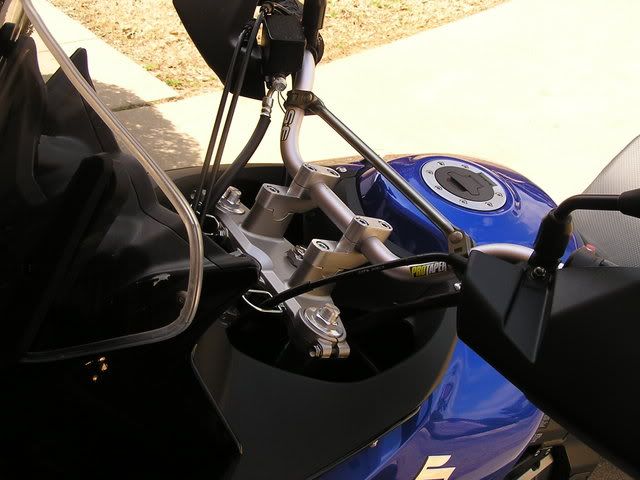 Gen Mar Risers with Cable Routing from Right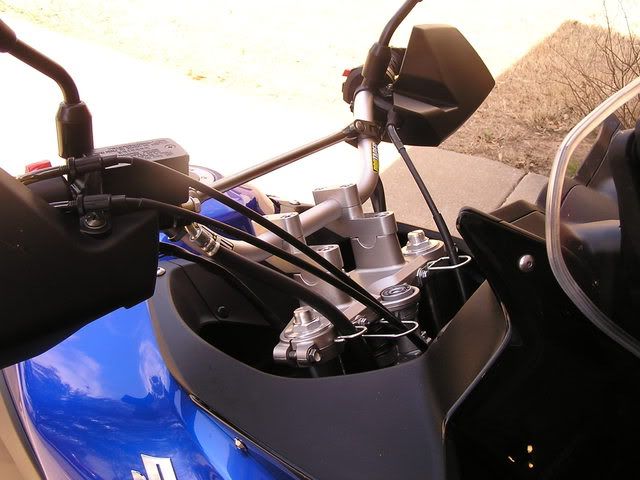 Gen Mar Risers with view from Rider Perspective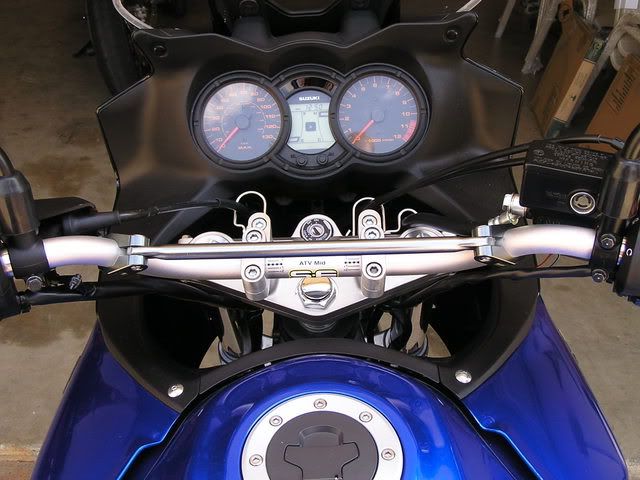 I have used Gen Mar Handle Bar Risers on many bikes over the last too many years.
They really work well and will absolutely enhance your confidence in you and your bikes ability to stop when you want it to.
If you like them half as much as me, you will thank yourself every day you ride.
Stay safe everyone, and lets see some great photos, every thing from the Grand Canyon, to the Oklahoma City Memorial, to New York City, to Chief Crazy Horse and Mount Rushmore, to all point in between, and beyond!!! Show us your stuff!!
How about Europe, Australia, New Zealand, South America, Canada, or what about Alaska?
Good luck, good riding, and best regards,
Blair
SV Racing Parts
http://stores.ebay.com/SV650-Racing-Parts
[email protected]
---
Last edited by SV Racing Parts; 10-07-2008 at

01:03 AM

.
Logging some miles
---
This is simply my Wee in front of large piles of cut logs near Ft. Assiniboine in Northern Alberta. I'm new to DSLR and this is one of my first shots. I have a long way to go before measuring up to some of the great shots on Stromtrooper but here we go............
---
http://alaskanproposition.blogspot.com/
2005 DL650 Blue
---
Last edited by AlbertaStrom; 06-03-2008 at

01:34 PM

.
Stromthusiast!
Join Date: Jan 2007
Location: south central, PA
Posts: 17
this is a shot of the wifey (was less than amused & not wanting to pose :rolleyes
sitting on the strommer along side seneca lake in NY during our anniversary weekend. the winerys are beautiful and i highly recommend anyone to do the round about especially on bike. nothing like it. i took the shot with my lil' olympus point and shoot. t'was an awesome day.
Stromthusiast!
Join Date: May 2008
Location: Quincy, MA
Posts: 579
About to go off to Rhode Island with my new cases
---
Black DL1000K5 - Traded
2015 R1200GSA
The Green Island lighthouse, near Catalina, Newfoundland...
---
2008 Yamaha FZ1
2009 Kawasaki KLX450R
US191 from Springerville, AZ looking toward Alpine, AZ.
---
Go hang a salami I'm a lasagna hog

[SIGPIC][/SIGPIC]
Devils Tower
---
---
Strom is gone but well remembered. May the Tenere do as well as it did.
Hotel room in Colby Kansas during Bad Storm
---
---
Strom is gone but well remembered. May the Tenere do as well as it did.
I swore I was going to stop entering these damn contests.. ahh well. Here is a shot from this morning somewhere in SE Ohio.
-GW
---
GrayWolf
--------------------
"I wouldn't take a million dollars for the experience, but I sure wouldn't give a red cent to go through it again" -Chester Russell
--------------------
2005 DL650 "Maelstrom"
2003 KLR650 "Lou"
1978 Triumph Bonneville 750 "Boomer"
Stromtrooper Offroad Club Member #3
Blue Wee-Strom Club #69
Stromtrooper.com Sponsor
Join Date: Jan 2007
Location: Pacific Northwest, North America
Posts: 5,006
SV Racing Parts, SS Brake Lines Give Away
---
Hey Everyone, never stop entering, People like to see each others photos, and where they have been on their Vstrom.
Keep up the posting everyone, Show us what you have seen, Take us to your favorite place, display your creativity, open a window for us all to see how you view the world, as you see it from your bike,
Galfer complete SS Brake, and Clutch Line, Kits are available and ready to ship to Stromtrooper members from SV Racing Parts, for discounted prices of a good 10% off, No Taxes regardless of where you live, and $10
Flat Rate Shipping to you, anywhere in the USA, with your choice of colors for your bike.
You can email me directly at
[email protected]
for more specifics and for me to PayPal invoice and get them shipped to your door for you,
Enjoy the ride all and best regards,
Blair